Updated Jul 18, 2018 -

World
The big picture: Putin's strongman choices shrink Russia's future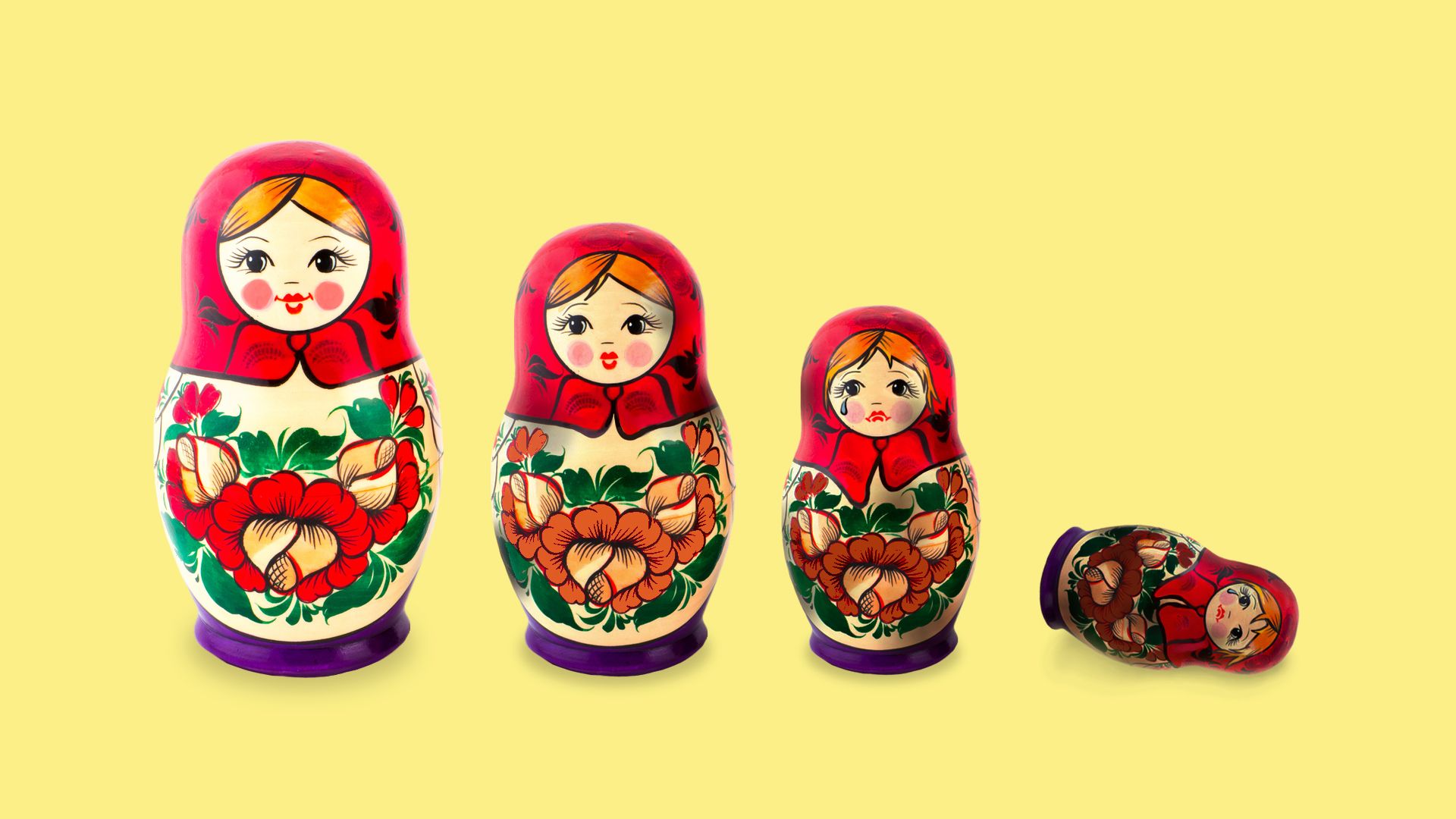 Russian President Vladimir Putin has been a towering figure when it comes to selling oil, acting the strong man, and breaking into other nations' electoral systems and social media.
The big picture: Putin has been relatively passive amid the roiling transformations with which Russia's rivals are wrestling — a future driven by robots, artificial intelligence, a mobility revolution, space travel, and other relentless tech forces.
Why it matters: With comparatively few resources, Putin has resurrected Russia as a formidable global actor, disrupting Western politics, security and order with what appears to be a low-budget, opportunistic mission of chaos.
Putin's commanding, almost-blasé performance standing next to President Trump in Helsinki on Monday telegraphed his confidence within the controlled world he has built around himself.
But the robustness of that world and Putin's ability to profit by playing international spoiler seem likely to lessen should the future unfold as many technologists project.
"He opposes any reforms that rock his kleptocratic system," Anders Aslund, a Russia economic expert at the Atlantic Council, tells Axios.
What's going on: Against brutal headwinds created by western sanctions and a plunge in oil prices over the last few years, Putin axed debt, tightened the budget, raised interest rates, and let the ruble float.
The result has been what one economist calls "Fortress Russia," a macroeconomic moat that has shielded and stabilized his country. Stirring up nationalistic fervor has been crucial, too. With oil prices on the ascent, the Russian economy is no longer shrinking, and joblessness, at 4.7%, is at its lowest level since just after the Soviet collapse.
By the numbers: Putin has seemed to put a floor under some of the world's worst demographic trends:
According to the latest UN figures, Russia's population will fall to 132 million by 2050. While that will be down almost 10% from the 2017 population of 146 million, it's improved from the prior estimate, in 2009, when the UN said the 2050 population would be just 116 million.
Government plans include spending $8.6 billion over three years on mortgage subsidies and other payments to encourage Russians to have more babies.
Between the lines: Putin's policies have also stultified the economy. Russian GDP will grow at 1.5% a year in the medium term, according to the IMF, and the standard of living in the country shrank by 17% from 2014-2017.
And, while the Russian military is competing well technologically, the advances have not made their way into business or companies, said Chris Miller, a professor at Tufts University and author of Putinomics: Power and Money in Resurgent Russia.
Russia is not only behind but actually out of the race for a widely forecast technological boom in the coming years and decades, economists say.
Most significantly, China has put the entire government behind a strategy to capture dominance of 10 key technological sectors in the next decade. Silicon Valley is also feverishly investing in future tech.
The bottom line: "Russia will be a consumer of these technologies, not a producer," Miller tells Axios.
Go deeper