Retailers are getting into the media and advertising businesses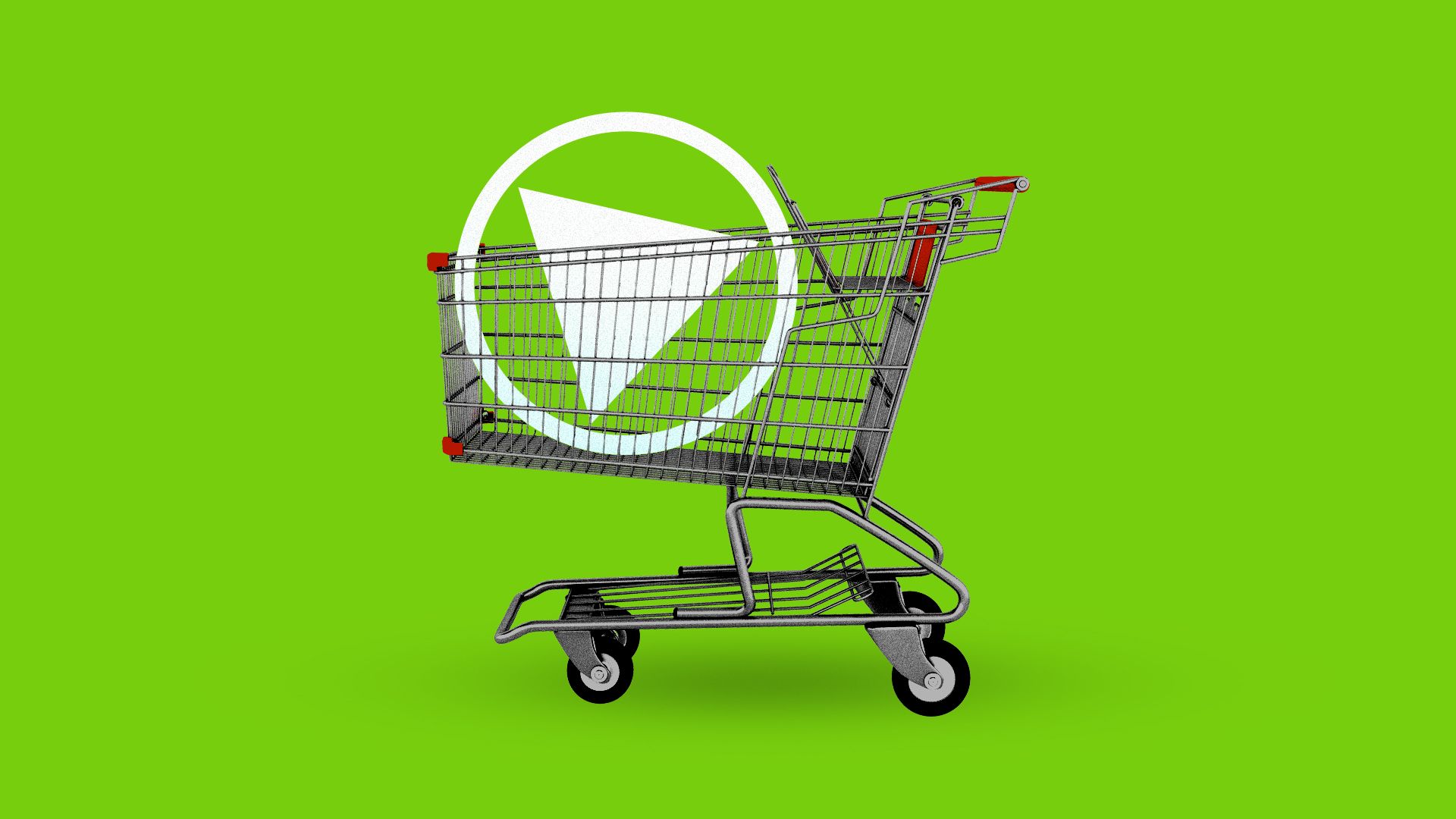 Move over, telecom and big tech: Mass market retailers and grocers are developing their own content and advertising businesses to compete with legacy media.
Why it matters: Ad-serving and video creation has become so democratized that any company with an audience is now able to steal advertising dollars or consumer attention away from traditional media companies.
The latest: Walmart is considering launching an ad-supported subscription streaming video service that would target Middle America and undercut rivals Netflix and Amazon Prime Video on price, people familiar with the situation tell The Information.
The retail giant already offers online video through an on-demand service called Vudu that it acquired in 2010. But it hasn't gained much mainstream traction. Per The Information, users spend just a tiny fraction of time with that service compared to Netflix or Amazon Prime.
Amazon, once only an e-commerce giant, is staking its future on its media investments.
Not only is the Seattle-based giant competing against streaming giants like Netflix — it's challenging Hollywood studios for box office dominance, gobbling video distribution deals from cable companies, and launching social media and messaging networks to compete with the other major tech platforms.
Above all, it's pushing to expand its massive advertising business to take on the likes of Google and Facebook.
Target, another retail rival to Walmart, has long invested in its advertising platform called Target Media Network, which allows companies to better reach Target shoppers online, on mobile, and in-store via creative marketing content.
The network is comprised of audience data that can be targeted against ads across several channels, including Target.com; some social media and websites under the "Bullseye marketplace," which includes sites and apps across Hearst, Spotify, Pandora, NBCUniversal, Scripps, Meredith and more, according to its website.
The inventory that you can sell ads to as a part of Target's Media Network includes:

Target's owned and operated digital channels, target.com and the Target app;
Target users on some social media sites;
and the "Bullseye Marketplace," a conglomerate of sites within Target's third-party list of partner sites that includes sites and apps under the Hearst, NBCUniversal, Spotify, and other companies' umbrellas.
Some of the country's biggest grocers are also making a play for the attention-based advertising business.
Kroger, one of the largest grocers in America, is launching an ad business that will go live next year. Similar to Walmart and Amazon, Kroger's pitch, according to Digiday, is that it will help brands better target its loyalty customers across the web, mobile and in stores across the country with advertising.
Albertsons, another grocery rival, also launched its own ad network called Albertsons Performance Media, per Supermarket News. The marketing platform uses sales data collected from Albertsons' 2,300-plus stores to deliver targeted ad campaigns through Albertsons' own digital channels, and its tech partner Quotient's digital properties and their third-party digital publishers.
The big picture: A focus on digital media is a reflection of some of the many ways retailers are transforming their brick and mortar mega-stores to be more digitally-accessible and profitable. E-commerce accounted for nearly 10% of all U.S. retail sales last quarter, per The Commerce Department.
But, but, but: The retailers are entering a crowded field of media, tech and telecom companies that already have their own streaming services, like CBS, and Facebook, as well as ones that are expected to build new ones, like Disney, AT&T and Apple.
Go deeper