Trump officials embarrassed by Putin show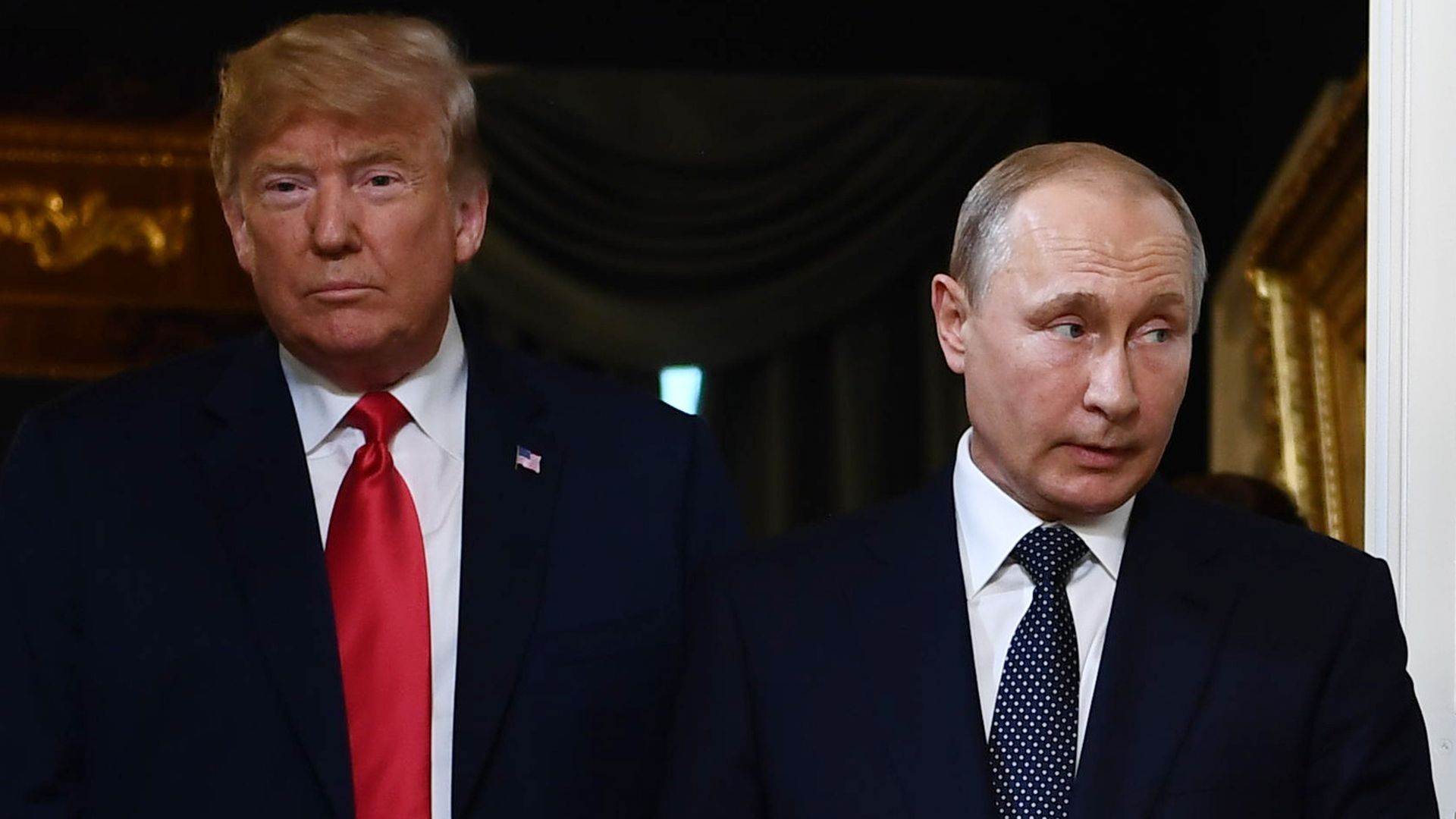 President Trump sucking up to Vladamir Putin after the summit in Helsinki yesterday was such an unbelievable, indelible moment that many deflated White House officials didn't even bother to defend or explain it.
Between the lines: The prevailing theory among Trump aides and alumni is pretty simple. "He can't separate meddling from colluding," said one source close to Trump. "He can't publicly express any nuanced view because he thinks it concedes maybe there's something he did wrong."
Trump has, at times, privately conceded that Russia probably hacked. But the minute the word "election" comes up in conversation, his brain shifts into an attack mode that throws U.S. intelligence out the window and delights Putin.
The source added: "His P.R. and legal strategy right now is to impugn the FBI in order to inoculate himself from the Mueller investigation writ large."
What we're hearing:
A former senior White House official, who worked closely with Trump, immediately texted us: "Need a shower."
One of Trump's own former National Security Council officials texted: "Dude. This is a total [effing] disgrace. The President has lost his mind."
CBS "Face the Nation" anchor Margaret Brennan, who was in the audience, told AP she was messaging some U.S. officials during the speech who said they were turning off the television.
The Russian leader smirked his way through the questioning over election interference, puffing and thrusting his chest at U.S. reporters.
Trump nodded along at times. When the two leaders walked out from under the golden glass chandelier and left the room, they left a speechless press corps.
The journalists were questioning whether we actually heard what they heard: The president of the United States was putting the methodical assessments of his own country's intelligence services on an equal footing with the denials of one of America's most underhanded enemies.
Trump said: "I have great confidence in my intelligence people, but I will tell you that President Putin was extremely strong and powerful in his denial today.  And what he did is an incredible offer; he offered to have the people working on the case come and work with their investigators with respect to the 12 people.  I think that's an incredible offer."
Why it matters ... Jeremy Bash, former chief of staff at the Pentagon and CIA, told Brian Williams on MSNBC: "Ronald Reagan won the Cold War. Today's Donald Trump lost the post-Cold War for the United States of America."
The shell shock in the room was a preview of the global reaction:
From a front-page N.Y. Times analysis by White House correspondent Mark Landler: "His statements were so divorced from American policy goals, so at odds with the rest of his administration, so inexplicable on so many levels that they brought to the surface a question that has long shadowed Mr. Trump: Does Russia have something on him?"
Anchors and commentators, who already had become loose with their language, became untethered from journalistic norms, just as Trump had abandoned presidential norms. On CNN, Anderson Cooper called the performance "disgraceful" and Chris Cuomo called it "a betrayal."
The #1 "Most Popular" piece on NYTimes.com last night was a column by Thomas Friedman, who's no partisan hack, declaring "overwhelming evidence that our president, ... is ... engaged in treasonous behavior."
Friedman added: "Every single Republican lawmaker will be — and should be — asked on the election trail: Are you with Trump and Putin or are you with the C.I.A., F.B.I. and N.S.A.?"
N.Y. Times Qu0te of the Day ... Sen. John McCain: "No prior president has ever abased himself more abjectly before a tyrant."
Trump friends and allies, who often avert their gaze from his outbursts, made it clear that he's on his own for this one:
Newt Gingrich, one of the most vocal Trump backers among establishment Republicans, tweeted: "President Trump must clarify his statements in Helsinki on our intelligence system and Putin. It is the most serious mistake of his presidency and must be corrected — immediately."
Republican congressional leaders said they believe the intelligence community.
Drudge, usually a Trump champion, bannered: "PUTIN DOMINATES IN HEL."
Future foretold: It's highly unlikely any top White House officials will quit in protest; inconceivable congressional Republicans will do anything other than complain (mostly gently) in public; and unimaginable Trump will regret or rethink his pro-Putin approach. 
Go deeper