Industry responds to Trump's drug plan with more finger-pointing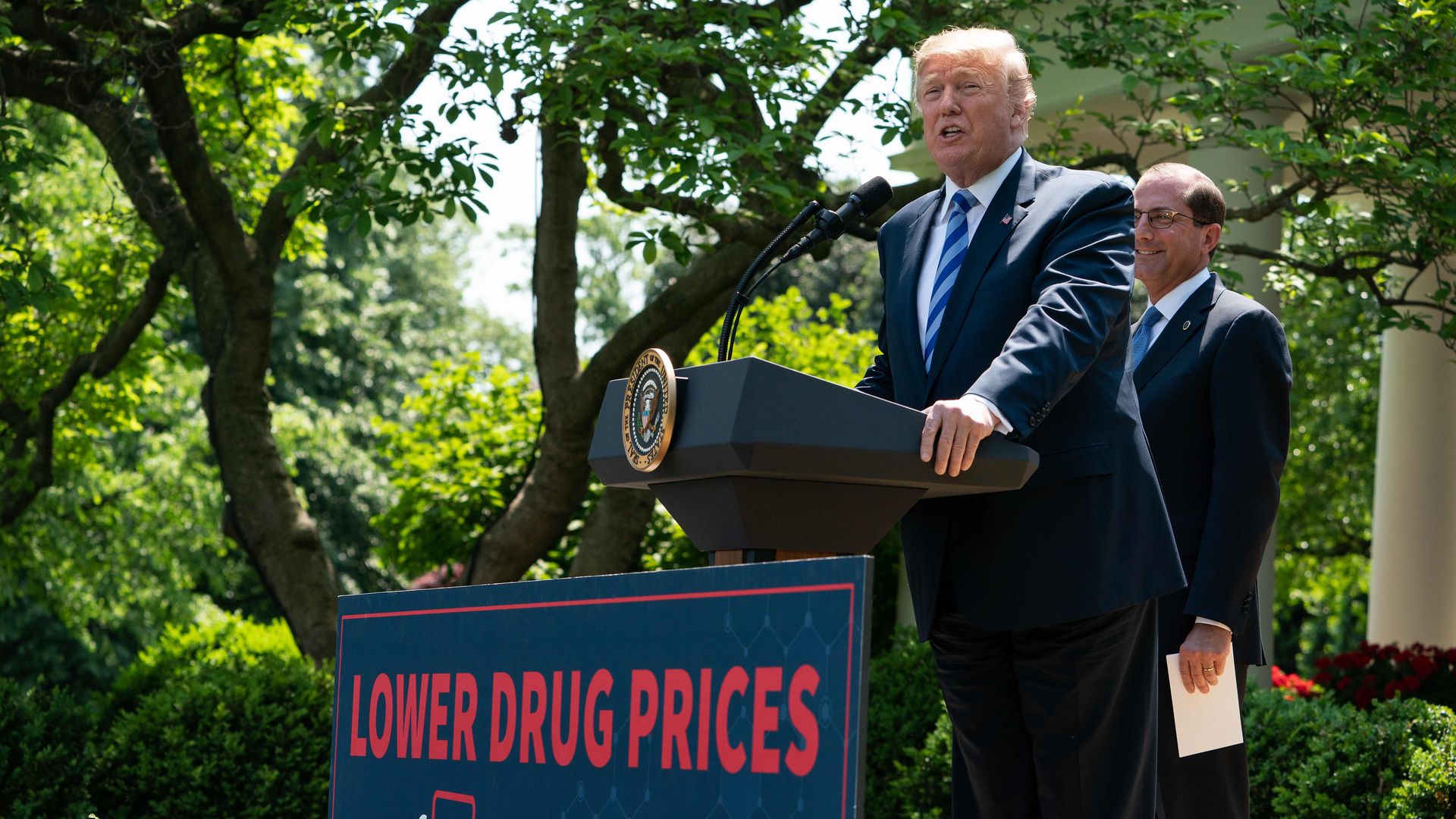 One common thread emerged in health care industry groups' comments on President Trump's plan to lower drug prices: The problem is someone else's fault.
The big picture: The only big area where the health care industry stands united is aversion to any kind of government price-setting.
Where it stands: Yesterday was the deadline for pharmaceutical companies, pharmacy benefit managers, health insurers, hospitals, consumer groups and the public at large to file comments on the Trump administration's informal plan on drug pricing.
What they're saying: Most of the pharmaceutical industry's recommendations aren't new, or are modest in scope.
PhRMA, the industry's leading trade group, kept its focus on pharmacy benefit managers, a familiar foe. It said PBMs, wholesalers and pharmacies should be paid a flat fee instead of a percentage of drugs' list prices but notably did not call for rebates to be eliminated.
The drug industry supports hammering PBMs and other middlemen to bring down the cost consumers pay at the pharmacy counter, but urged the administration not to change the basic structure of Medicare's drug programs.
PhRMA also said any federal pilot programs on drug pricing should be "small scale, voluntary and limited duration."
The other side: The rest of the industry — including trade groups for hospitals, health insurers and PBMs — maintained that drug companies are the origin of today's pricing problems, while independent pharmacists also railed against PBMs.
"Until drug manufacturers reduce the high price they set for these drugs, we know this problem is not going away," CVS Health executives wrote.
The elephant in the room: A coalition of advocacy groups and unions submitted a joint letter that called for setting drug prices "at the national level" — which the industry strongly opposes.
When asked whether insurers would support Medicare running a prospective payment system for drugs — like what Medicare does right now for hospital and physician services — America's Health Insurance Plans CEO Matt Eyles said last week: "I don't think the manufacturers would give the government the best prices in that instance."
Medicare would have to threaten to stop covering a drug to get the best price. But assuming that were allowed, and after it was pointed out that Medicare ignores the list prices hospitals set, Eyles said, "I'm going to have to think about that one a little bit."
Go deeper