Next battleground for Big Tech: retail prescription drugs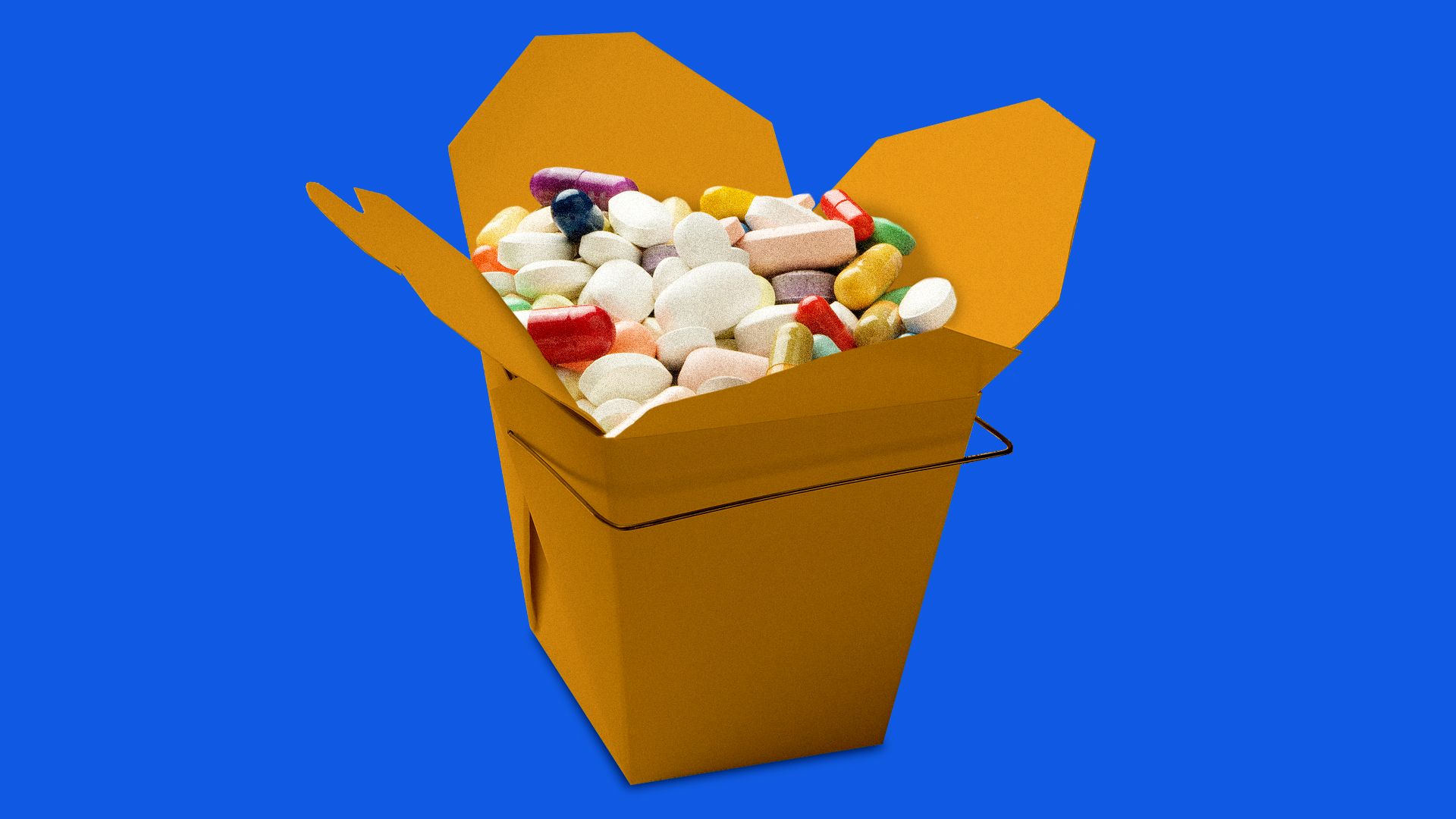 The multi-hundred-billion-dollar retail prescription drugs market is the new battleground for Big Tech, relying on its usual brute force in an effort to keep growing. But in neither the U.S. nor China is it proving as easy to crack as groceries.
The big picture: In the U.S. and China, retail drugs are too big to ignore — last year, Americans spent $466.6 billion on pharmaceuticals, and the Chinese forked out $122.6 billion in a market growing at about 9% a year. That's why Amazon and China's Alibaba have piled into the sector.
The bottom line: "There's just too much money to be made," says Sophie Cairns, a pharmaceutical analyst at IHS Markit, speaking of China's massive population and a growing demand for drugs that is forecast to surpass the U.S.
In the U.S.:
In June, Amazon cratered the share prices of retail chains like Rite Aid and CVS when it paid $1 billion for PillPack, an on-line pharmacy licensed in all 50 U.S. states.
The acquisition gave Amazon an immediate perch in the much larger health care value chain ecosystem, says Steve Kraus, head of health care investing at Bessemer Venture Partners.
Be smart: Unlike the grocery coup Amazon achieved a year ago by buying Whole Foods, retail pharmaceuticals are fragmented and will be more difficult to dominate, writes Alex Moazed at Inc. In addition, to the degree Amazon is after the larger health care sector, it's surrounded by regulatory and compliance moats.
Kraus tells Axios: To keep growing, Amazon needs a stake in broader health care, which comprises 20% of U.S. GDP.
In China:
Alibaba's health care arm, AliHealth, is limited to selling over-the-counter pharmaceuticals because of a government ban decreed last year on online sale of prescription drugs.
But, but, but: There are questions about how serious the government is about the ban, and Cairns thinks retail of online prescription drugs will ultimately be permitted.
Between the lines: Both Alibaba and rival Tencent are already casting a wide nets in health care. For example ...
AliHealth has partnered with Merck, the German pharmaceutical company, on drug-tracking (counterfeit drugs are a big problem in China).
Merck will put its diabetes, cardiovascular and thyroid medicines on Alibaba's drug tracking platform, says Merck spokesperson Natalie Zhao. Then patients can scan barcodes on drug boxes for information on diseases, verification that the drugs are authentic, and reminders on when to take them.
Tencent is working with Miying, which says it uses AI to help doctors diagnose cancer, says Nikhil Krishnan, a senior intelligence analyst with CB Insights.
"Chinese companies do not face the same level of regulatory or infrastructural roadblocks as Amazon in the United States," Krishnan says.
Go deeper