Trump tornado hits the U.K.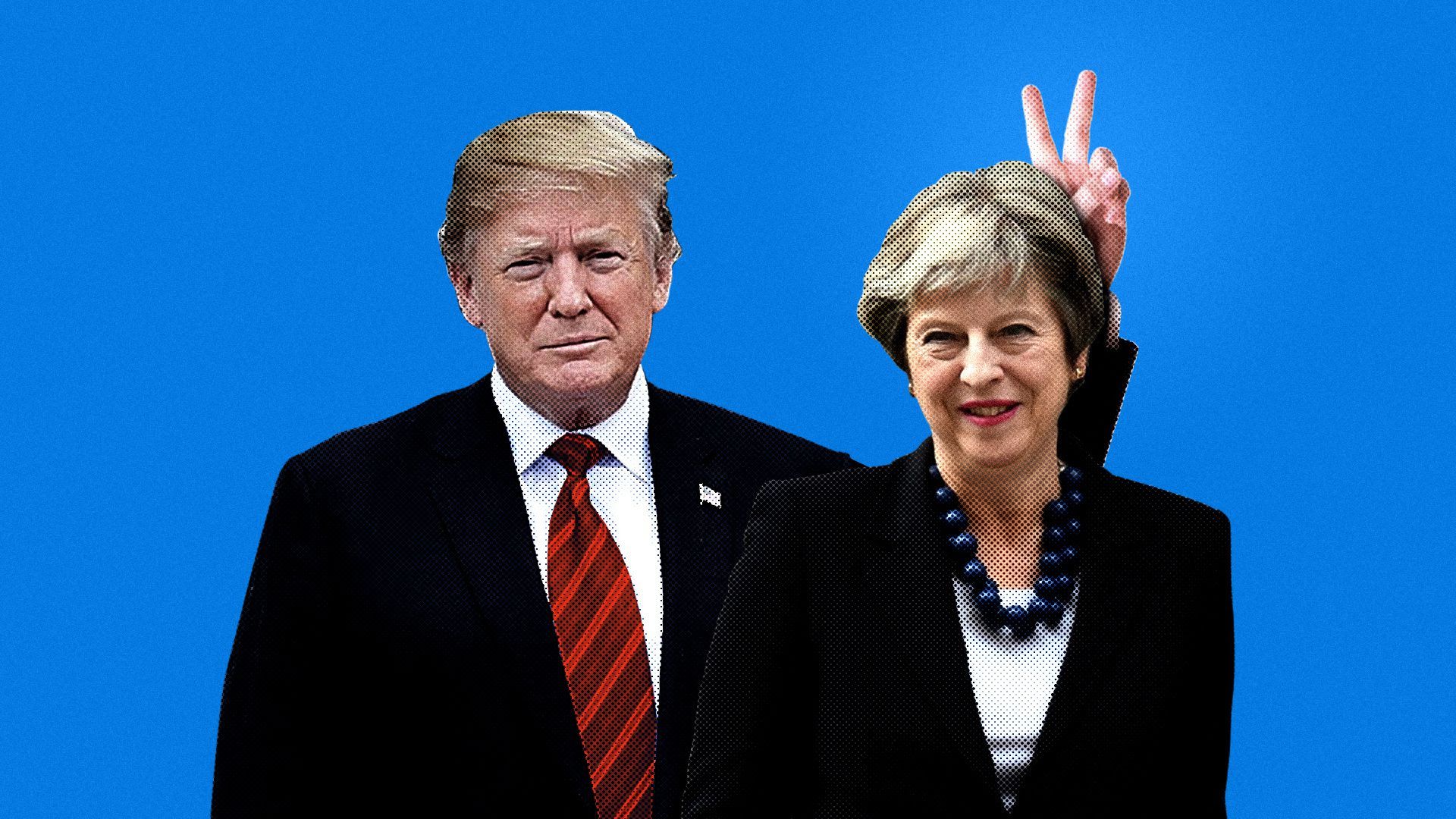 LONDON — After roiling the NATO summit in Brussels, President Trump — always dicey as a guest — crossed the North Sea and is doing the same in England.
The bottom line: This could have been an isle of pomp and calm ahead of next week's summit with Vladimir Putin. Instead, it's the Brits' nightmare scenario.
Why it matters: Trump continues to disrupt national politics not just in the U.S. but around the world.
At a time when Prime Minister Theresa May is so weak there's speculation about whether her government will fall over softness on Brexit, Trump knifed her in an interview that the tabloid Sun (Britain's biggest paper) ran under the headline, "I told May how to do Brexit but she wrecked it — the US trade deal is off."
In what the Rupert Murdoch paper called "his incendiary verdict on her negotiating strategy," Trump even suggested that her nemesis Boris Johnson, the conservative who resigned from her government this week, would "make a great Prime Minister."
The paper said the comments "pour nitroglycerine on the already raging Tory Brexiteer revolt against the PM."
The N.Y. Times' online headline: "With May's Government Teetering, Trump Gives It a Shove."
Hear audio of The Sun interview.
Why does Trump do it?
This is Trump saying whatever's on his mind and damn the consequences — always playing to his base, and refusing to put himself in another leader's shoes.
Trump's doesn't have a great relationship with May, but it's not as bad as his relationship with German Chancellor Angela Merkel.
Swan notes the irony that the Brits tried to be super-cordial — scheduling Trump outside central London and its massive protests against him, including a "baby Trump" blimp with the president wearing a diaper.
There's lots of fanfare and tributes to Trump, a well-rehearsed international blueprint perfected by the Saudis and then the Chinese.
The Brits view his visit to Blenheim Palace, Winston Churchill's birthplace, as a unique "first" for Trump, appealing to his self-conception as a latter-day Churchill.
Then tea with Queen Elizabeth II at Windsor Castle.
Be smart ... A source close to Trump said: "Part of the Trump playbook is keeping people off balance at all times. This could have been a victory lap. But the chaos isn't the means — it's the end."
Take note: Sarah Sanders issued this clean-up statement after the interview detonated:
"The President likes and respects Prime Minister May very much. As he said in his interview with the Sun she 'is a very good person' and he 'never said anything bad about her.' He thought she was great on NATO today and is a really terrific person.  He is thankful for the wonderful welcome from the Prime Minister here in the U.K."
Go deeper