GOP braces for Trump tariff pain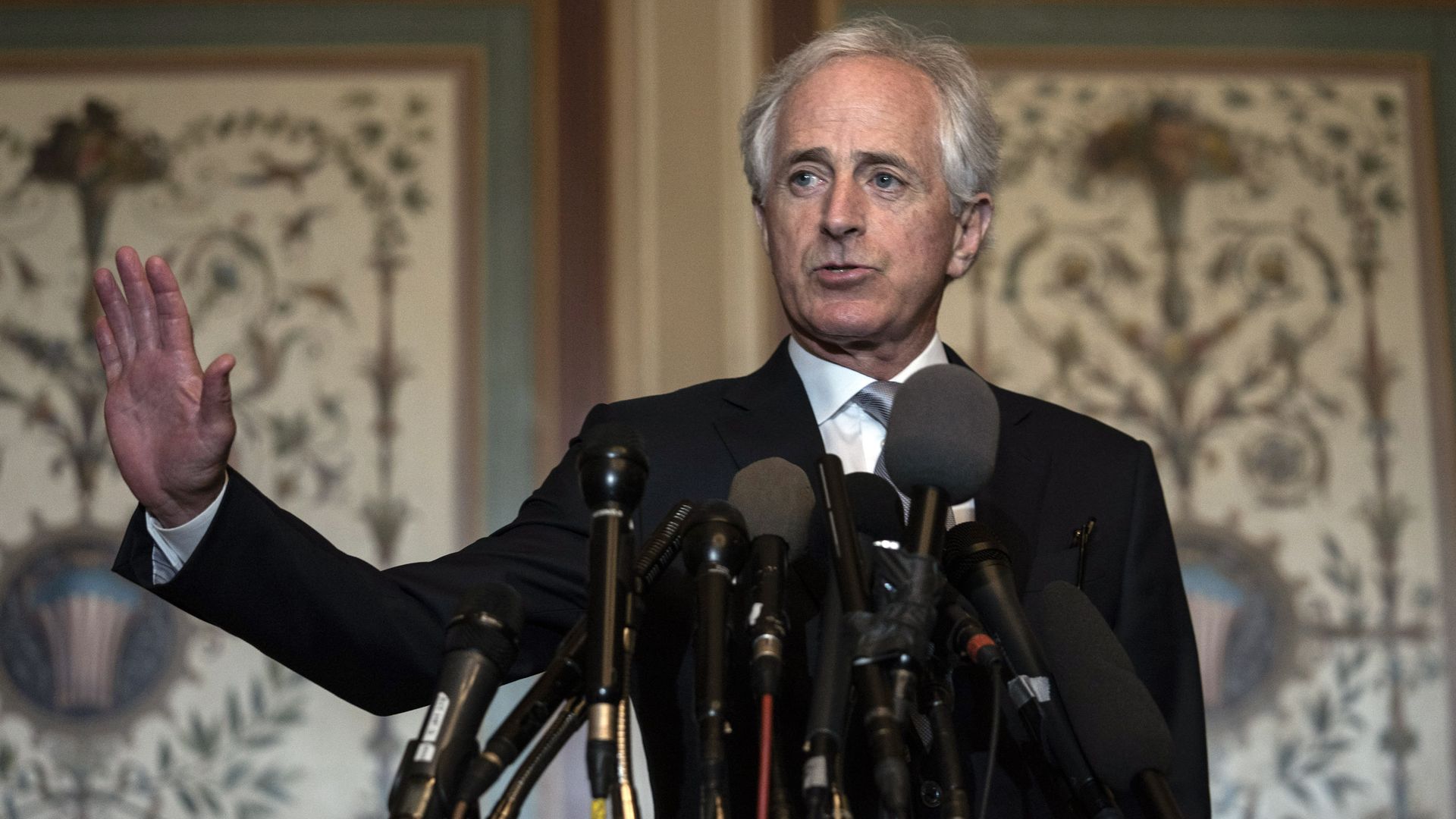 Congressional Republicans think President Trump's tariffs are going to hurt the economy, undoing some of their economic wins — but they're not ready to cross the president until their voters feel the pain.
Between the lines: While some Republicans think Trump has a plan up his sleeve, most think there's no good ending here. But they think the GOP base — which is fiercely loyal to Trump — needs to feel the impact of the new trade policies before Congress will have the voters' permission to do something.
Why it matters: Some members say their constituents, particularly those in agriculture and manufacturing, are already suffering under the tit-for-tat tariff escalation.
"They're biting now. In the coming weeks, they're going to bite even harder. You're hearing every day it seems somebody's scaling back production, moving production overseas," said Sen. Jeff Flake of Arizona, a frequent Trump critic.
Sen. Pat Roberts of Kansas, who's generally more supportive of Trump, said: "It's like getting a rock in your windshield and then all of a sudden the glass starts to, you've got that crack in the windshield. And right now in farm country, we're about to lose the windshield."
And there's not a lot of optimism about the long-term strategy. "There's no end game that we can see," said Flake. "Anybody who's looking for some genius behind this curtain somehow is going to be disappointed."
Yes, but: The political damage that would ensue if free-trade Republicans limit Trump's trade power too soon could be devastating. So they're talking about their concerns as diplomatically as possible — but the message is clear.
"There's a lot of confidence in the president. And look, a lot of us have a lot of confidence in the president. But in this situation, most Republicans are classic free traders and a lot of them represent areas where this is dangerous," Rep. Tom Cole of Oklahoma told me.
"These producers, they really support the president, they want him to be successful; they're really concerned that the president's tactics may take longer than what they can survive," said Sen. Mike Rounds of South Dakota.
The other side: Some members remain confident that Trump knows what he's doing and the tariffs are only temporary.
"Sometimes to make an omelette, you've got to break a few eggs," said Sen. John Kennedy of Louisiana. "I think the president's trying to renegotiate trade deals. I don't think these tariffs will be permanent. I think they will be temporary."
What we're watching: While some members are hopeful that the Senate could eventually pass a bill sponsored by Sen. Bob Corker of Tennessee that would limit some executive trade authority, aides and lobbyists say voters need to demand action before that has a chance of happening.
Optimistic members pointed to a non-binding vote on the Corker bill earlier this week of 88-11 as step one of the process.
"We got 88 votes yesterday on the Corker amendment. Several of us are thinking of other legislation actions we could take. And we hope the president will change his mind," said Sen. Lamar Alexander of Tennessee.
When asked what it would take for Congress to act on the tariffs, Sen. John Thune of South Dakota, a member of GOP leadership, said, "We'll see."
Be smart: Republicans are well aware that a strong economy is critical to their chances of success in November. Some say that if Trump's tariffs hurt the economy, it could cost the party in the midterms, especially in states where the GOP is trying to unseat Democratic incumbents.
"If it helps to have a good economy, it won't help to have a bad economy," Alexander said. "The tariffs affect manufacturing and they affect farms. They affect primarily the states that President Trump carried to win the election two years ago."
Not all Republicans share this view. "I don't think we'll get punished in November, I really don't," Cole said. "I think that's too soon for effects to take place and for that to be visible."
The bottom line: The concerns are growing. "It will hurt Republicans in midterms if we don't have this resolved," Rounds said. "And by that time, it might be too late for some of these producers in the upper Midwest."
Go deeper