FCC wants to relax kids' TV rules for the Netflix era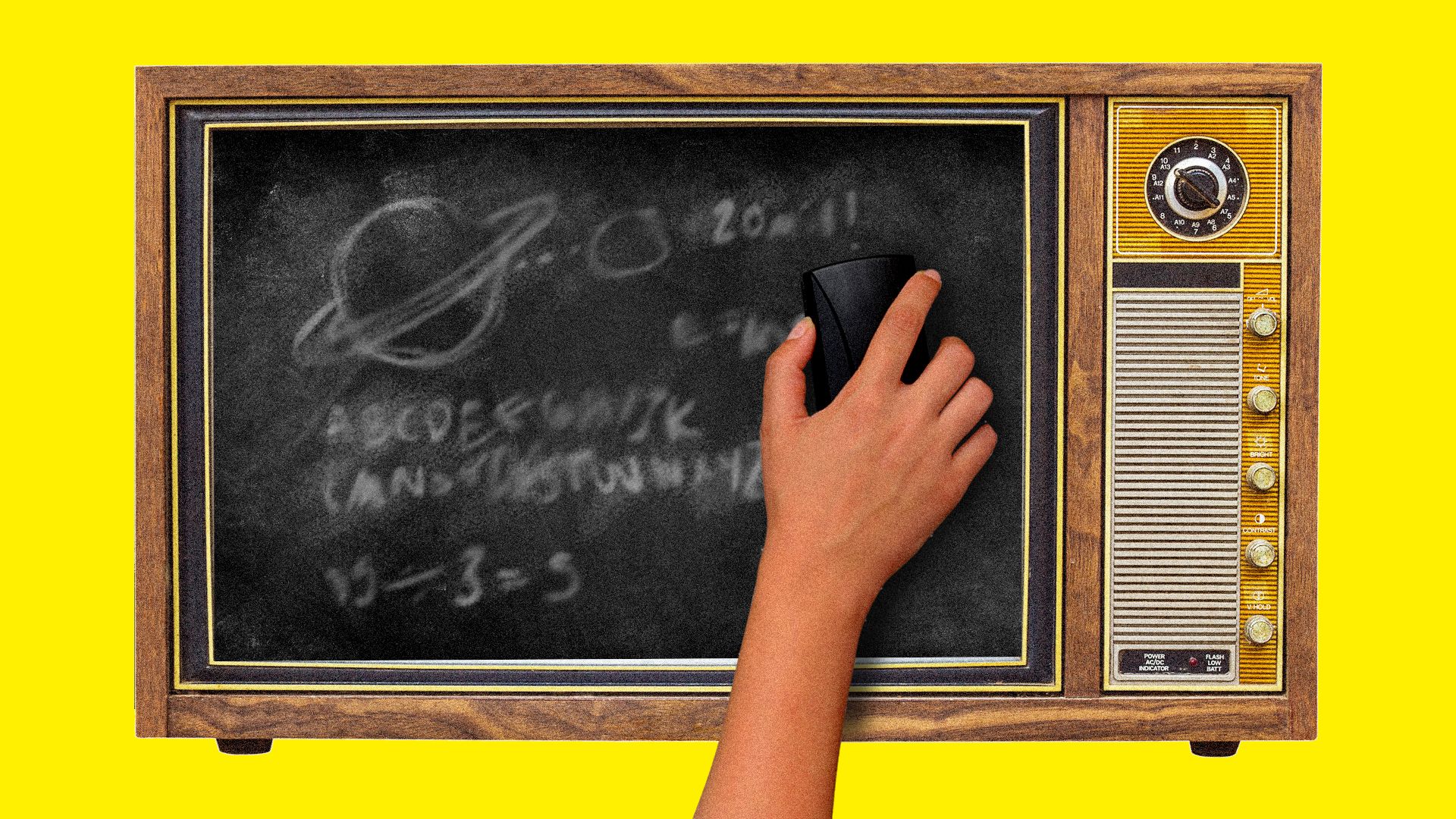 The Federal Communications Commission has begun the process of loosening requirements for children's TV programming, arguing that the old rules aren't needed in the era of kids-focused apps and streaming services.
The big picture: When it comes to kids' content, tech companies like Netflix, Amazon and Google have stolen huge market share from traditional media companies. Still, children's advocates say relaxing the rules for broadcasters may make it harder for families without reliable broadband access to find age-appropriate content.
Where it stands: Saturday morning cartoons — once a staple of young kids' weekend routines — disappeared years ago. Millennials mostly watch TV after it has aired on live TV.
Generation Z is the first generation to have grown up with on-demand TV. According to a survey by Hulu and Tremor Video, 70% of Gen Z say the phrase "watching television" means streaming something online.
Kids between the ages of 2 and 11 — a primary target of kids programming rules — are watching less linear (or pre-scheduled) TV, per Nielsen data. That age group's time devoted to watching live and time-shifted TV per week dropped by about 22% between 2014 and 2017.
Kids between 12 and 17 years of age are watching even less: The number of hours they spent watching TV each week dropped by about 38% in that period.
Today's kids have instant access to apps like YouTube Kids, 24/7 kid-friendly cable channels like Nickelodeon and Disney Junior, on-demand shows like Sesame Street on HBO, and over-the-top kids programming on Netflix.
Between the lines: Broadcasters have to adhere to a lot of mandates to keep their licenses, while tech companies face no rules. This is an instance of the current FCC deregulating telecom and media entities under the theory that that stripping away regulations on traditional companies will help them keep up with their Silicon Valley competitors.
The details: In 1990, Congress passed the Children's Television Act, which requires broadcasters to air three hours of educational programming per week (with limited advertising) in order to maintain their license. Children's programming must also meet certain "Kid Vid" requirements with respect to educational purpose, length and the time of day it is aired.
Conservative groups say the FCC has, over the years, increased its micromanaging of broadcasters' content for kids. For example, 30-minute length requirements block shorter, modern versions of "Schoolhouse Rock!" from counting as children's content.
In a blog post, FCC Commissioner Michael O'Rielly said the rules are "ineffective and burdensome" in the new TV landscape, and that there is "no scientific proof that the Kid Vid requirements specifically have led to developmental benefits for children."
According to Nielsen, only 0.5% of households with children do not have cable or internet service.
The other side: Kids' advocates argue that, while many households have access to other content options, chipping away at the rules will hurt vulnerable households who still rely on over-the-air television for children's programming, and those that can't afford broadband, cable or Netflix or Amazon Prime subscriptions. They call the draft proposal a "wish-list for broadcasters, which does nothing to serve the needs of children."
Children of color and low-income families are "less able to afford cable, satellite and broadband (even if available), tend to watch more television and may have fewer opportunities to learn in other ways," groups including Parent's Television Council and Campaign for a Commercial Free Childhood wrote in comments to the FCC.
They also say reducing educational shows on broadcast TV could reduce such programming that later airs on Amazon, Hulu or Netflix.
Democratic Commissioner Jessica Rosenworcel agrees the rules should be updated. But she said the agency has a duty to follow the law, which requires the FCC to consider how stations serve the educational needs of children.
Sen. Ed Markey (D-Mass) said he is "deeply disappointed" the FCC moved forward without doing more research on how the changes will affect children, "particularly millions of children from low-income and rural communities."
The impact: Relaxing the rules would apply to PBS stations, too. But O'Rielly, who is spearheading the rules change, said kids' programming "is tied to the mission of these stations and PBS does not need a mandate to continue providing such content."
He noted that its free digital multicast channel (which you can pick up with rabbit-ear antennas) with round-the-clock kids programming is expected to cover 90% of U.S. households.
Critics argue those secondary streams are sparsely watched and aren't always available on cable TV packages.
What's next: The public can comment on the proposal, and the FCC will vote on final changes later this year.
Go deeper