Destination VR is the place to be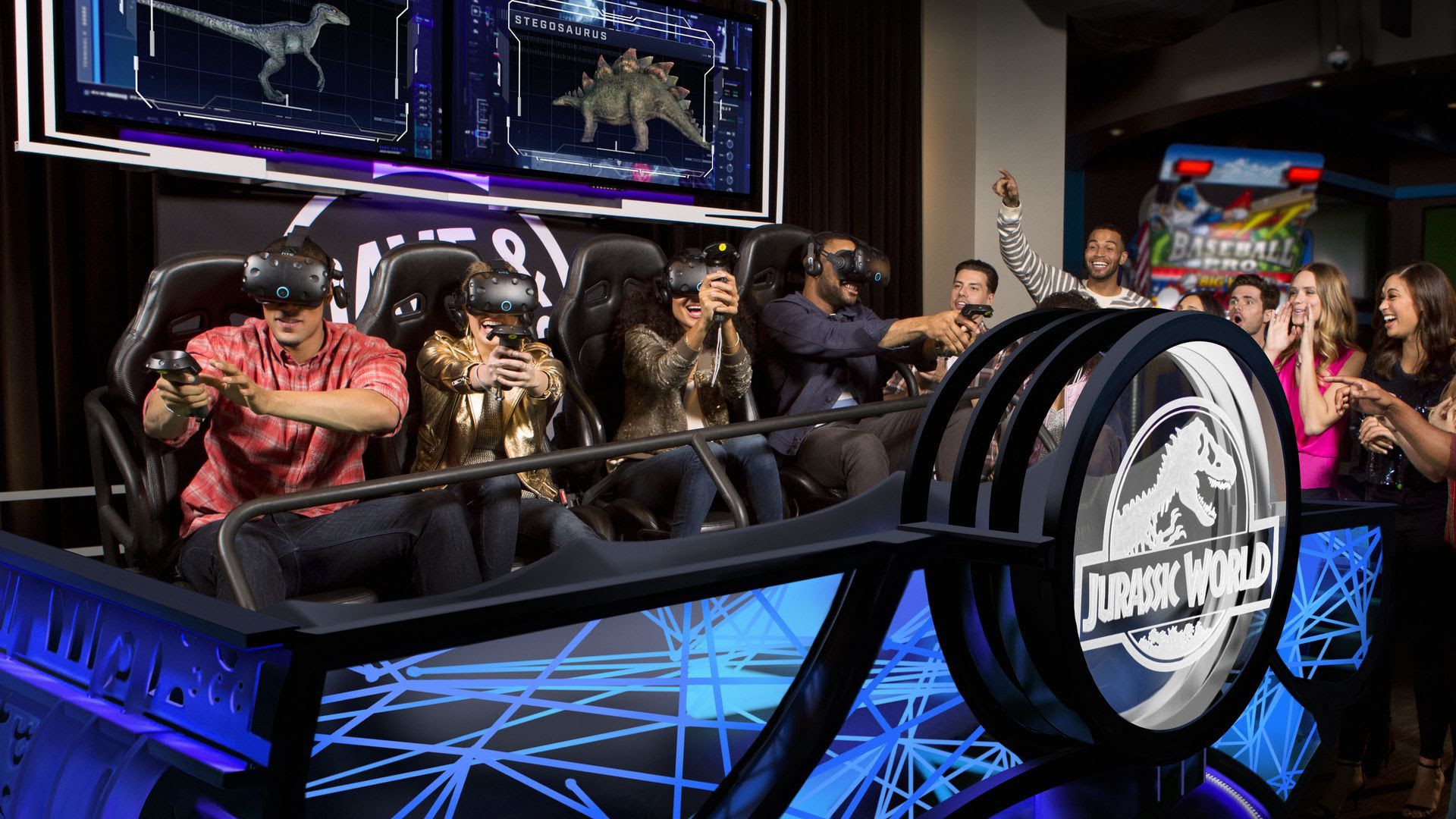 With consumer virtual reality headset sales not living up to the original hype, there is growing interest in what is known as destination VR — fixed locations where people can try out a specific experience. Such installations are coming soon to a mall, theater or restaurant near you, if they aren't there already.
Why it matters: By virtue of dedicated space and being able to justify the cost over many patrons, destination VR efforts can often provide an experience well ahead of what even a traditional high-end home system can offer. As such, it's a glimpse of where the industry is headed.
Jurassic World VR Expedition is the most recent example of this. It's an experience arriving at more than 100 Dave & Buster's locations and produced by the Virtual Reality Company, an early player in destination VR.
Jurassic World VR Expedition is a five-minute, multiplayer experience that lets four people compete against one another to capture lost dinosaurs. It uses a custom motion simulator with HTC's Vive headsets.
The bottom line: Destination VR is important because, for many people it's their first real experience with VR. The Jurassic Park attraction should be a good test of whether the notion has legs, bringing a popular franchise to a place that people already go for entertainment.
"This will be a great barometer for the model we are going for," says Robert Stromberg, co-founder and chief creative officer of the Virtual Reality Company.
More destination VR examples:
Birdly — On display at last month's Code Conference, Birdly uses a traditional VR headset, but has people lie down in a contraption that lets you fly like a bird by leaning and tilting your wings.
The Void — One of the early players in destination VR, the Utah-based effort has evolved over the years. The Void's most recent project, a Star Wars-themed game, was at TED this year and let people join in the action in a battle against stormtroopers.
iFly — The indoor skydiving venue recently added a VR component to let people recreate plunging over iconic locations.
Six Flags — The amusement park chain is using VR to breathe new life into some of its older roller coasters.
What's next: VR will extend to beyond the headset. Startup Immersive Artistry is transforming a spot on the Las Vegas strip into a $100 million multi-sensory experience that will merge live action and holograms to transport attendees to an Asian street market, complete with food, music and more.
Lollapalooza founder Perry Farrell is part of the team behind the effort, due to open in August 2019. They envision a family-friendly daytime experience that will cost around $30 and an evening adults-only fare that will start at $60.
"We want to take large groups of people and transport them into places they could never go."
— Immersive Artistry CEO Cary Granat tells Axios.
Go deeper