Trump unwinds the 20th century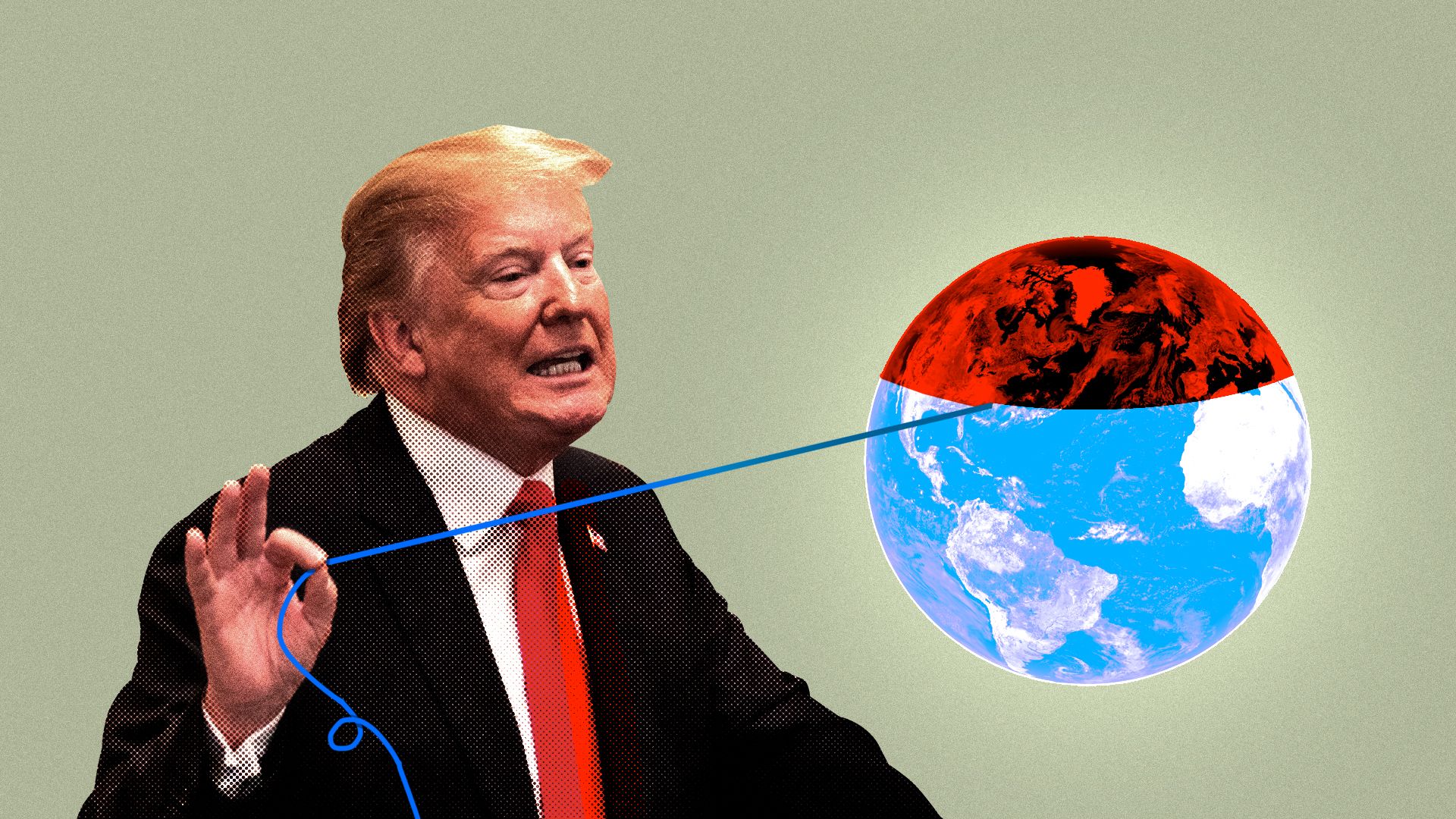 As President Trump meets other leaders of NATO in Brussels, the backdrop is his role in tearing at the post-World War II order.
The big picture: But a future is taking shape of a 21st century United States without many of the basic institutions that many consider key 20th century advances.
Just some of the pieces of this riptide:
Unions: A decimation of the 120-year-old union movement, most recently with last month's Supreme Court ruling weakening the funding of public unions.
Black voting: In 2013, the Supreme Court invalidated a key part of the Voting Rights Act, and last month the court decided that counties can purge voter rolls of people who don't regularly vote.
Women's rights: A primary conservative goal is the invalidation or weakening of Roe v. Wade, the 1973 decision that legalized abortion.
International order: Trump is part of a wave of leaders challenging the post-war order, established to avoid another world war. 
In the NYT, Peter Baker quotes Curt Levey, president of the conservative Committee for Justice: In the likelihood that Brett Kavanaugh is confirmed as the next new Supreme Court justice, it will mean "a conservative court, really [for] the first time since the 1930s," Levey tells him.
It's worth noting that that one of the main legacies of that court was the dismantlement of key components of the New Deal, which established Social Security and other key social programs that are part of the U.S. firmament.
The international aspect of this phenomenon worries U.S. allies. In Brussels today and Thursday, Trump will meet NATO leaders baffled and concerned about his broadsides against the western military alliance, comprised of the closest U.S. allies on the planet.
What also worries them is that similar strains have reached into the heart of Europe — Poland, Hungary, Russia, Turkey and Italy — and forced them to contemplate what might replace the current order.
Country by country, western leaders and their allies are taking on a posture suggesting a turn back to the foundational, 370-year-old system that preceded World War II.
This brutish order was called the Westphalian system, and more or less left states entirely on their own. In effectively embracing it today, western countries are rejecting the collective bodies that the U.S.-led victors of WWII established with the aim of forever avoiding another catastrophic global war.
"Historically, great powers haven't (even mostly) been able to sustain peace," says Matthew Burrows, a former senior U.S. intelligence officer now at the Atlantic Council. "They fall out with one another."
Karen Harris, managing director at Bain Macro Trends, tells Axios that the new order will be the U.S., Russia and China — "multiple parallel great powers pushing against each other in the two new borderlands of cyberspace and (actual) space." That, she said, "will lead to a more fragmented geopolitical order and by extension, a more fragmented international trade and finance order."
Bottom line: Westphalia meant that states respected each other and pledged not to intervene over borders. But Richard Fontaine, president of the Center for a New American Security, suggested that Russia has set an example by which it's each country for itself. "In some cases, some of these leaders seem to want a 'Westphalia for me, but not for thee' approach — don't undermine my sovereignty, but understand if I feel compelled to undermine yours." 
Go deeper