Where the national opioids lawsuit could be headed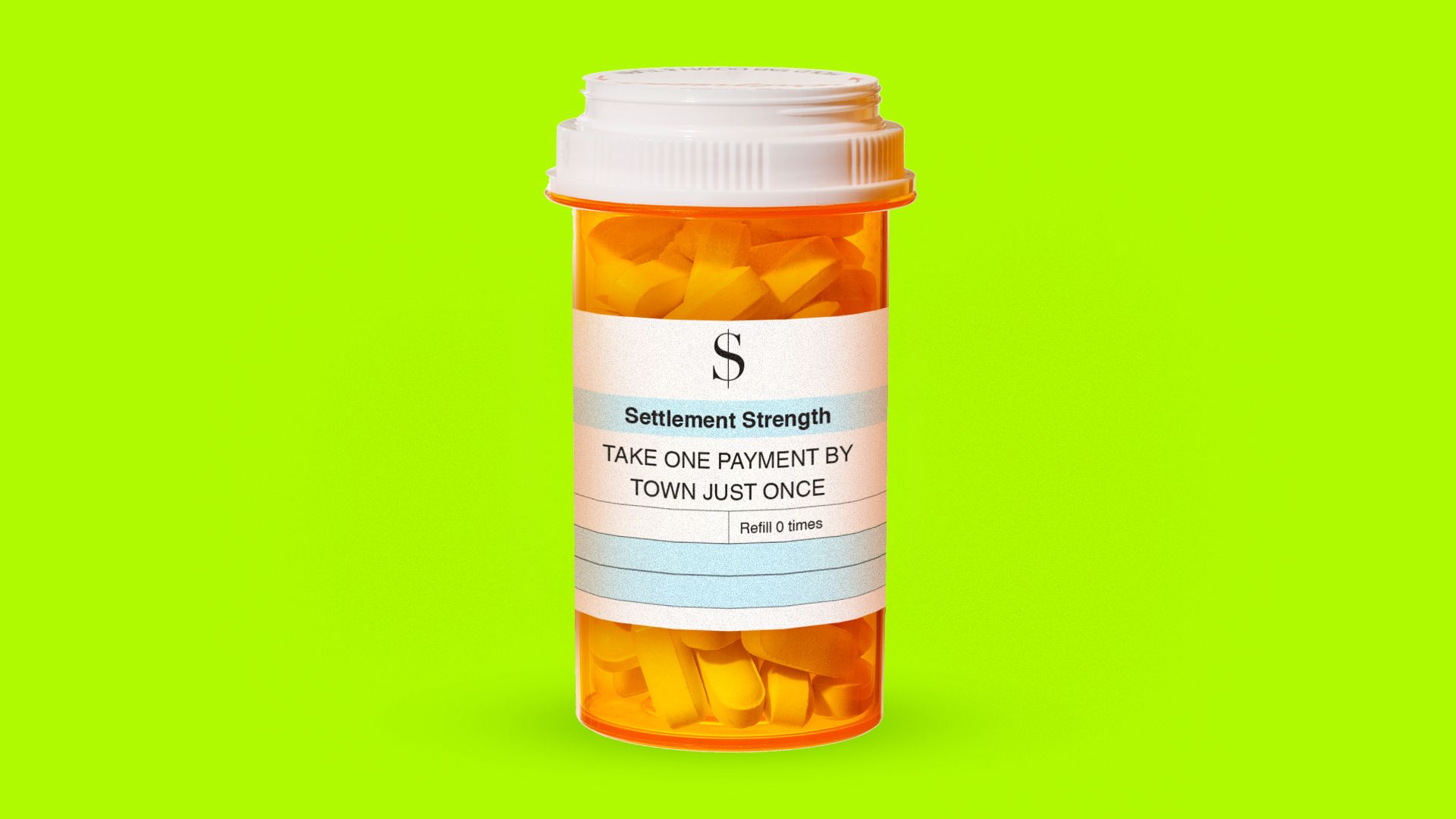 The federal opioids lawsuit pending in an Ohio district court likely will result in "hundreds of billions" of dollars flowing back to affected communities, according to Paul Hanly, one of the lawyers suing health care companies for their role in the epidemic.
Why it matters: The plaintiffs expect to win big money — through settlement or trial — that can then be used for drug treatment and recovery, although small towns and counties especially ravaged by the epidemic are worried money won't fairly flow down to them. But any outcome doesn't pose major financial risk to the companies in question, based on Wall Street's view of the case.
What they're saying: Hanly and his team are arguing that dozens of opioid manufacturers, drug distributors, pharmacies and pharmacy benefit managers should fork up money for their roles in the epidemic's creation.
The plaintiffs — various cities, counties and states — allege the drug manufacturers knowingly played down the risk of opioids, while wholesalers and others failed to monitor and report suspicious opioid orders.
"There's not enough money in the world to make everybody … entirely whole," Hanly told Axios. "You'd be talking about many trillion dollars."
A situation where defendants have to pay out hundreds of billions of dollars would be a relative steal for them. Large companies have liability coverage, and they would mark legal payouts as one-time charges.
"Settlements should not change the financial health of the companies," said Brian Tanquilut, a health care analyst at Jefferies, an investment bank.
The other side: Most of the companies haven't said much about the lawsuit, but one of the defendants, Purdue Pharma, argued last year in a similar lawsuit that the state of Ohio's case against it should be thrown out.
That's because since the FDA approved Oxycontin and the case didn't provide evidence of specific harm caused by the company's marketing, Purdue argued.
Another defendant, Cardinal Health, said in January that it has done the right thing but wouldn't rule out a settlement in the consolidated lawsuit.
Where things stand: The case is progressing on both a settlement and litigation track at the same time, although Wall Street predicts the former is likely and could happen soon.
Hanly said the plaintiffs want damages for money spent in the past 0n things like the overdose drug Narcan and increased medical examiner costs. But they also want money for future costs like education for health care professionals and treatment.
If the plaintiffs are successful, the money would be split among communities, Hanly said. How that'd work is undecided, but would probably be based on a variety of factors such as population and opioid overdose rate.
Smaller counties and cities will push to be paid for actual damages instead of states receiving and filtering down money like the tobacco settlement from the 1990s.
The big picture: Congress spent $6 billion on the crisis this year, but that's a far cry from the sum experts say is needed for treatment going forward. Hanly said current cost estimates are a fair guide for how much money the plaintiffs are seeking.
A 2017 report by the Council of Economic Advisers estimated the economic cost of the opioid epidemic was $504 billion in 2015 alone. That amount is six times higher than the most recent preceding estimate.
An analysis by Altarum earlier this year found the opioid epidemic cost more than $1 trillion between 2001 and 2017, and will cost another $500 billion by 2020. Most of this was in the form of lost wages and productivity, but health care costs from 2001 to 2017 were almost $216 billion.
Go deeper