The big picture: China's war on U.S. soybeans will be hard to sustain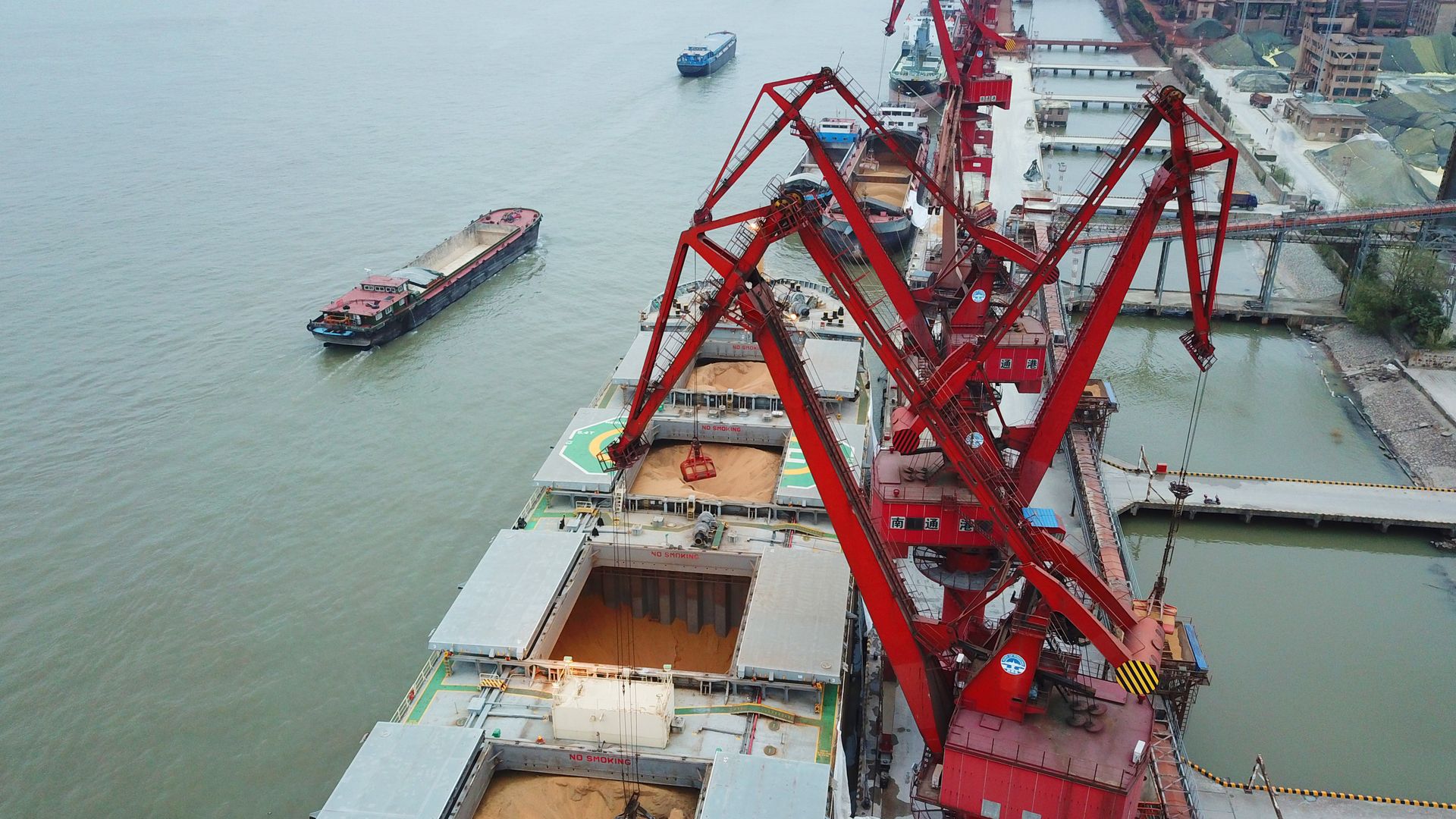 China's sharpest weapon against the U.S. is the volume of soybeans it imports, but it'll be difficult to maintain the war against American agriculture for too long given China's demand for the product.
The big picture: The Chinese are reliant on U.S. soybeans for animal feed — primarily for pigs — and cooking oil. Last year, China spent $14 billion on American soybeans, reports the New York Times' Raymond Zhong.
The details
Beijing bought a third of U.S. soybeans last year, and — in terms of dollar value — its the No. 2 U.S. import China buys from the U.S. behind airplanes, per Zhong.
But China hasn't been able to bolster its own growing capacity to curb reliance on the U.S. The government has introduced incentives for farmers but serious obstacles remain.
Beijing will be hard-pressed to find another country that can produce as large a volume of soybeans as American farmers can. Brazil and Mexico are two other sources for soybeans, but they can't match the U.S. in capacity.
What China is doing
Cao Xiumin, a Chinese farmer, told Zhong that "she is not producing much more today than she was a decade ago. Her fields are small and not irrigated. The new, supposedly higher-yielding seeds promoted by the government are not much better than the older varieties."
Provincial governments offered subsidies to local farmers for switching from growing corn to growing soybeans, but many farmers have to grow crops on a rotation to keep the soil healthy.
"China would need to dedicate a huge fraction of the entire nation's farmland — between a quarter and a third, by various estimates — to soy if it wanted to be self-sufficient," writes Zhong.
The bottom line: "[S]oy-producing states like Iowa and Illinois might not feel the tariffs' impact right away" because China likely will not be able to find another soybean supplier overnight, Zhong reports.
Go deeper