Pompeo's real mission in North Korea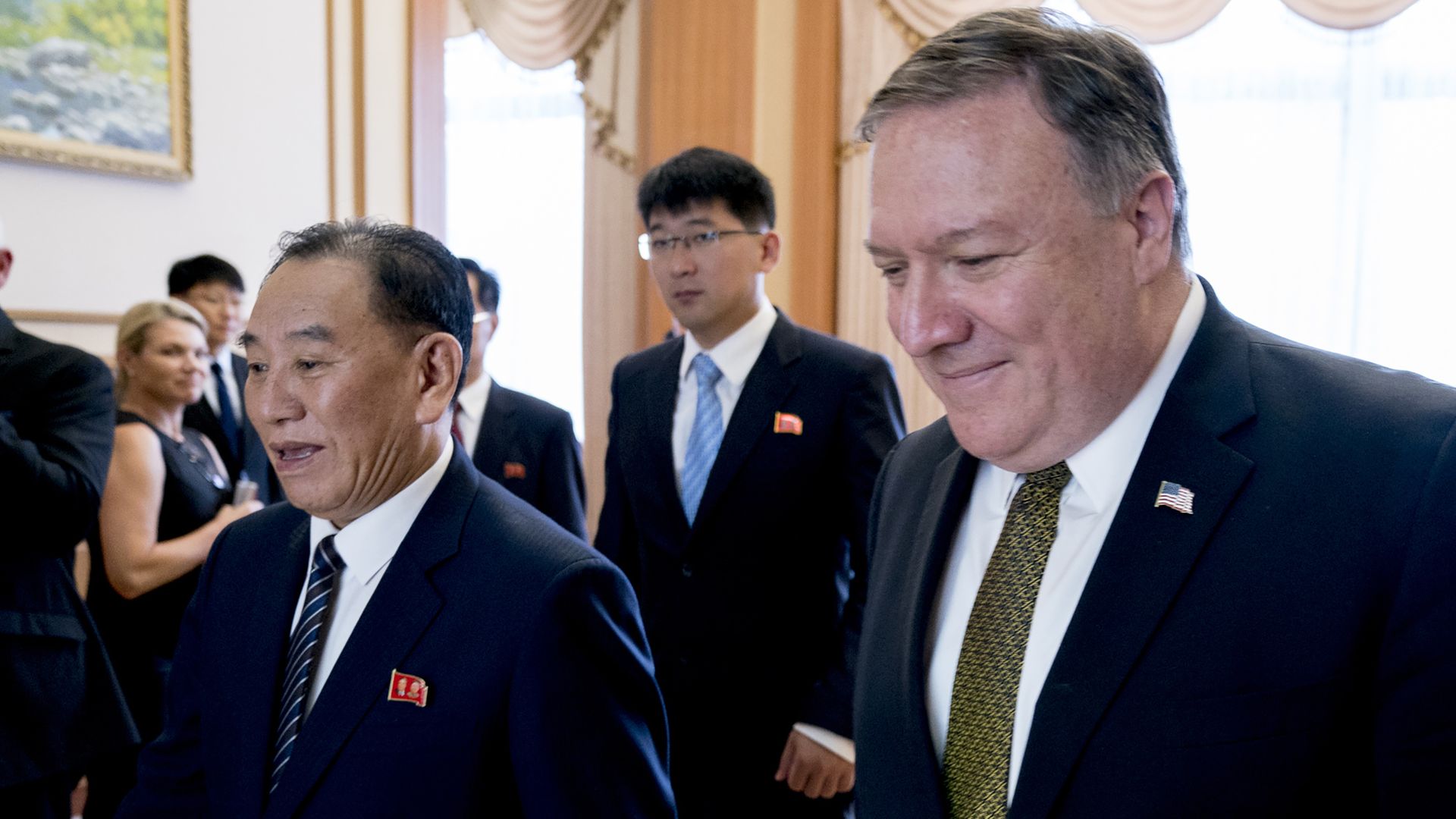 Would you travel 7,000 miles to confirm what your boss believes? That's partly what Secretary of State Mike Pompeo was doing with his two-day mission to North Korea.
The bottom line: According to sources, it's not going to happen overnight, or even in a year. Sources tell Jonathan Swan and me that the secretary was trying to validate for President Trump, who's anything but patient, that some patience will increase the chances of denuking North Korea.
Or maybe at all: Hours after Pompeo concluded two days of meetings with North Korean officials today, a statement by an unnamed North Korean Foreign Ministry spokesman called the talks "regrettable" and accused Washington of trying to unilaterally pressure the country into abandoning its nukes, per AP.
Pompeo wrapped up without meeting Kim, but with an agreement for further discussions on denuclearization and repatriation of remains of U.S. soldiers:
State Department spokesperson Heather Nauert tweets: "Just before leaving Pyongyang, @SecPompeo gives US reporters a brief readout from his meetings. 'These are complicated issues but we made progress on almost all the central issues. Some places, a great deal of progress, other places, there's still more work to be done.'"
Administration officials believe the pace has been quick: The summit was 25 days ago, and the sides have already met again.
And officials say Pompeo wouldn't have made his third trip to North Korea this year if he didn't think it was worth the effort.
This is going to be a tortuous process:
Trump has set expectations so high: He returned from Singapore and said: "[T]hat problem is largely solved." And he tweeted: "President Obama said that North Korea was our biggest and most dangerous problem. No longer - sleep well tonight!"
The reality is that Kim still possesses an arsenal of which we don't have full visibility.
All the hard work is ahead of Pompeo: He needs to convince a young eremitic dictator that it's in his self-interest to do something that some regime hardliners around him are telling him — at least so far as the U.S. intelligence community can ascertain — amounts to suicide. 
So many fraught questions face the Americans:
How do you convince Kim that he'll be better off and safer if he turns over his arsenal?
How do you ship nukes out of North Korea and yet allow Kim to save face?
How do you set up a verification regime that's even close to satisfactory?
The State Department at least wanted a recommitment by North Korea to the promises made at the Singapore summit:
That will buy some time with the White House for Pompeo and his team, so the experts can start getting beyond the words.
"The objective is to get the North Koreans to be more firm in their commitment to denuclearization," a national-security source said. "There was an agreement in principle [in Singapore], and now we want to advance the ball and get more specific with more detailed commitments."
What they're saying: U.S. staffers have now been named to begin that process.
"This has been the Hermit Kingdom for a very long time," the source said. "Unwinding it is not going to happen overnight. With managed expectations and both sides working together, it can happen."
So the trip will be a success, the source said, if Pompeo can show Trump "what the first steps look like."
Be smart: For this gambit to have any chance of succeeding, Trump is going to need to demonstrate a strategic patience — and willingness to withstand short-term setbacks and humiliations — that's anathema to his makeup. 
Go deeper