What we know and don't know about the U.S. Army discharging immigrants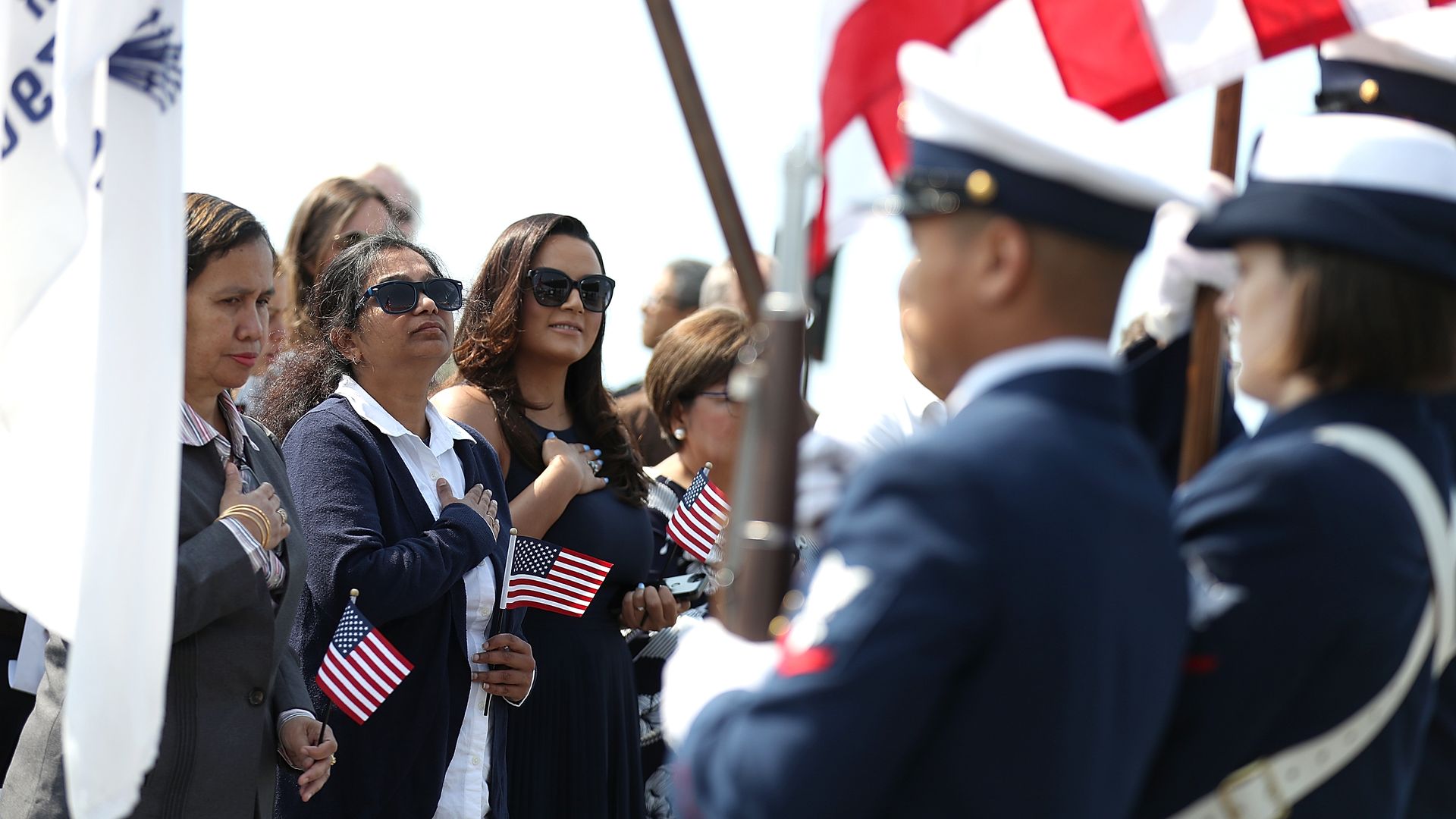 At least 40 immigrants who had enlisted in the U.S. Army have been booted from the military, losing their chance at qualifying for citizenship, the AP reports.
Why it matters: The number of immigrant reservists and recruits being discharged from the Army appears to be a trend, but there is no clear indication that there has been
any policy change under the Trump administration. Immigrants who serve in the military still receive citizenship.
There are still some unanswered questions, but this is what we know:
Immigrants with legal status in the U.S. can earn expedited paths to citizenship by serving in the military, and in 2009 the Obama administration launched a special program for immigrant recruits.
But recently, some immigrant recruits were told that they were a security risk for having relatives out of the country, others were told that the Department of Defense were not able to finish their background checks, and some were given no explanation at all for their discharge, according to the AP.
The big picture: The Trump administration has been using everything within its power to limit both illegal and legal immigration. There has also been an increased denial rate for veterans requesting deportation protections for their spouses and dependents, according to the Military Times.
In 2016, the rejection rate was 10%. It's currently at 20%.
How it works: Only legal immigrants with some form of a legal visa — even a student visa — can serve in the military. They must all go through security screening before being formally admitted into the military.
The U.S. Army sent out a statements saying that any recruit, an immigrant, who receives "an unfavorable security screening is deemed unsuitable for military service and is administratively discharged.  Each recruit undergoes an individualized suitability review and the length of time for the review is dependent upon each individual's unique background."
The U.S. has been in a period of "hostility" since 9/11, which qualifies any non-U.S. citizen who serves in the military on active-duty or selected reserve for immediate citizenship, according to USCIS.
In times of peace, non-U.S. citizens qualify for citizenship by serving honorably in the military for one year, according to Military.com.
A 2009 recruitment program, called Military Accessions Vital to the National Interest, allowed some legal immigrants with specific, in-demand skills to join the Army in exchange for expedited citizenship. The DoD planned to recruit up to 5,200 such immigrants in 2016, according to a DoD fact sheet.
Yes, but: As many of the immigrant recruits and reservists had not yet gone through their basic training, according to the AP, they had not yet earned qualification for citizenship.
"I was devastated, because I love the U.S. and was so honored to be able to serve this great country."
— Reservist Lucas Calixto, a Brazilian immigrant, to the AP
By the numbers:
There are around 511,000 foreign-born veterans living in the U.S., according to a 2015 report by the Migration Policy Institute.
Immigrants have fought in every major U.S. military conflict. 20% of the Union army during the Civil War were foreign-born, according to U.S. Citizenship and Immigration Services.
In 2016, 8,885 military immigrants were naturalized, according to DHS data.
Go deeper