Trump makes NATO nightmare a reality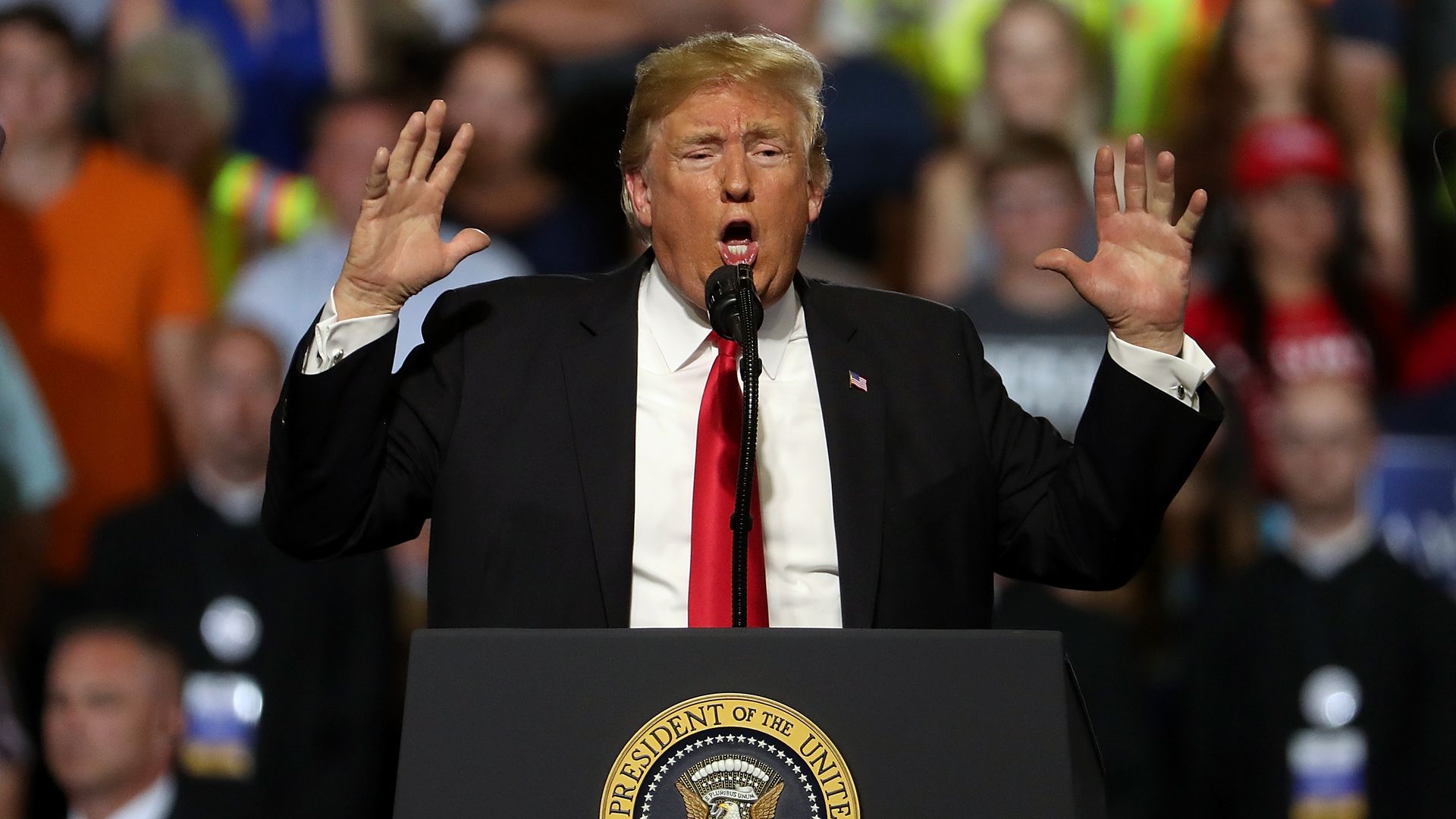 President Trump's harsh blast at NATO during a rally last night in Helena, Mont., was Europeans' worst nightmare come to life, Western diplomatic sources tell Jonathan Swan and me:
Trump portrayed the alliance as one-sided, transactional and bad for the U.S., and seemed to suggest that U.S. military support is conditional on the Germans paying more, calling out "Angela" — the German chancellor.
The president's views on NATO and trade are inseparable: He believes that, as he said in Montana, Americans are "the schmucks paying for the whole thing."
Trump re Europe: "[T]hey kill us on trade. They kill us on other things. ... [T]hey kill us with NATO. They kill us."
He sees both as examples of international systems set up to screw the U.S. And now he's going around the world with his hand out, collecting what he sees are America's dues.
Why it matters: When the history of the Trump presidency is written, one of the most important chapters will be the way he changed America's relationship with Europe.
He doesn't do what normal U.S. presidents do and make unequivocal statements about solidarity against shared threats. He asks them to pay up.
Rhetorically at least, he seldom distinguishes between allies and adversaries. And when he does, he often saves the toughest words for America's allies.
Trump's theory of the case is that Europe needs us more than we need them. And certainly for now, at least, Europeans have nowhere else to turn for their protection.
It's possible his theory works out in the long term and they become militarily much more self-sufficient. But what's not clear is what it will mean for the U.S. in the long run to draw down so much goodwill with our traditional allies.
European officials have been telling us they're worried Trump will take a "purely transactional" approach to NATO and ignore shared values and the other dimensions of the alliance.
Reality check: Trump is correct that the other NATO members aren't living up to their financial commitments. But they have been improving over the past two years.
What's next: The other NATO member states worry — and the rally seems to confirm their fears — that Trump will come into next week's NATO summit in Brussels like a wrecking ball, and beat up on them over not paying their bills.
The path they would prefer: a victory lap for the progress made since he became president. 
The Germans are especially concerned, but it's not just them. There are so many other countries who live in real fear of Russia and know that Vladimir Putin is rooting for transatlantic tensions and divisions. 
The Europeans' worst fear of all — so bad it's almost unthinkable — would be for Trump to say at the summit that U.S. protection is somehow conditional on them meeting defense spending targets.
Trump's aides assure the allies he will provide an "ironclad" commitment to continue defending them, and certainly he's done so a number of times over the past year.
Be smart: European officials tell us they're still nervous because they don't trust that Trump's advisers actually speak for Trump.  
Go deeper