Tester appealing to Trump backers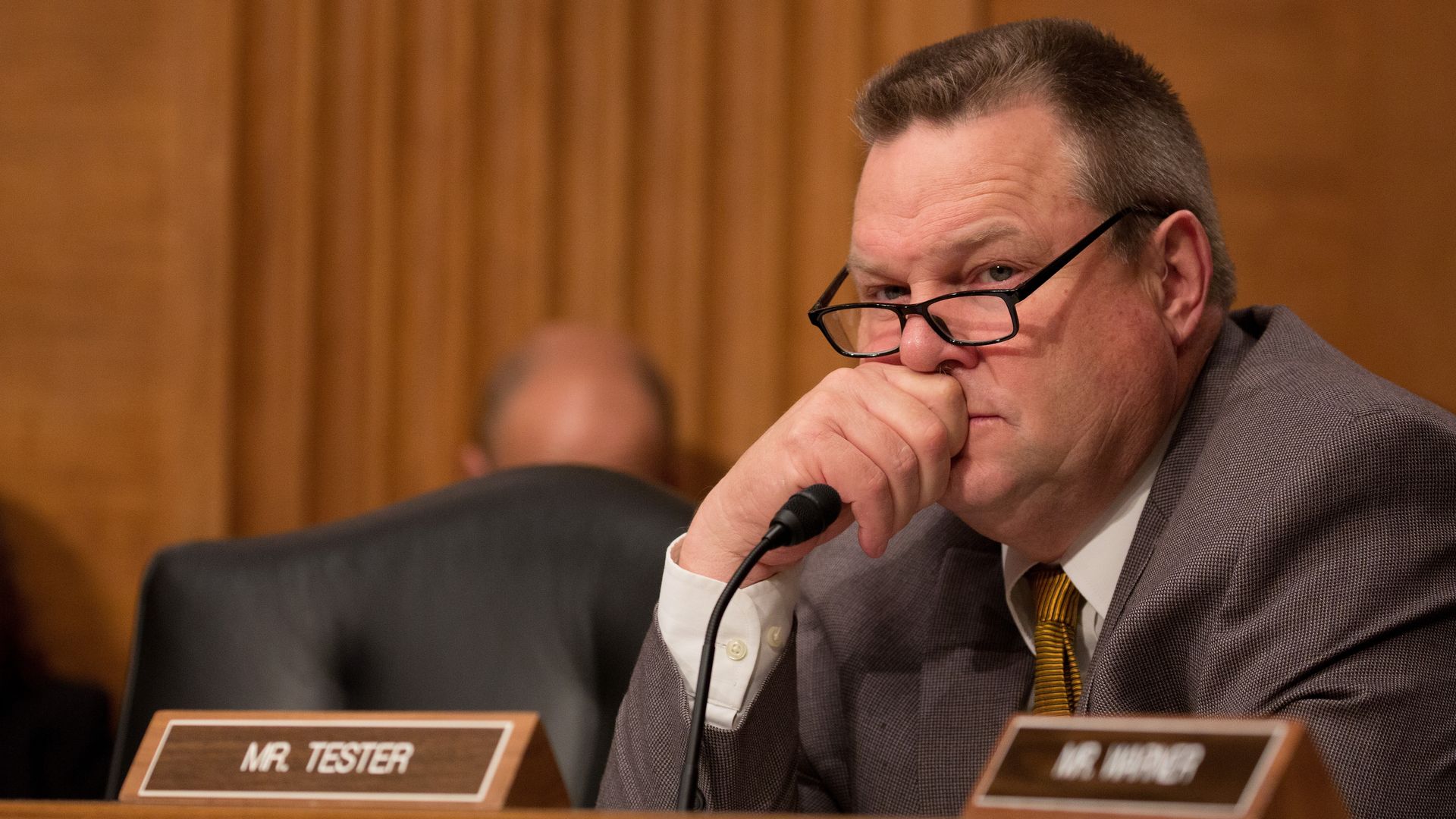 Democratic Senator Jon Tester's re-election campaign placed a full-page ad in 14 Montana newspapers today thanking President Trump for signing 16 of his bills into law. Trump is holding a campaign rally in Montana tonight supporting Tester's GOP challenger, Matt Rosendale.
Why it matters: Tester is considered vulnerable because he's a Democrat representing a state Trump won in 2016, but he's rewriting the red-state's Democratic playbook by shrugging off the president's repeated attacks and appealing to Independent voters.
That last part is huge. When Sen. Tester was last re-elected in 2012, the Libertarian candidate got more votes than the difference between his total votes and his Republican challenger's votes, per Daily Kos.
That suggests Republican voters (or maybe conservative-leaning Independent voters) were unhappy with their choice. Though they weren't quite ready to vote for a Democrat, they didn't support the GOP candidate either.
Testing a new playbook: This scenario gives Tester a clear opening to appeal to these independent-minded voters who might be looking for change and could be convinced to vote for the Democrat this time around.
"Washington's a mess," the ad says, which most voters would agree with, "but that's not stopping Jon from getting things done for Montana."
The ad lists all 16 bills of which Tester is a sponsor or co-sponsor that Trump has signed into law.
He's only voted with President Trump 36.5% of the time, according to FiveThiryEight. That's enough to show voters a willingness to work with Trump, but much lower than his fellow red-state Dems Sens. Joe Manchin and Heidi Heitkamp.
The big picture: You'd be hard-pressed to identify any Senate candidate running in a high-stakes race this year, particularly on the Republican side, who is campaigning to voters in the middle.
In West Virginia we saw Don Blankenship, who claimed to be "Trumpier than Trump."
Indiana Senate candidate Todd Rokita campaigned with a cardboard cutout of President Trump.
Ohio Senate candidate Jim Renacci got the coveted Trump endorsement ahead of his primary for supporting Trump's agenda on tax, immigration and border security.
Battle lines: Since April, Sen. Tester has had to deal with tweets from the president calling on him to resign, the president taunting him in a phone call with Fox News, and not getting invited to the White House for two different signings of two bills that Tester co-sponsored.
Instead of fighting back or being dragged into the drama, Sen. Tester responded by reaffirming his commitment to Montana voters and veterans.
"We're glad President Trump is finally coming to Montana after Jon has invited the Administration several times to Montana to discuss topics important to Montanans," Tester's re-election campaign communications director Chris Meager told Axios.
Yes, but: We've seen Trump's successful primary intervention so far, both for House and Senate races. The real question is whether he can maintain the Rosendale momentum for 18 more weeks until the November general election.
Go deeper