Intense heat wave to engulf parts of the West, stoking wildfires
It's only early July, and already California is baking under a scorching heat wave, while massive wildfires are burning in the central part of the state.
Other fires are burning in Colorado, New Mexico, Arizona and other states. Now the heat wave that has roasted the Midwest, Ohio Valley, and East Coast is shifting west, setting the stage for a blistering weekend from Los Angeles to Sacramento, along with parts of the interior West.
What this means: The National Weather Service has issued its most severe heat warning category — an excessive heat warning — for parts of the Los Angeles basin, while much of the rest of the state is under other heat alerts for Friday and Saturday.
Temperatures are forecast to reach or exceed 100 degrees Fahrenheit from the coast of Southern California to inland areas, including parts of Silicon Valley, northward into Oregon. Some inland areas in Southern California could hit 115 degrees Fahrenheit, which is about 25 degrees above average for this time of year.
Such intense heat poses a public health threat, particularly in areas where many people lack air conditioning, such as coastal Los Angeles and San Diego, since onshore breezes typically keep those areas cooler.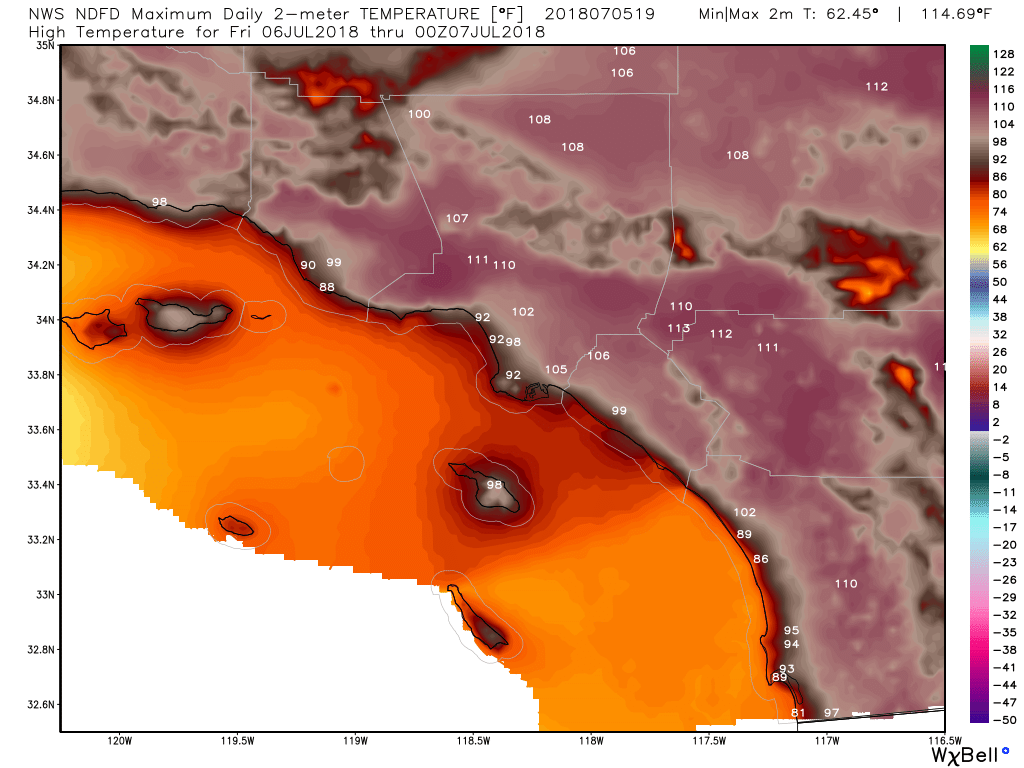 It is likely that numerous warm temperature records will be set through the weekend, possibly including all-time heat records. It is rare to have a heat wave in Southern California without dry, offshore Santa Ana winds occurring, but that is what is on tap with this event, which will be caused by the westward expansion of the massive heat dome that has toppled heat records further east during the past week.
Some computer models show signs that extreme heat may continue through the latter part of July in the West.
What we're watching: Two key questions are:
How many new fires will be sparked during this heat wave, since the high temperatures dry out vegetation even further?
How significantly the fires already burning across the state will worsen during the period?
As of Thursday morning, the County Fire in Yolo and Napa counties of California had burned 86,000 acres, and was 30% contained, according to CalFire. About 3,500 personnel have been deployed to this blaze, and CalFire warns that the fire weather conditions will deteriorate this weekend: "The weather will become hotter and drier into the weekend and fire growth potential remains high," the agency stated on its website.  
In Colorado, the Spring Creek blaze has torched more than 100,000 acres, and is now the state's third-largest blaze on record.
In California, through July 1, more than twice as many acres had gone up in smoke in California compared to the same period in 2017.
As the summer continues, it's likely that more large wildfires will develop in the West, sparked by lightning and human activities, including arson. While these fire triggers have long been around and show little trend, there are other factors that scientists and policymakers are increasingly concerned about.
Between the lines: Scientists have observed a trend toward larger wildfires in the West, along with wildfire seasons that start earlier and end later, due to more rapid snowmelt in the spring and warmer, drier conditions. In California, 2017 was the state's worst wildfire season on record, as well as its hottest summer on record.
These shifts have links to global warming, according to numerous scientific studies. Wildfires are also getting more destructive because of land use and fire suppression policies over the years.
Go deeper