Scoop: Confident Trump not planning for Dem House takeover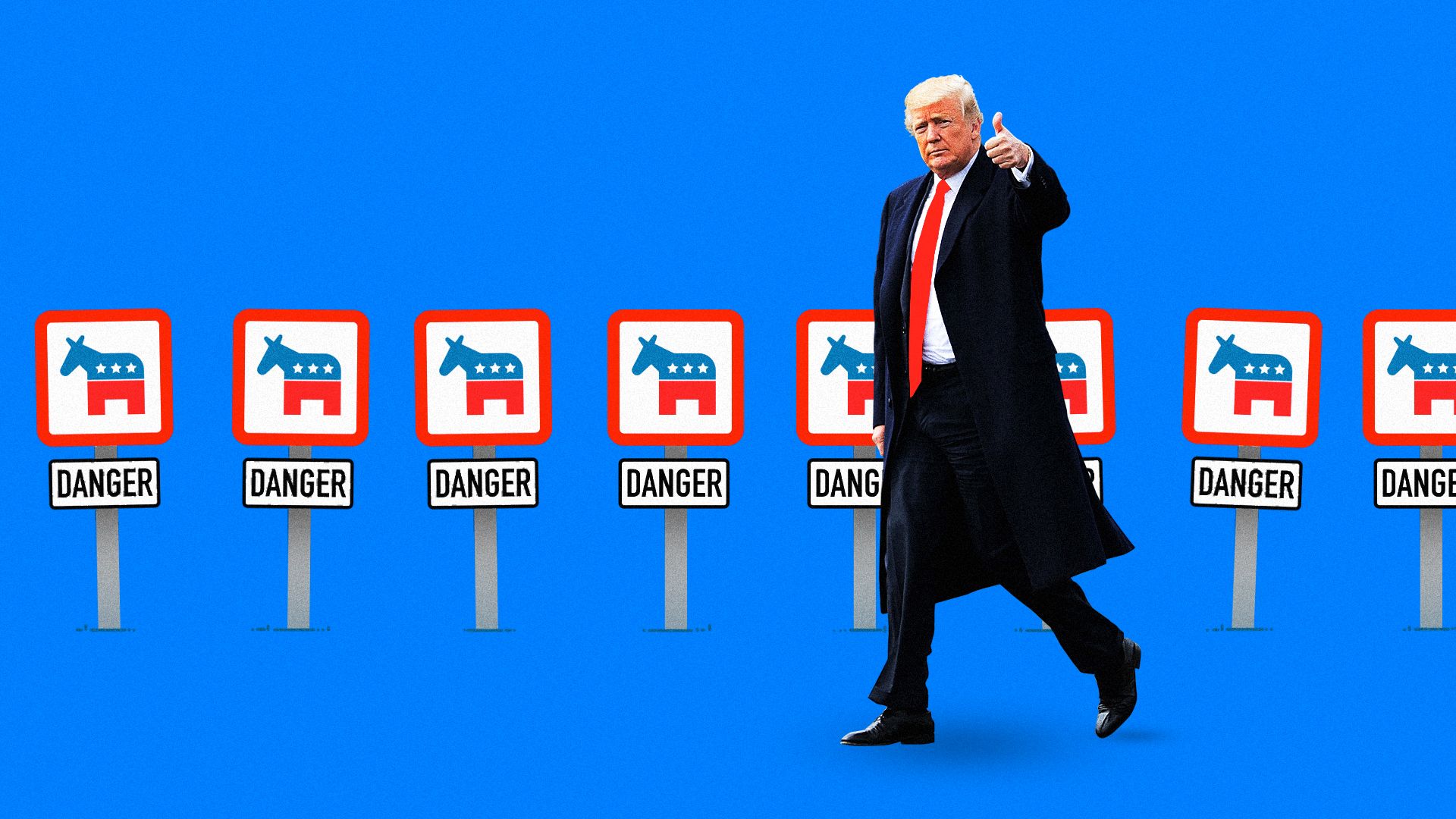 Alumni of President George W. Bush's second term are getting flashbacks: Democrats are favored to take over the House, spelling a raft of headaches for a Republican president.
The big picture: What's true today was also true in 2006. Bush 43 aides were certain that winter was coming — and they were right: Voters, driven by discontent over the Iraq war, ended 12 years of Republican rule in the House, giving Speaker Pelosi the gavel in January 2007.
So top Bush West Wing officials formed a secret "Oh [email protected]# Group" to get ready.
"You have to plan for a war footing, but you can't give any external signs that you've lost confidence," a member of the OSG told me. "They'll still be putting up a fight, so you can't have the press or people around town saying: 'The White House is planning for their party to lose.'"
The planning began as soon as Josh Bolten was sworn in as White House chief of staff in April 2006, when it was already clear that losing one or both chambers was a real possibility. Throughout the summer and fall, the OSG met regularly in Bolten's office.
Despite bearish signs about November, the current White House has no OSG — in part, I'm told, because President Trump and some West Wing officials believe Republicans will hold on.
Trump is already holding frequent rallies in key areas for the midterms, and will travel even more after Labor Day. He relishes the fight, and loves the idea that he'll save the House for Republicans.
Nevertheless, Jonathan Swan says that many administration officials he talks to are downbeat about November. Those with experience in more than one campaign are likely to see saving the House as a 50-50 proposition, at best.
In this time of political sea change, the White House has done little contingency planning.
Few people in the West Wing believe Chief of Staff John Kelly will still be around in January. And Kelly and the West Wing staff spend much of their time in reactive mode, putting out fires and responding to Trump's latest whims.
A Trump aide told me: "Prepare for something six months from now? We don't prepare for something that's right in front of us."
Sources close to the Republican congressional leadership said officials have tried to convince Trump that he needs to get ready, but they don't believe the message has gotten through.
The White House's addition in May of Emmet Flood, President Clinton's lawyer during impeachment, could help with high-stakes fights over subpoenas from a Democratic House. But for now, Flood has his hands full with the Mueller investigation.
OSG alumni had this advice for the Trump White House about prepping for Democratic rule:
Democrats now will have subpoena power: "Oversight committees are going to bombard you with calls for testimony and documents," requiring massive West Wing legal bandwidth.
Democratic chairs can suddenly go after your spending, your email, your calendars, your notes.
"Things that might get a pass — or be one-day stories, or wiped under the rug — when you have the same party can suddenly became major stories. Every single thread, happening anywhere in the government, gets pulled."
Democrats are likely to pick "weak members of the herd" — vulnerable Cabinet members — and go after them from all directions.
"Clear the decks now of anyone you think is going to cause more pain and embarrassment than you're willing to spend."
"The confrontational footing is a huge distraction. You have to structurally prepare for how you're going to deal with ongoing battles where suddenly you're not setting the agenda."
"Figure out which issues you're going to fight on, and which Democratic issues you can try to co-opt and make progress on."
Be smart ... Thinking ahead to the mayhem of a Democratic House, an alumnus of the Bush 43 White House told me: "Our current president might welcome the turbulence and distraction."
Get more stories like this by signing up for our daily morning newsletter, Axios AM. 
Go deeper