Trump's WTO threat risks recession, market implosion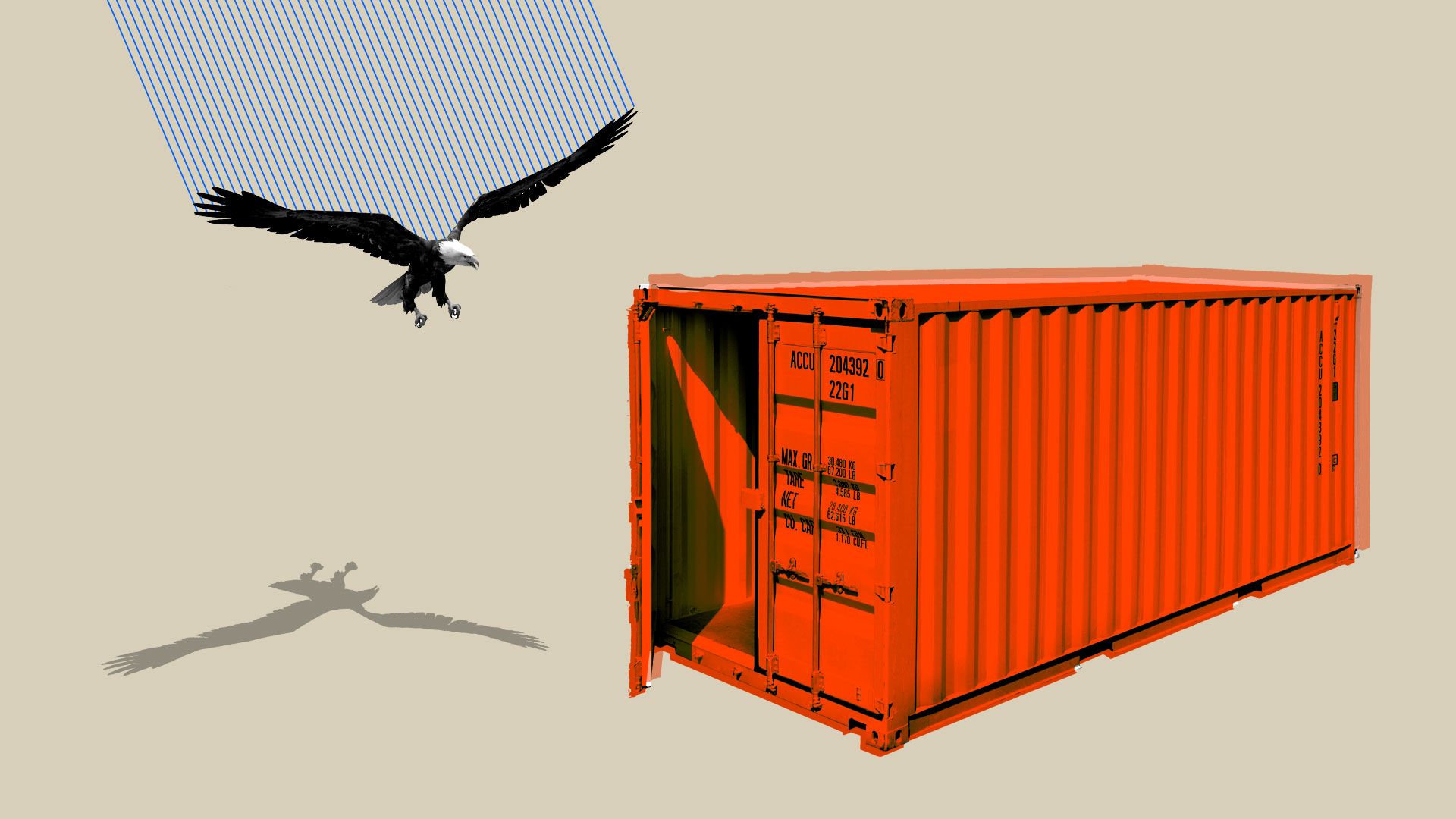 Look for global stock markets to crater and economies to dive into recession if President Trump proceeds with his desire to withdraw from another international accord — this time the World Trade Organization, economic experts tell me.
The big picture: Thus far, Trump has mostly damaged U.S. prestige with his anti-globalization actions, including withdrawing from the Trans-Pacific Partnership and the Paris climate agreement, as well as threatening to pull out of NAFTA. He's also caused global stock markets to gyrate by imposing tariffs on Canada, Europe, and China; and oil prices to rise by pulling out of the Iran nuclear deal. But "the financial shock would be very, very large" should he withdraw from the WTO, said Gary Hufbauer of the Peterson Institute for International Economics.
What they're saying:
"Business confidence in the system would be severely shaken," Hufbauer told Axios, and there would be "quite a hit" to long-term investment in plants and equipment. "You don't need much of a slowdown in these areas, and you have recession."
"If he persists, if this is more than bluster or a negotiating ploy, he is putting the prosperity of the world at risk," said Brookings' David Wessel.
The backdrop: Last week, Axios' Jonathan Swan was leaked draft legislation, ordered by Trump, that would abandon key tenets of the WTO. Swan's sources tell him that Trump routinely vows to withdraw entirely, and on Monday, the president publicly threatened that "we will be doing something" should the WTO not "treat us properly."
The White House seems to be showing little understanding of the WTO's history, originating in 1947 along with the World Bank and the International Monetary Fund as vehicles to prevent any future global war by buoying the economies of the world.
What specifically bothers Trump: Analysts say he's bothered by the fact that the WTO still treats China as a developing country, and wants that to change.
But but but: While Eswar Prasad, a professor at Cornell University, expects a huge fallout, he suggests it will be more muted than a full-scale economic reversal.
"Trump's repudiation of the WTO could prove a body blow to the rules underpinning the global trading system," Prasad tells me. "The prospect of that and further disruption could hurt the stock market, but is unlikely to derail U.S. growth momentum sufficiently to tip the economy into recession."
What to watch: The first signal of what's to come will be Friday, when stiff tariffs ordered by Trump on China take effect, following steel tariffs already enacted on Europe and Canada, along with reciprocal tariffs on the U.S. That is, unless Trump halts U.S. action at the last moment, which some suspect he will.
What's next: While this already looks like trade war, more is still ahead. Trump has threatened tariffs on another $400 billion in Chinese products should it retaliate against the U.S. If that happens, look for Beijing to respond harshly, perhaps by disadvantaging U.S. companies operating in China.
Other potential impacts:
Go deeper