Automated fashion is now a reality in new Chinese store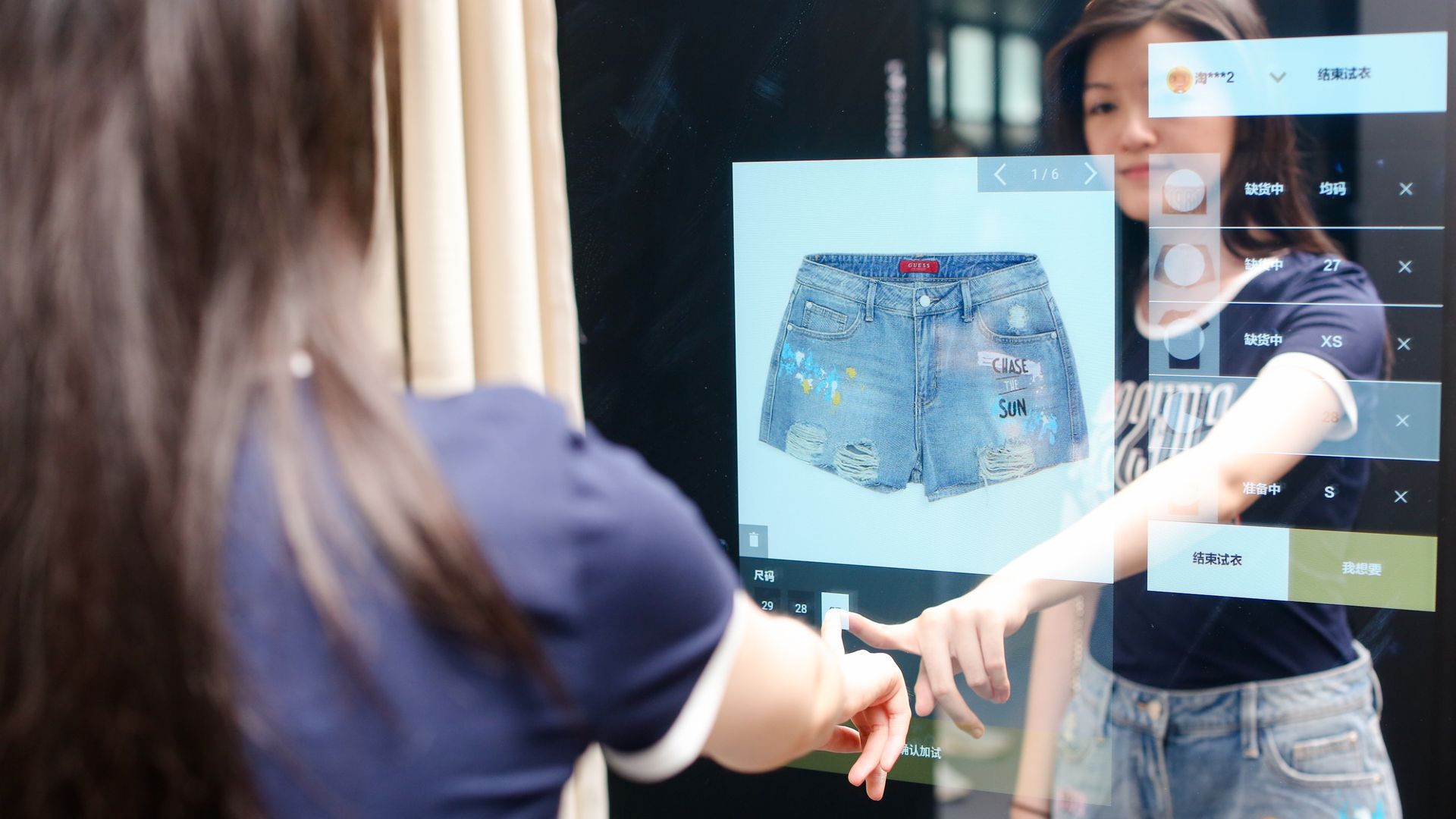 Everything is automated and powered by artificial intelligence — or soon will be — in a new fashion shop opening tomorrow in Hong Kong. From the time you enter, using an app to open an electronically locked sliding glass door, to the time you leave, you may never see another human apart from other shoppers.
The big picture: Last month, I toured a model of the store on Alibaba's Hangzhou campus. Steven Keyang Shi, who leads the Alibaba tech team creating the store, told me that the objective is to merge e-commerce and brick-and-mortar retail — to make shoppers see them as one organism.
The details: The shop, the first of its kind, features fashions marketed by Guess. It was devised in a collaboration between a tech team at China's Alibaba and students at Hong Kong Polytechnic University, where the pop-up store will be open through Saturday.
How it works: In this first iteration of what Alibaba calls "FashionAI," you are given a gold token that recognizes you. Within the store, you browse L-shaped displays with racks of clothing on the left and a full-length mirror on the right.
When you take say a pair of shorts off the rack, a window opens instantly on the mirror. It displays the shorts, and suggests pairing them with a matching blouse, shoes, and a bag from the existing inventory (see photo above). When you hit a second tab, the suggestions become more personalized, based on what you've previously bought on Alibaba's giant Taobao online store in the last three months.
If you want to try on the shorts, you press the link for your shopping cart, and go to a fitting room. Walk inside, and there your selection is waiting. Is the size is too large, or the color not quite right? Press that on the mirror, and the new item appears on a hanger.
To buy, you can take the clothing with you or have it delivered within two days. You can also choose to make a decision later on, and the app will remember everything you looked at, so that you can purchase it later.
What's next: As of now, these items are delivered to the fitting rooms by staff in the back who monitor shopper requests on a large iPad. But the next iteration will be far more automated — you will be recognized using just your app, and receive your selection in the fitting room by a machine, rather than humans, Shi says.
Humans will still be required to stock the storeroom and perhaps to bag a purchase, though in the future the latter might be automated, too, an Alibaba spokesman said. But otherwise, the experience will be fully AI-driven.
How the shop came together: The tech team had numerous challenges, including anticipating how people want to shop.
A primary challenge was devising what Shi called "the rules" of mixing and matching — training an AI system to instantly suggest genuinely apt shoes, a bag, or a blouse to go with the pants a customer has selected off the rack.
To get there, they queried some 2 million fashion stylists, who sent in photographs of some 500,000 outfits that, in their view, go together well. They asked the advice of fashion houses, and looked at shopping histories on the Taobao platform. All of this was used to train a machine learning system in fashion.
The result is a system that can decipher short and long sleeves, round or v-neck collars, and so on, and from that makes the suggestions of what will go together.
Go deeper