Go deeper: The women leading immigration-policy activism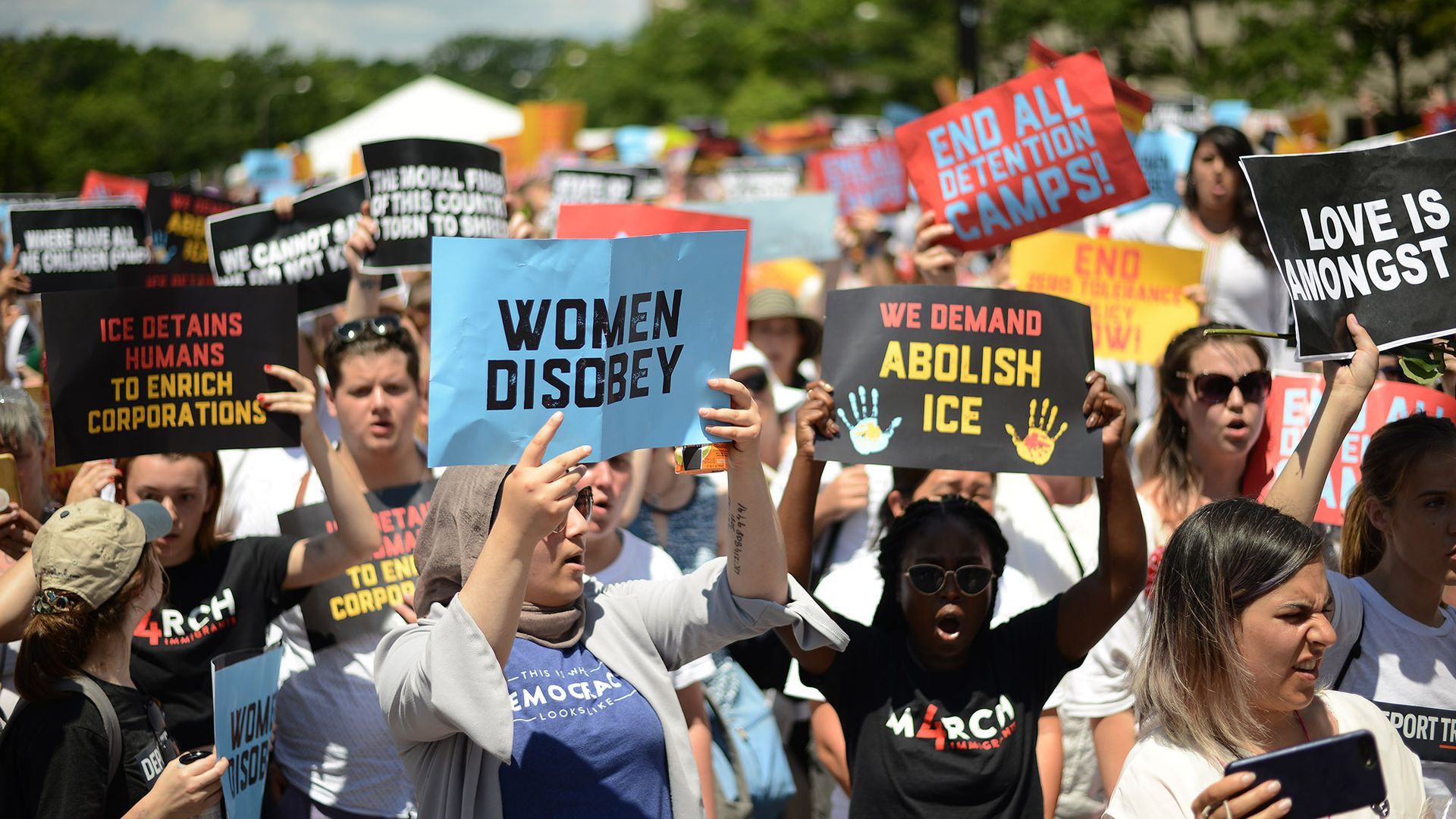 Women are among those leading the charge in efforts to reunite immigrant children with their families in response to the "zero tolerance" immigration policy and family separations.
The big picture: Women from a range of backgrounds — from religious leaders to chefs — have amplified the opposition to the Trump administration's border policies; many also took part in women's marches as part of opposition to Trump. They've used platforms such as Facebook groups, GoFundMe campaigns and coalition websites to organize on-the-ground volunteer work, rallies and other activism.
By the numbers: The issue has struck a nerve with women voters. Women (as well as voters under 40 and black voters) are the most likely to think the Trump administration is too aggressive when it comes to stopping illegal immigrants from entering the country, according to a late June Rasmussen Reports survey. Men and voters over 40 are more likely to blame the parents when families are separated after attempting to enter the U.S. illegally, per the survey.
In Texas, 64% of women voters and 50% of men voters oppose the separation practice, according to a June University of Texas/Texas Tribune poll.
Among Texas Republican women voters, 42% oppose the practice and 37% support it. Among Texas Republican men voters, 30% oppose it and 56% support it, per the poll.
Driving the news
What's happening
Social media, online fundraising platforms and email groups have helped connect like-minded women — many of them mothers — to organize and share resources. For example:
Natalie Roisman, 43, a member and part of the leadership at Lawyer Moms of America and mother of three children, said social media allowed the group to form and grow to 16,000 supporters in just a few weeks. Last Friday, the group organized a rally in Washington, and women in all 50 states visited local members of Congress.
Sarah Feinberg, 40, a consultant, mother, and former official in the Obama administration, found herself consumed by the news coming from the border and started an email thread with a few friends. Within days, the list grew to include other women who work in tech, politics, and communications looking to lend a hand. "In particular, I think women and mothers are really struggling with this," she said. 
Brooke Oberwetter, 39, mother of three and a public policy manager at Facebook, flew from D.C. to McAllen, Tex., in late June to volunteer at the Humanitarian Respite Center, part of Catholic Charities of the Rio Grande Valley. She also created a Facebook group to match donated funds to cover costs with those volunteering and buying supplies at the border.
Rebecca Bell Wilson, 43, mother of three and and a management consultant in Dallas, started a GoFundMe campaign and raised $5,000 in a few days to help people at the border. She and two other Dallas moms drove nine hours to McAllen to volunteer — helping families just released from detention centers to shower, eat and rest before being bused elsewhere. She plans to return in a few weeks.
"You pay attention to what breaks your heart in the world and that's where you do your good deeds and service. We were there without judgement — to give them dignity for a few hours."
— Rebecca Bell Wilson
What's next
After rallies and protests, many are asking "what's next?"
Though many efforts are urging Congress to act, legislation is not moving.
Organizers say they are concerned about striking the balance between making the movement inclusive of issues without diluting the message on family separation, Roisman says, as well as the balance between finding more for volunteers to do without exhausting them on an emotionally charged issue.
Go deeper:
Go deeper