Scoop: Trump may hold Round 2 with Kim Jong-un in NYC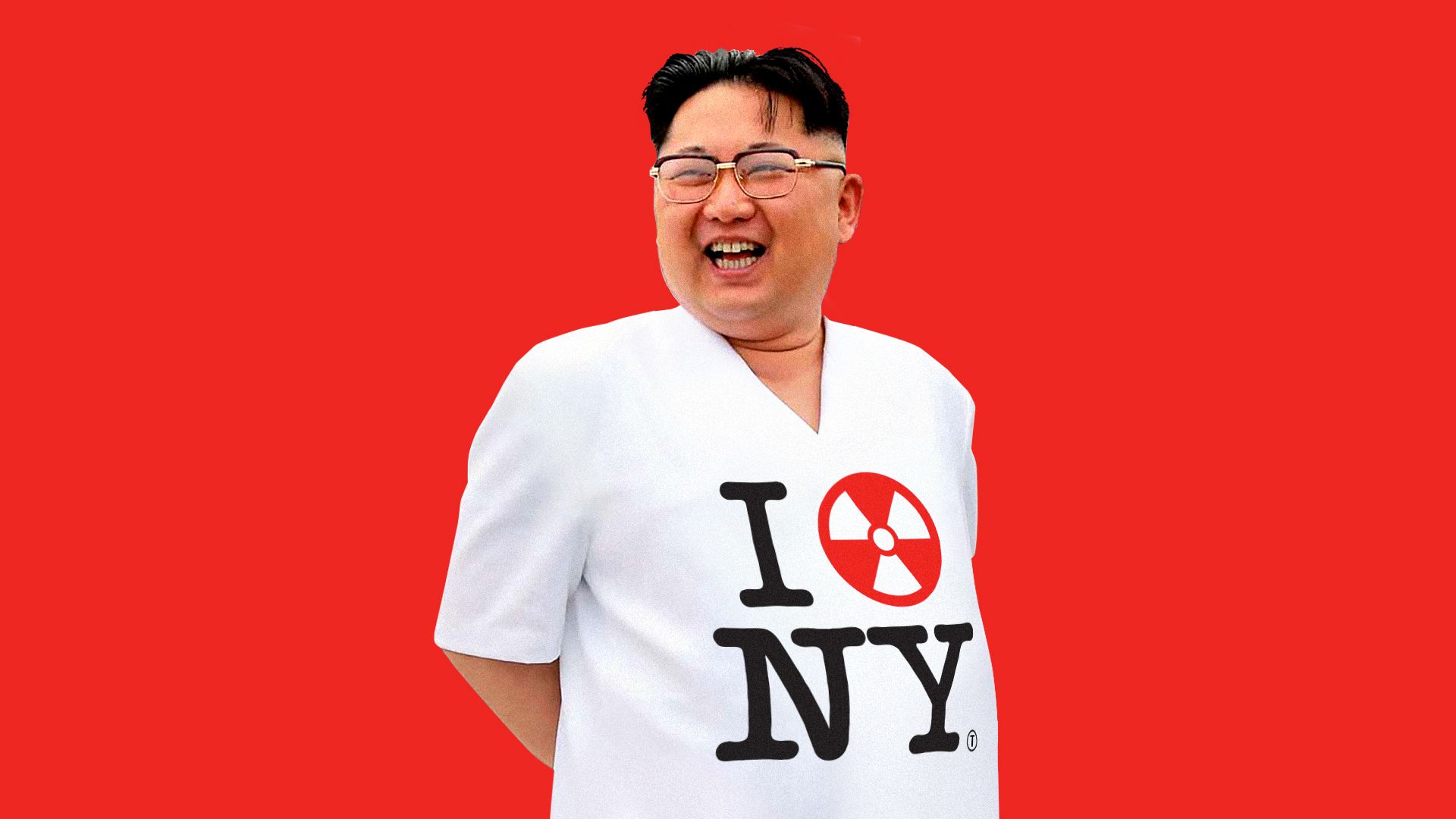 Some administration officials are so optimistic about making progress with North Korea's Kim Jong-un that they hope a Round 2 with President Trump can be held in New York in September, when world leaders pour into Trump's hometown for the U.N. General Assembly.
The big picture: Officials tell us that Kim would have to show progress for the meeting to occur. One possibility would be for Trump to hold out a Round 2 meeting as a carrot to encourage real movement by North Korea over the summer.
Regardless of whether Kim gets another meeting with the leader of the free world just three months after the Singapore summit, the U.S. is giving him more time to begin denuclearizing despite new doubts about North Korea's good faith.
Secretary of State Mike Pompeo will visit Pyongyang this week to press denuclearization, the Financial Times reported.
Look for a win by Pompeo on securing the return of remains of U.S. soldiers killed during the Korean War.
Asked by Maria Bartiromo of Fox Business whether to expect North Korea to reveal the specifics of its facilities within the next several weeks, Trump said: "This has been going on for many years. ... I think they're very serious about it. I think they want to do it. We have a very good chemistry."
But national security adviser John Bolton sounded cautious on CBS' "Face the Nation": "We're very well aware of North Korea's patterns of behavior over decades of negotiating with the United States. ... [T]here's not any starry eyed feeling among the group doing this."
Headlines this weekend raise substantial questions:
WashPost: "N. Korea plotting to keep arsenal."
NBC News: "North Korea has increased nuclear production at secret sites ... 'Work is ongoing to deceive us on the number of facilities, the number of weapons, the number of missiles,' said one U.S. official."
Wall Street Journal: "North Korea Expands Key Missile-Manufacturing Plant ... New satellite imagery indicates Pyongyang is pushing ahead with weapons programs even as it pursues dialogue with Washington."
Experts consulted by Axios sounded more bearish than the administration:
CFR President Richard Haass: "Since Singapore we have seen a huge gap open up between the claims made by POTUS (that the nuclear problem is essentially solved) and the reality that it is anything but."
Victor Cha, Korea Chair at the Center for Strategic and International Studies, said Pompeo "needs to get a commitment to a full declaration and have IAEA inspectors back in the country sealing stuff and installing cameras."
Be smart: Michael Morell, former CIA acting and deputy director, said Kim's real intentions will be debatable until he formally reveals his arsenal and capabilities. Kim's past declarations have been suspect, so that's when "we'll know if this is a different North Korea than we've seen in the past."
Go deeper:
Get more stories like this by signing up for our daily morning newsletter, Axios AM. 
Go deeper