Fast-growing global trend: pop-up protests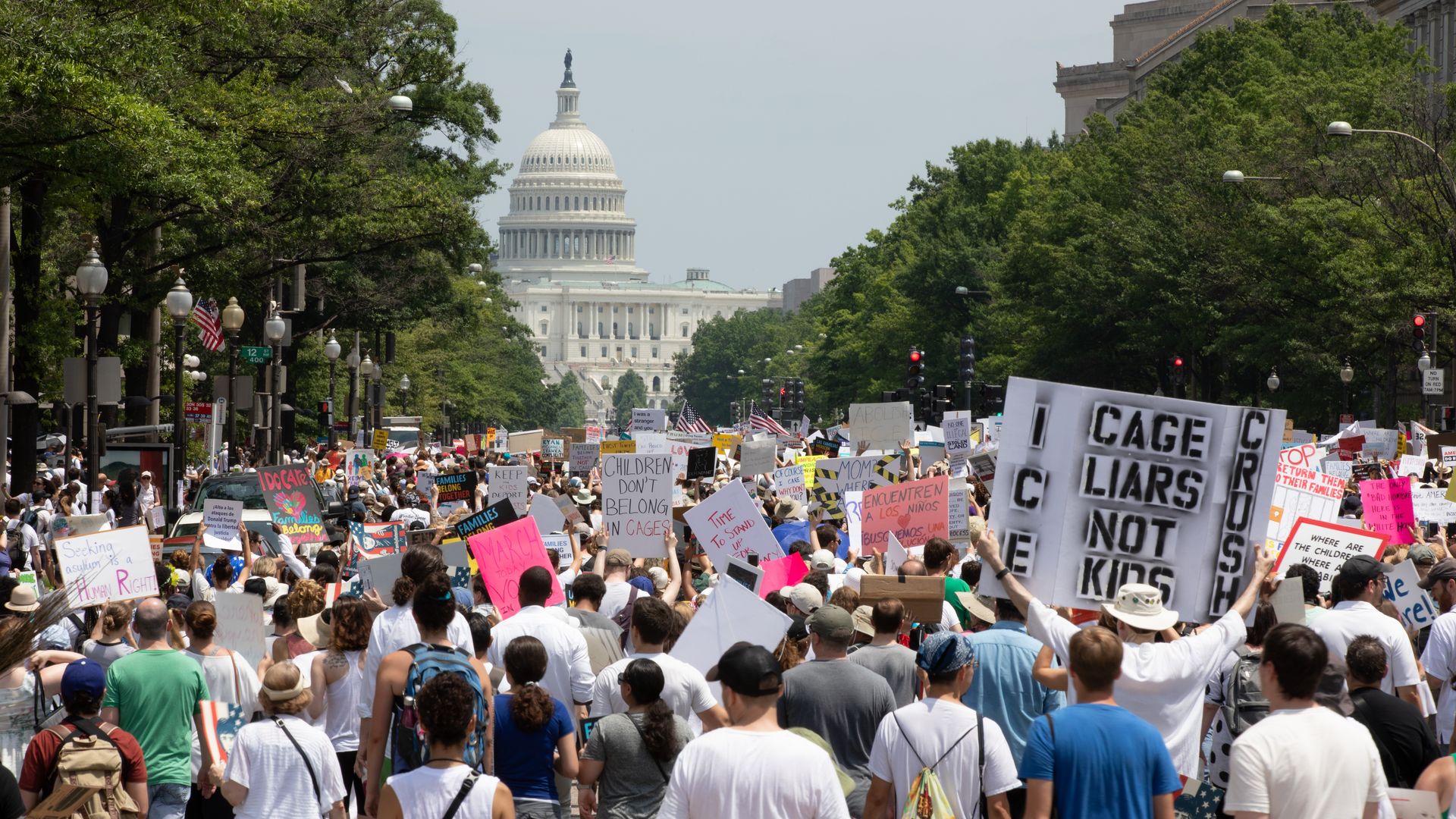 This weekend's massive flash rallies to protest President Trump's immigration policies — following the global women's marches and the March For Our Lives after the Parkland school shooting — represent a unified, accelerated activism surpassing even what was seen in the late '60s, social movement historians tell me.
Why it matters: The speed and scale of yesterday's pop-up protests is fascinating.
"Protesters flood U.S. cities," AP writes in its roundup: "In major cities and tiny towns, hundreds of thousands of marchers gathered Saturday across America, moved by accounts of children separated from their parents at the U.S.-Mexico border, in the latest act of mass resistance against President Donald Trump's immigration policies."
"Protesters flooded more than 700 marches, from immigrant-friendly cities like New York and Los Angeles to conservative Appalachia and Wyoming."
"They gathered on the front lawn of a Border Patrol station in McAllen, Texas, near a detention center where migrant children were being held in cages, and on a street corner near Trump's golf resort at Bedminster, New Jersey, where the president is spending the weekend."
Experts in social movements say that what we're seeing is totally new — befitting, and powered by, our times and our technology.
Peter Dreier — who teaches politics and chairs the Urban & Environmental Policy department at Occidental College in Los Angeles — said the current movements unite the left's strands in a way we haven't seen in nearly a century:
During the Great Depression of the 1930s, people could see the system wasn't working, and so you saw similar protests by farmers, workers, consumers and college students.
But during the late 1960s, protests were very factionalized: Unions, women, environmentalists and civil rights advocates often worked in their own lanes.
Ever since, there's been a big inside-outside split on the left between electoral politics and protest politics.
Now, Dreier says: "The best thing Donald Trump has done has been to revive massive protest in America."
Elaine Weiss, author of "The Woman's Hour: The Great Fight to Win the Vote," told me that what's "different about the waves of demonstrations of the past 18 months is their spontaneity — made possible by new technology and mastery of social media."
"Suffrage marches took months to plan and organize in the early 20th century — by mail and phone; participation depended upon personal contact and connection, with printed announcements laboriously tacked to walls. They usually occurred in one city at a time."
"The Woman's March of January 2017 was organized within a matter of weeks — thanks to social media — with demonstrations taking place around the country and across the globe."
"The Never Again [gun control] rallies were arranged in an even shorter time — the younger the constituency, the more adept the social media organizing."
"And this weekend's immigration policy protests came together within a matter of days, and took place in almost every community in America. Power to the hashtag!"
Be smart, from Weiss: "Our current zeitgeist of frustration and rage is the perfect ecology for these Instagram-ready demonstrations."
P.S. Asked for comment on yesterday's demonstrations, Department of Homeland Security press secretary Tyler Houlton said:
"We appreciate that these individuals have expressed an interest in and concern with the critical issue of securing our nation's borders and enforcing our immigration laws. As we have indicated before, the Department is disappointed and frustrated by our nation's disastrous immigration laws and supports action.  Only Congress can ensure that our border is secured and families are protected. We thank them for their interest."
Go deeper