Obama warns Democrats not to let 2016 happen again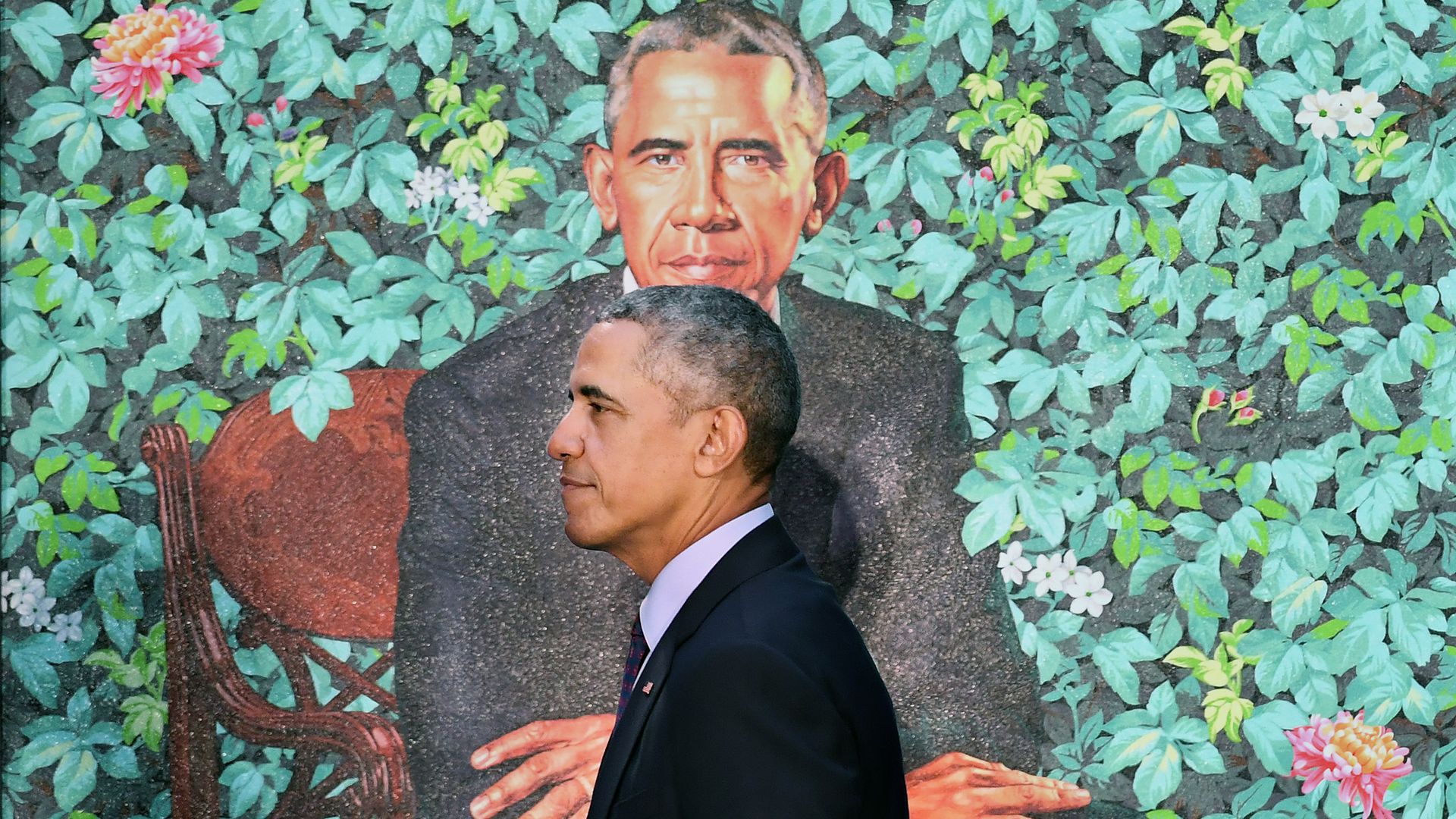 "You're right to be concerned," former President Barack Obama told the crowd at a Democratic National Committee fundraiser in Beverly Hills on Thursday, where he gave Democrats the winning playbook and charged them to "boil down" their message, Politico's Edward-Isaac Dovere reports.
"Do not wait for the perfect message, don't wait to feel a tingle in your spine because you're expecting politicians to be so inspiring and poetic and moving that somehow, 'OK, I'll get off my couch after all and go spend the 15-20 minutes it takes for me to vote. Because that's part of what happened in the last election. I heard that too much."
— Barack Obama
Why it matters: This is the first time Obama has spoken publicly in months, and comes ahead of the 2018 midterm elections where Democrats are hoping to take back the House.
Yes, but: Trump's popularity is also higher than expected, and the recent announcement of Justice Anthony Kennedy's retirement could signal trouble for the Left in the lead up to November.
Top Obama quotes, per Politico:
"Fear is powerful. Telling people that somebody's out to get you, or somebody took your job, or somebody has it out for you, or is going to change you, or your community, or your way of life — that's an old story and it has shown itself to be powerful in societies all around the world. It is a deliberate, systematic effort to tap into that part of our brain that carries fear in it."
Republican leadership, he said, wants "women staying in their place in all kinds of ways."
"If I have a regret during my presidency, it is that people were so focused on me and the battles we were having, particularly after we lost the House, that folks stopped paying attention up and down the ballot."
"The majority of the American people prefer a story of hope. A majority of the American people prefer a country that comes together rather than being divided. The majority of the country doesn't want to see a dog-eat-dog world where everybody is angry all the time."
"Reality has an interesting way of coming up and biting you, and the other side has been peddling a lot of stuff that is so patently untrue that you can get away with it for a while, but at a certain point, you confront reality."
"The Democrats' job is not to exaggerate; the Democrats' job is not to simply mimic the tactics of the other side. All we have to do is work hard on behalf of that truth. And if we do, we'll get better outcomes."
Go deeper