Reality check: Immigrant children facing deportation hearings alone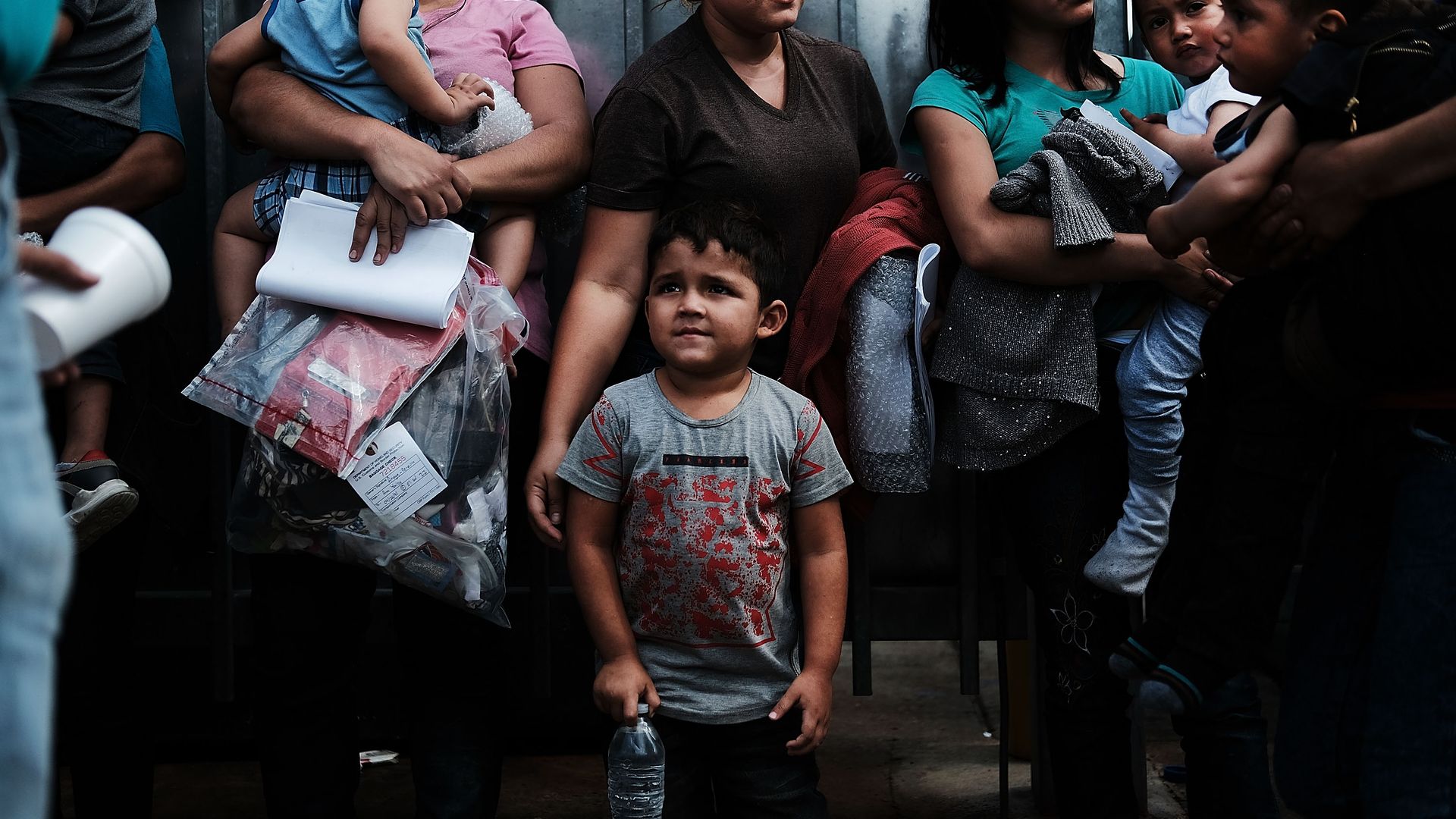 Many young migrant children who have been separated from their parents will have to face deportation proceedings alone as the Trump administration works to reunite these families following a court order.
Why it matters: "We were representing a 3-year-old in court recently who had been separated from the parents. And the child — in the middle of the hearing — started climbing up on the table. It really highlighted the absurdity of what we're doing with these kids," Lindsay Toczylowski, executive director of Immigrant Defenders Law Center in Los Angeles, told Kaiser Health News.
Backdrop: Unlike many adults caught crossing the border illegally, unaccompanied migrant minors are not allowed to be placed in expedited deportation proceedings, which allows for removal without a hearing. This is why some separated parents have been deported without their children.
Unaccompanied minors have always faced their immigration hearings alone unless defended by a non-profit lawyer or represented by an eligible guardian.
One big yes, but: Most unaccompanied minors who cross the border are young teenagers, while the children who cross with their parents — and have been separated by the Trump administration's zero-tolerance policy — tend to be much younger, according to data obtained via FOIA by the Transactional Records Access Clearinghouse at Syracuse University.
By the numbers: 69% of the children apprehended with their families in April were under 11 years old — and more than half of those were younger than 5, according to the data. In contrast, 87% of unaccompanied minors apprehended that same month were 12-17 years old.
What happens next:
George Tzamaras, a spokesman for the American Immigration Lawyers Association, told KHN that it's impossible to know how many separated migrant kids have started deportation proceedings.
Of the tens of thousands of unaccompanied minors who have ended up in DHS and HHS custody every year, 78% of those who showed up for their hearings received some form of deportation relief, according to a study by the Migration Policy Institute in 2015.
Yes, but: These children are not guaranteed legal counsel, although Congress has instructed HHS to ensure that child migrants have access to immigration attorneys "to the greatest extent practicable," according to the American Immigration Council.
Why legal counsel matters: For immigrants with legal representation claiming asylum while in deportation proceedings, claims were denied 48% of the time 2016. That denial rate jumped to 90% for cases where immigrants had no legal counsel, according to data obtained through FOIA by TRAC.
What to watch: It's still unclear how HHS and DHS will carry out a court's order to reunite families within 30 days — or 2 weeks if the child is under 5 years old. It's possible that the ruling will allow some children to go through deportation proceedings alongside parents. But it's also possible that some parents have already been deported while their children remain behind in the U.S.
Go deeper: How a court ruling changes Trump's family separation.
Go deeper