The big picture: Instagram gives Facebook a new life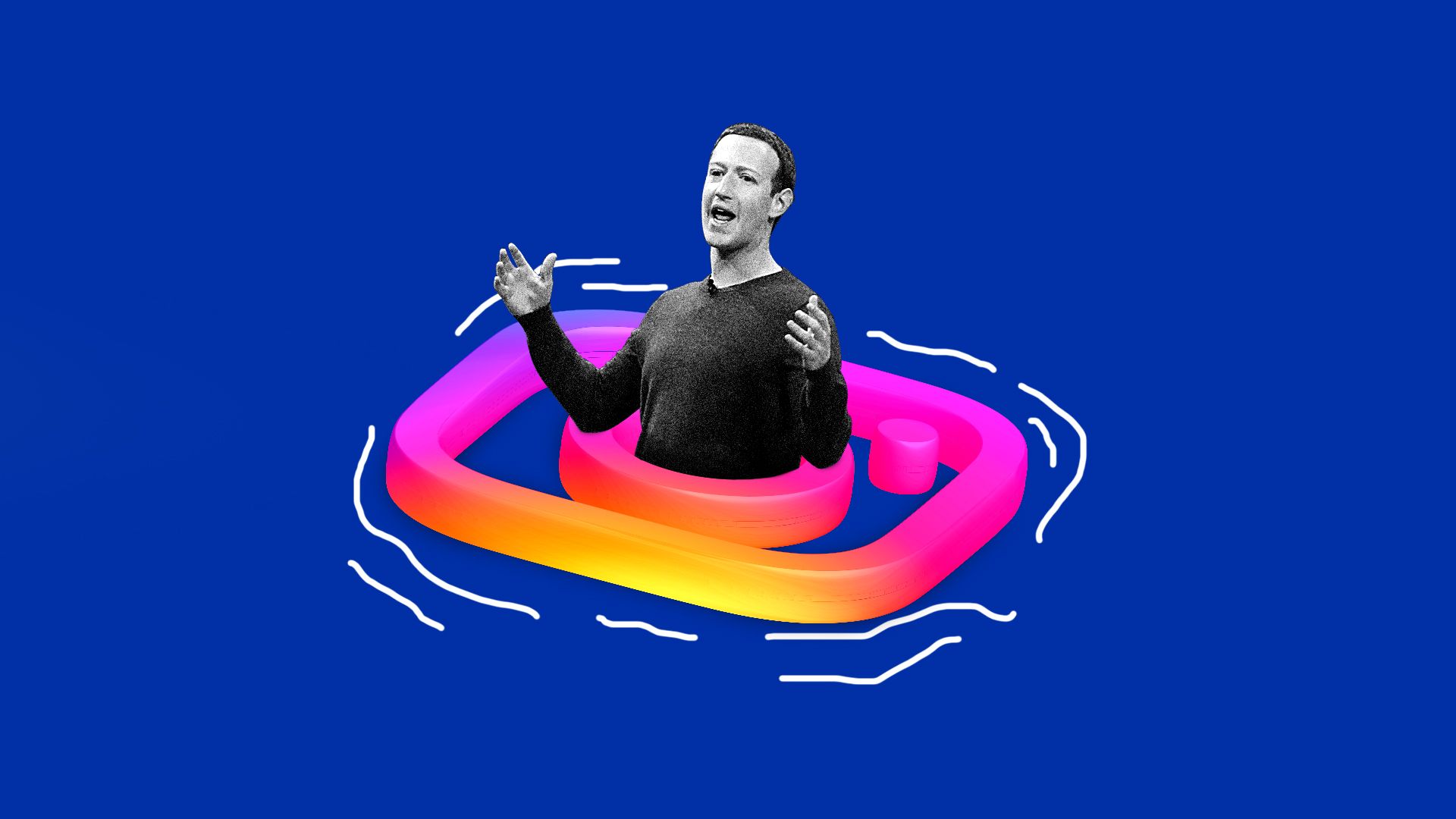 Instagram is becoming one of the most significant drivers of user growth and revenue for its parent company, Facebook Inc.
Why it matters: Facebook's acquisition of Instagram has proven to be one of its most important business moves. The Instagram surge comes as Facebook's flagship platform is experiencing slowed user growth in North America due to already-high user penetration.
Facebook bought Instagram for $1 billion in 2012. Now, the popular photo app is estimated to be yielding an 100x return at a value of $100 billion, according to Bloomberg Intelligence analyst Jitendra Waral.
Facebook Inc., which includes Instagram, Facebook, Whatsapp, Facebook Messenger and quiz app TBH, is worth roughly $570 billion. In other words, Instagram drives a significant share of Facebook's market value.
Other app acquisitions have not yet yielded such high returns. For example, Facebook bought Whatsapp for $19 billion in 2014 and while its user base and engagement continues to grow, the app is still not profitable.
Instagram announced last week that it hit 1 billion users, adding roughly 200 million users in less than one year. Instagram is expected to reach 2 billion users in the next five years, according to Waral, meaning the photo app is growing its user base at a much faster rate than the original Facebook platform.
Even though Snapchat first created the Stories feature in 2014, Instagram Stories usage has now doubled Snapchat's user base. Instagram announced Thursday that it reached 400 million active users of its "Stories" product, while Snapchat has roughly 191 million daily active users.
Facebook's Chief Product Officer Chris Cox has said that the "Stories" feature that's fueling Instagram's growth is set to overtake content consumption from "feeds," (what Facebook is built on) as the primary way people share things with their friends "sometime next year."
Facebook last year warned of slowed ad loads due to feed saturation.
Meanwhile, Facebook has experienced usage declines among younger people and in North America. "It's not inconceivable that Instagram ultimately becomes larger than Facebook," says BTIG Media Analyst Rich Greenfield.
The company experienced its first quarter-over-quarter decline in daily active users in North America at the end of last year, per Recode.
In 2018, the number of U.S. Facebook users ages 11 and younger will decline by 9.3%, according to eMarketer.
Additionally, the number of users ages 12-17 and 18-24 will decrease by 5.6% and 5.8%, respectively — the first time eMarketer has predicted a decline in those age groups.
Instagram is becoming a bigger part of Facebook's ad growth, its primary source of revenue.
Instagram is slated to bring in roughly $8 billion in ad revenue this year, according to eMarketer, roughly 16% of Facebook Inc.'s total ad revenue.
By 2020, that total share is expected to hit 25% ($17 billion) of Facebook's Inc.'s total projected add revenue of $67 billion.
In the U.S., Instagram currently makes up 28.2% of Facebook's net mobile ad revenue and will reach nearly 40% by 2020, according to estimates from eMarketer.
Critics argue Facebook shouldn't have been allowed to acquire Instagram to begin with. "The greatest regulatory failure of the last 10 years is Facebook being allowed to buy Instagram," said tech analyst Ben Thompson said earlier this month.
"With Instagram there was a sense they weren't even direct competitors," said Lina Khan, Director of Legal Policy with the Open Markets Institute at a conference earlier this month. "There was some naiveté about how actually Instagram would help Facebook extend its power over social networking space."
Instagram has also been able to escape the reputation disaster that its parent company has faced in light of election meddling and data privacy scandals over the past year. And many people may not even realize that Instagram is owned by Facebook.
Between the lines: Acquisitions of similar sizes — like Google's $1 billion purchase of YouTube in 2008 and Amazon's $970 million purchase of Twitch in 2014 — are also beginning to drive similar growth surges for their parent companies.
Bottom line: For many mobile users, Instagram has become synonymous with the mobile web, in the same way that Facebook had for years.
"Instagram is probably the single most important consumer service to watch in The West," argues Vine founder Don Hoffman. "It's basically a full blown mobile web," he writes, citing examples of ways Instagram has displaced email, shopping and blogging industries.
Go deeper:
Go deeper