DOJ antitrust official: Supreme Court ruling won't shield Big Tech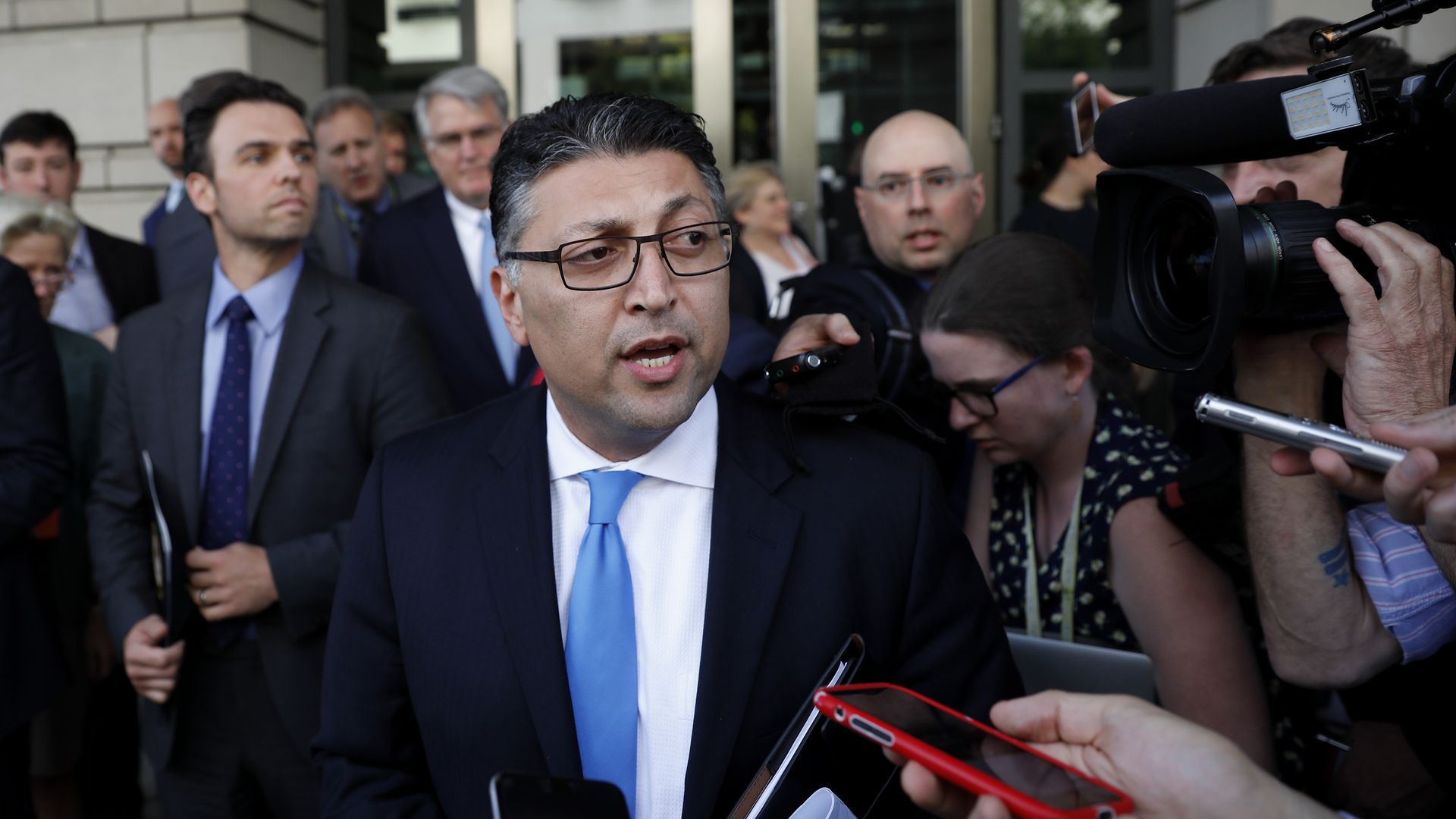 The top antitrust lawyer at the Department of Justice said Tuesday that he doesn't think a Supreme Court ruling earlier this week would make it more difficult to take on the biggest online platforms over competition concerns.
Why it matters: Critics of large tech companies worry the ruling in a case concerning credit card providers might offer Silicon Valley companies like Google, Facebook, Amazon and Uber protection from antitrust prosecution because they use so-called two-sided marketplaces to connect parties, such as buyers and sellers.
Speaking at the Aspen Ideas Festival, DOJ antitrust chief Makan Delrahim said he saw the ruling as a "sound decision" overall.
""I was more worried the Supreme Court would come up with a test [that would] cause harm to new business models like Uber and Airbnb," he said, saying that would have been a greater hardship to the economy than just losing this case.
Impact on Big Tech: Responding to a question from Axios, Delrahim said he didn't think the ruling would make it harder to go after Facebook and Google over competition concerns "for a couple of reasons."
First, he said, each case is specific to the facts. Second, the ruling doesn't treat all two-sided marketplaces alike. While it might help protect Uber and Airbnb, which directly connect two parties, Delrahim said he wasn't sure that Google and Facebook would see their businesses similarly affected.
Other companies, like Amazon, might find some parts of their business protected and others not.
"I think to the extent that it creates that transaction and you bring in third party sellers and buyers, they could benefit from that, but not in other areas of their business," he said.
Yes, but: Delrahim did say he thought that the ruling could limit antitrust enforcers' ability to take on Uber, Lyft, and Airbnb, but would not protect the companies in the case of criminal behavior, like price fixing.
The backdrop: The court ruled that, when considering an antitrust case involving some two-sided markets, authorities need to weigh whether there is competitive harm on all sides of the market. Allegedly anticompetitive behavior on one side of a business model wouldn't be actionable in some cases, Justice Clarence Thomas wrote in the court's opinion, if the whole picture wasn't anticompetitive.
Go deeper: We broke down the ruling this morning.
Go deeper