Updated Jun 26, 2018 -

World
Iranians take growing discontent to the streets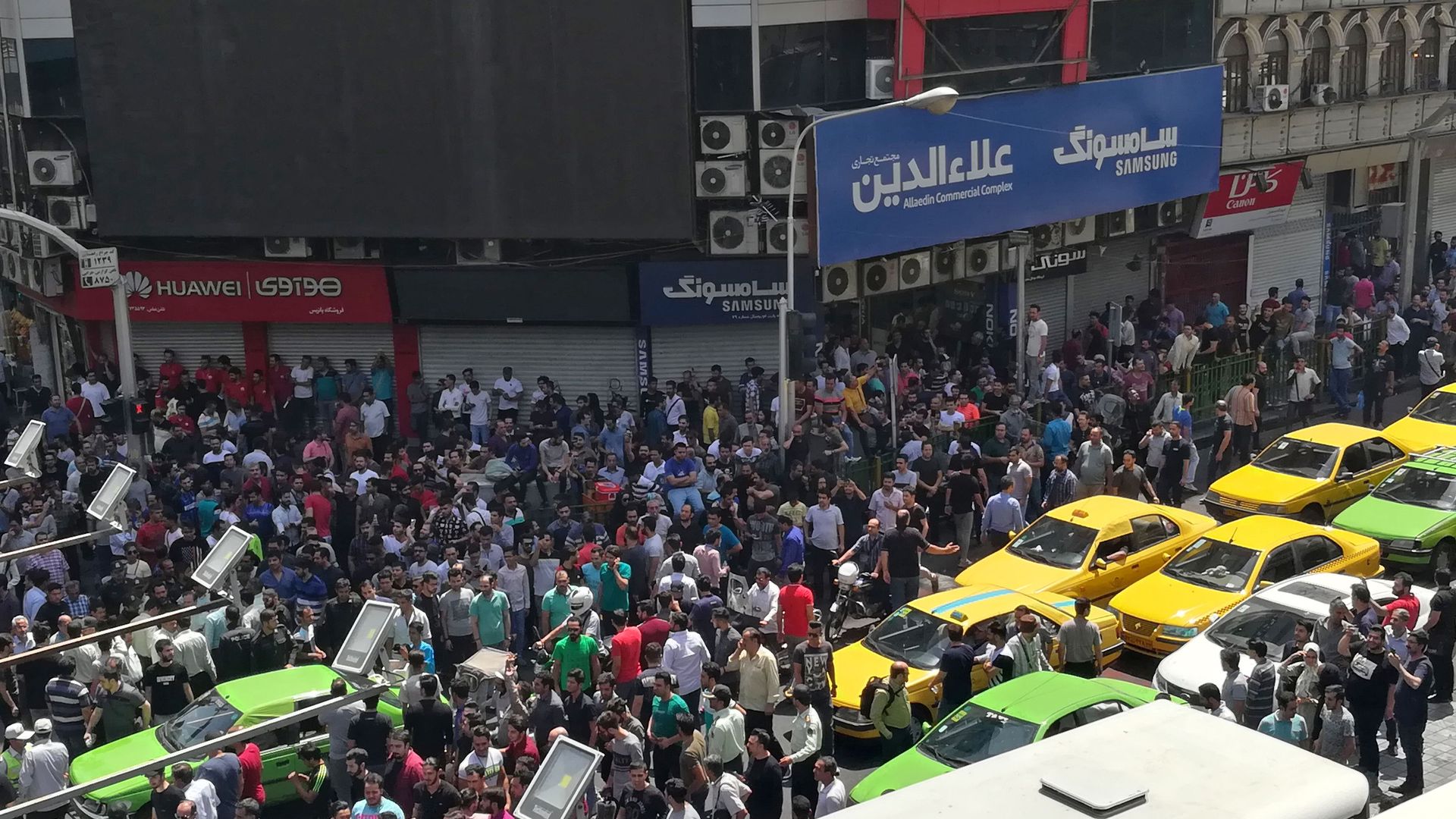 Iranians protesting government policies have shut down parts of the Tehran Grand Bazaar. Social media posts showed Iranian merchants gathering outside the parliament building yesterday chanting anti-regime slogans. The protests, which began in the capital, have reportedly spread to several other towns, with other bazaars shuttering on Tuesday.
Why it matters: Protests in any Iranian bazaar, but especially Tehran's, carry tremendous political weight. In 1978–1979, Tehran bazaar strikes were instrumental in bringing down the U.S.–allied Shah, and could now signal further unrest.
The background: The partnership between the clergy and the bazaar, which has historically acted as a distinct political and socioeconomic force, helped fuel the Islamic Revolution. But over the past two decades, businesses controlled by veterans or members of the Islamic Revolutionary Guard Corps (IRGC) have begun to eclipse the bazaar politically and economically. Economic grievances have worsened in recent days as the rial — Iran's currency — continues to lose value, particularly on the unofficial foreign-exchange market.
However, it would be a mistake to see these protests as exclusively economic. Iran has witnessed a storm of varied uprisings since this past winter, including anti-hijab protests, truck driver strikes, and even environmental protests. The bazaar-based protests are only the latest iteration of discontent attesting to the dissonance between state and society in Iran.
What's next: Iranian law enforcement will likely continue cracking down to deter future uprisings. How the regime navigates and handles one protest movement usually sets the precedent for its response to the next.
The big picture: Iranians remain frustrated with the political and economic direction their country has taken. Recent protest slogans indicate that many Iranians believe the impediment to a better life is not U.S. foreign policy, but rather their own revolutionary government.
Behnam Ben Taleblu is a research fellow at the Foundation for Defense of Democracies.
Go deeper