Bolton tees up a Trump-Putin summit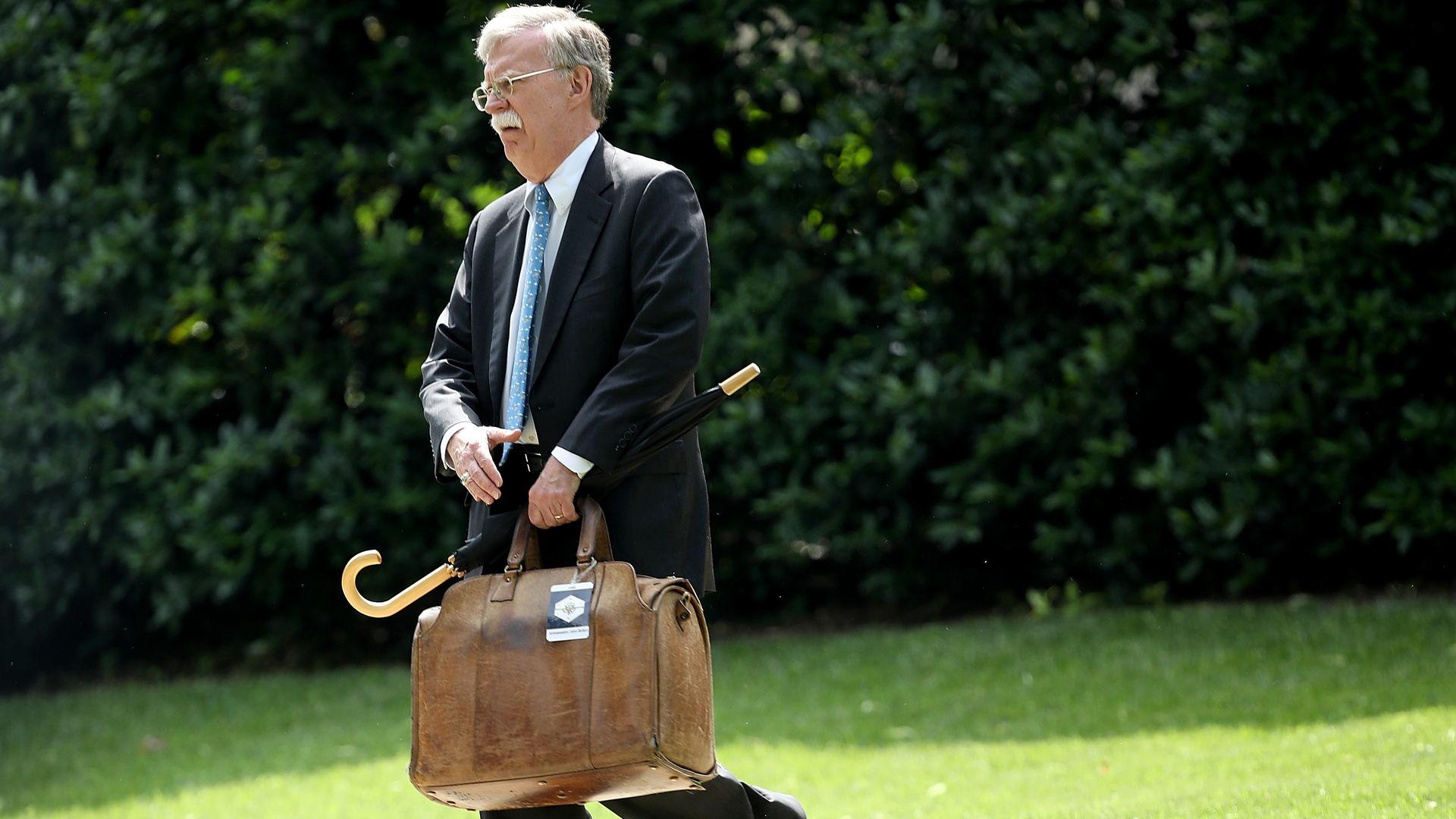 National Security Advisor John Bolton will travel to Moscow later this week to nail down a meeting between Donald Trump and Vladimir Putin. The scheduling will be easy; the summit agenda itself, much harder.
The big picture: No issue divides Trump and his advisers more than Russia. He wants to "get along" with Putin; they object to one Russian policy after another. But the Singapore summit showed Trump's inner circle how to solve this problem: Give the boss a showy, feel-good session he can call a breakthrough and leave the important business for a senior official to handle later.
The agenda: Bolton has said publicly what he thinks has to be discussed with the Russians. Better relations, he told the Russian ambassador, Anatoly Antonov, in April, depend on addressing the following U.S. concerns: Russia's interference in the 2016 election, Ukraine, Syria and chemical weapons use in the U.K. But progress on these issues is unlikely (and the Trump doesn't want to talk about the first item at all!).
Instead, both Trump and Putin have identified "the arms race" as the problem that requires their urgent attention. (It's "getting out of control," Trump has claimed, and Putin has agreed.) If Bolton is listening to his boss, he'll make this issue the centerpiece of the summit.
John Bolton is a natural choice to take on the U.S.–Russian nuclear portfolio. He an arms control expert, and after the summit — particularly with Mike Pompeo handling North Korea and the president waging a trade war — he is likely to have these issues to himself. That too will fit the Singapore model: If he is in charge of the talks, Bolton — who hates arms control agreements with a passion — can walk back any "mistakes" Trump makes.
The bottom line: Bolton's aim in the run-up to a summit will be to let Trump claim something really big has happened. In the detailed talks that follow, he can make sure nothing does.
Stephen Sestanovich is a senior fellow at the Council on Foreign Relations, professor of international diplomacy at Columbia University's School of International and Public Affairs and author of "Maximalist: America in the World from Truman to Obama."
Go deeper