The unraveling: An angry American weekend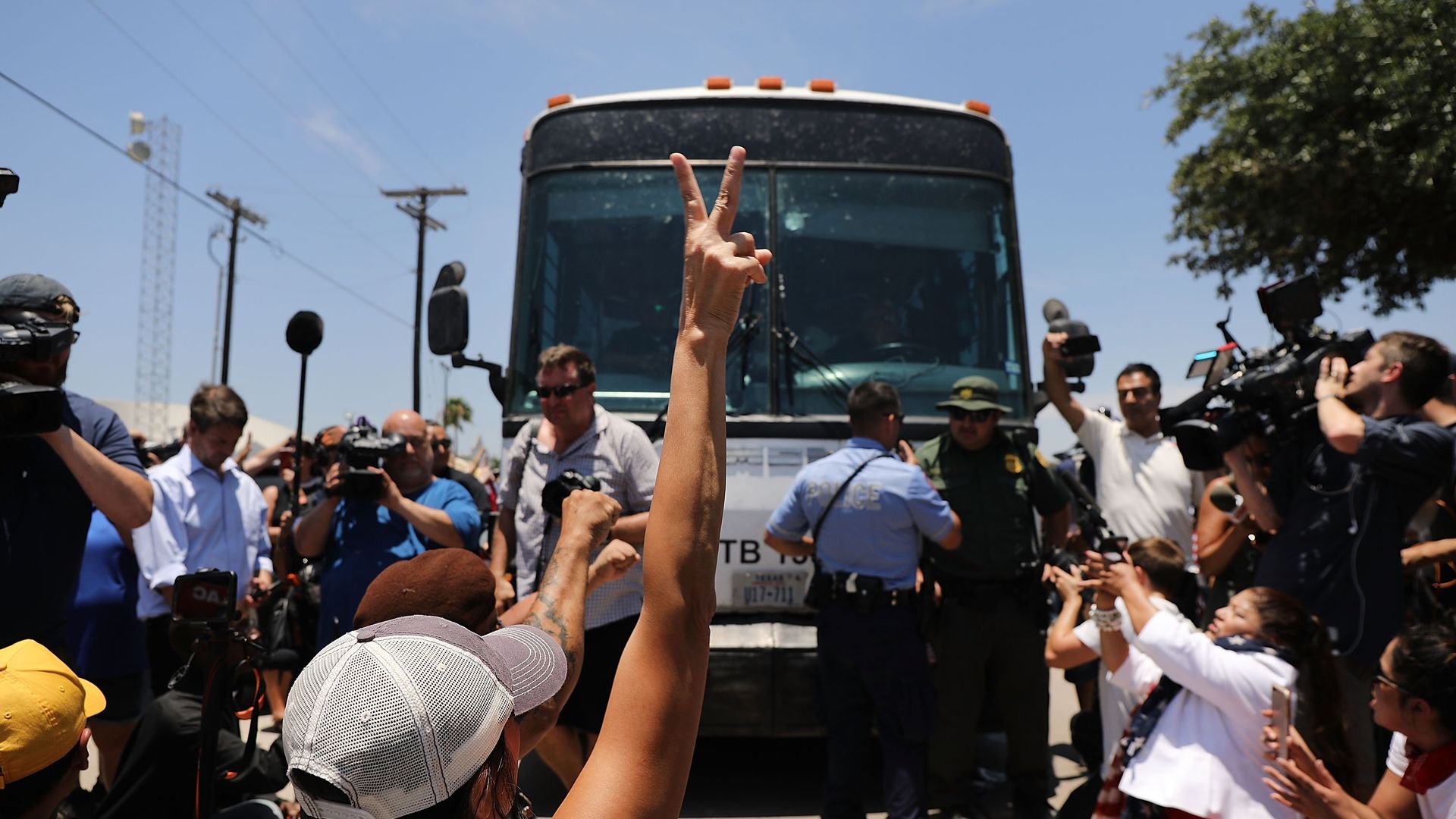 The separated children fiasco has triggered an outpouring of spontaneous anger and recriminations not seen since President Trump's Muslim travel ban just after his inauguration, or the racist Charlottesville clashes last summer.
The big picture: As President Trump's tactics are emulated by his supporters, and adopted by his opponents, we're seeing a great unraveling — an outpouring of the emotional and the absurd.
The kids were the catalyst:
"A rally at a U.S. Customs and Border Protection station [in McAllen, Texas] took a swift turn when hundreds of protesters saw a bus arriving with child migrants — and they blocked its passage," the Dallas Morning News reports.
"'Set them free!' the demonstrators chanted, as police arrived to disperse the crowd."
"Hundreds of people rallied near a Homestead, Florida, facility where immigrant children are being held. Demonstrators marched in San Diego carrying signs reading 'Free the Kids' and 'Keep Families Together' and in other California cities." (AP)
But the coarseness of the moment has extended beyond their plight:
Sarah Sanders tweeted yesterday that she "was told by the owner of Red Hen in Lexington, VA to leave because I work for @POTUS and I politely left." The restaurant's owner told the WashPost: "This feels like the moment in our democracy when people have to make uncomfortable actions and decisions to uphold their morals."
Sanders' father, former Arkansas governor Mike Huckabee, was criticized after his racist tweet of a photo of five men flashing gang signs that he captioned: "Nancy Pelosi introduces her campaign committee for the take back of the House."
Earlier in the week, protesters shouted "Shame!" at Department of Homeland Security Secretary Kirstjen Nielsen as she dined at a Mexican restaurant in Washington, Todd English's MXDC Cocina Mexicana. (Video.)
Be smart: Trump's way — the lying, the name-calling, the nastiness — is quickly becoming the American way for many of his friends and foes. This, in turn, numbs people to the truly outrageous, and hardens the tribal instincts of political combatants. This will get worse before it gets better. 
Get more stories like this by signing up for our daily morning newsletter, Axios AM. 
Go deeper