Peter Navarro's radical transformation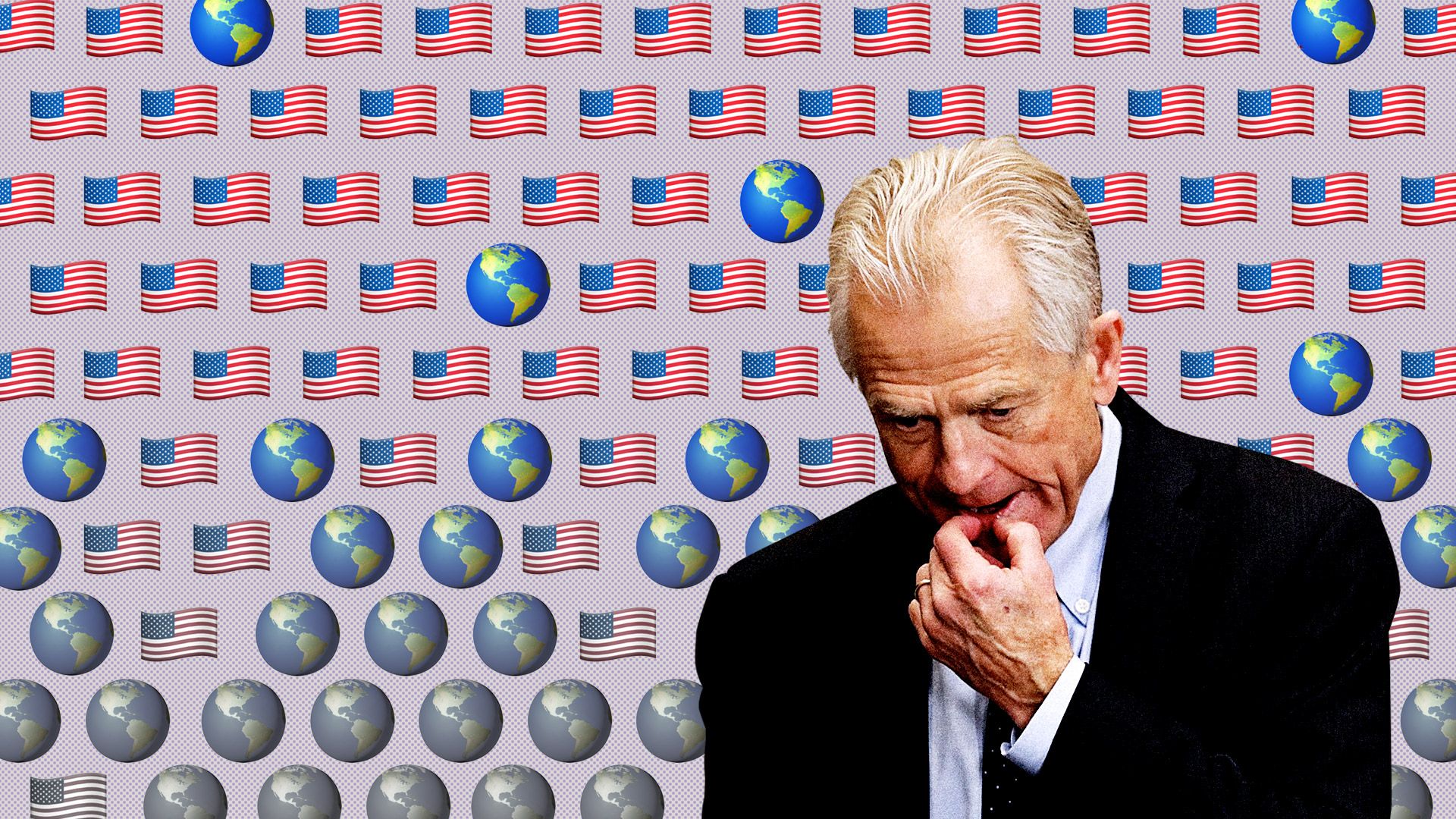 People think of Peter Navarro, the top White House trade adviser, as President Trump's mind-meld on tariffs — the most hardline protectionist in the White House. But Navarro used to preach very different ideas in his early career as an economist.
The bottom line: In his 1984 book, "The Policy Game: How Special Interests and Ideologues are Stealing America," that's no longer in print — Axios got a copy from a university library — Navarro sounds a lot like the very administration officials he's sparred with on trade policy. And he argues that tariffs will inevitably send the global economy into crisis.
We asked Navarro what prompted the radical change in his views, and he explained how he went from a free trader to an economic nationalist. In response to "The Policy Game," specifically, Navarro told Axios:
It borders on the comical that Axios would spend so much time on a book written 34 years ago and completely ignore the insights of my later works like the 2006 Coming China Wars, the 2011 Death By China, and the 2015 Crouching Tiger.  Together, these books explain at length why the globalist Ricardian free trade model is broken and urgently needs fixing in the name of both the economic and national security of the United States.
— Peter Navarro
From the book...
"The clear danger of this trend [protectionism] is an all-out global trade war; for when one country excludes others from its markets, the other countries inevitably retaliate with their own trade barriers. And as history has painfully taught, once protectionist wars begin, the likely result is a deadly and well-nigh unstoppable downward spiral by the entire world economy.
If the world is, in fact, sucked into this spiral, enormous gains from trade will be sacrificed. While such a sacrifice might save some jobs in sheltered domestic industries, it will destroy as many or more in other home industries, particularly those that rely heavily on export trade. At the same time, consumers will pay tens of billions of dollars more in higher prices for a much more limited selection of goods. Sacrificed, too, on the altar of protectionism will be the very heart of an international world order that since World War II has successfully changed the aggressive struggle among nations for world resources and markets into a peaceful economic competition rather than a confrontational political or military one."
— "The Policy Game," pg. 55
There are multiple passages in "Policy Game" that directly argue against Navarro's current positions. Navarro's go-to argument defending the White House's trade moves has been national security. In a June New York Times op-ed, he wrote:
"President Trump reserves the right to defend those industries critical to our own national security. To do this, the United States has imposed tariffs on aluminum and steel imports. While critics may question how these metal tariffs can be imposed in the name of national security on allies and neighbors like Canada, they miss the fundamental point: These tariffs are not aimed at any one country. They are a defensive measure to ensure the domestic viability of two of the most important industries necessary for United States military and civilian production at times of crisis so that the United States can defend itself as well as its allies."
But Navarro's own book topples that argument as well:
"On the benefit side, protectionism within certain basic industries like autos, steel, and electronics helps to create and sustain an industrial base that, in times of war or national peril, can be shifted to defense purposes, However, this national security argument — and the existence of any benefits resulting from protecting these industries — can be legitimately called into question for several reasons.
First, the existence of any sizable benefits rests on the assumption that import competition in our defense-related industries would not only reduce the size of these industries but also shrink them to the point where they would be too small to support our defense needs. The threshold of danger is a matter of some dispute. How big, after all, do our auto, steel, or electronics industries have to be to keep our borders safe? In spite of this uncertainty, few analysts would argue that import competition is likely to push a nation with as large and mature an industrial base as ours anywhere close to that threshold.
Second, it is highly possible that our defense capability might actually be enhanced — not damaged — by import competition. Without the umbrella of protectionism, our defense-related industries would be forced to operate at lowest cost, engage in more research and development, aggressively innovate to stay one step ahead of the competition, and modernize their plants at a faster pace. Thus, while import competition might shrink these industries, they would be leaner, tougher, more efficient, and more modern and in all likelihood outperform a bigger and inefficient (protected) version of those same industries.
On the national security cost side, the major effect of protectionism is to threaten the stability of the international economic order through a global trade war..."
— "The Policy Game," pg. 82
Navarro lauded the impact of tariffs on saving American jobs in a May op-ed in USA Today, writing:
"There can be no better way to make America — and American manufacturing — great again than to start to rebuild those communities of America most harmed by the forces of globalization. These new facilities will stand as shining testimony to the success of tough trade actions, smart tax policies and targeted worker-training programs."
But he warned against the harmful longer-run effects of tariffs on jobs in his 1984 book:
"American protectionism threatens employment and profits in the export-dependent nexus because it invites retaliation from our trading partners ...
From these direct and indirect effects, it is clear that over time, the major benefits of protectionism — more jobs and higher profits — are largely and perhaps completely offset by a reduction in jobs and profits in export and linkage industries and in those industries vulnerable to the 'end run.' Therefore, the argument that protectionism serves as a jobs and income assistance program must be discounted."
— "The Policy Game," pg. 79-80
And Navarro has emphasized that tariffs won't hurt American consumers, saying on CBS' "Face the Nation" in March that the Trump administration's moves' effect on the prices of consumer goods will be "negligible to nothing."
In 1984, Navarro held a very different view:
"The biggest losers in the protectionist policy game are consumers. Even here. however, 'consumers' do not constitute a monolith, for there are several different consumer categories.
Bearing the greatest burden of protectionism are American retail shoppers who pay over $70 billion annually in higher prices (and reduced consumption) for products ranging from autos, bicycles, and color TVs to shoes, shirts, and cutlery."
— "The Policy Game," pg. 65
Go deeper: Navarro explains his journey from globalist to protectionist — in his own words.
Go deeper