Fear grows beyond the border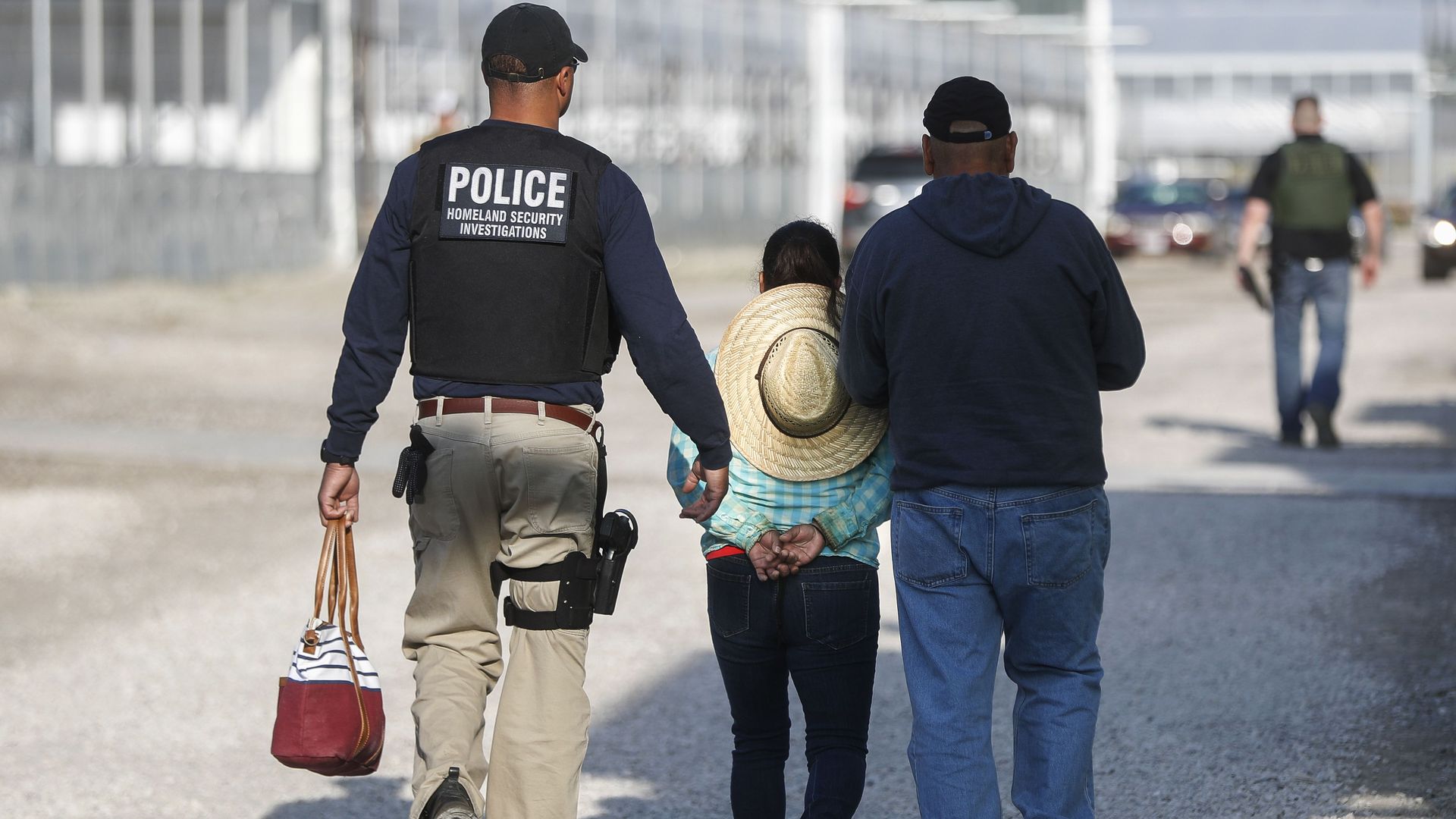 The chaos isn't just in the Southwest. Increased highway checkpoints and workplace raids away from borders are alarming advocates for immigrants.
The big picture: "For 11 hours on Wednesday, drivers who wanted to travel through a remote stretch of northern Maine were asked a simple question: Where were you born?," the N.Y. Times reports.
"Border Patrol agents closed off all southbound lanes of Interstate 95 north of Bangor, Me., stopping drivers, searching outside their cars with drug-sniffing dogs and refusing to let them pass until they disclosed their citizenship."
On a cellphone video, a Bangor Daily News reporter was stopped near the lake and lumber town of Lincoln (more than 80 miles from the Canadian border) and told: "If you want to continue down the road, then yes ma'am. We need to know what citizen — what country you're a citizen of."
I have traveled that stretch of I-95 (all Trump country up there), and the checkpoints have been set up sporadically since 9/11. But they certainly have a different effect in this environment.
In Ohio on June 5: "More than 100 workers at [two locations of Corso's Flower & Garden Center, a landscaping and gardening company] were arrested ... when about 200 federal officers descended on the business and carried out one of the largest workplace immigration raids in recent years." (AP)
The fallout for Midwest families: "It's likely that hundreds of children are affected by the large raids in Ohio. ... Some families will be forced to decide whether to keep themselves together by moving everyone back to their home country, in most cases Mexico or Guatemala, or face being split apart." (AP)
... and businesses: "Already facing a severe labor shortage, landscaping businesses that can't keep up with booming demand for backyard patios and fire pits worry that an immigration raid that rounded up over 100 people ... will make it even tougher to persuade Congress to allow more foreign workers into America for seasonal jobs." (AP)
P.S. ... "Jogger who accidentally crossed U.S. border from [British Columbia] detained for 2 weeks," per CBC. "A woman from France visiting her mom ... says U.S. Border Patrol held her for crossing into Blaine, Wash."
Go deeper