Go deeper: The story behind Sarah Sanders' boot from a VA restaurant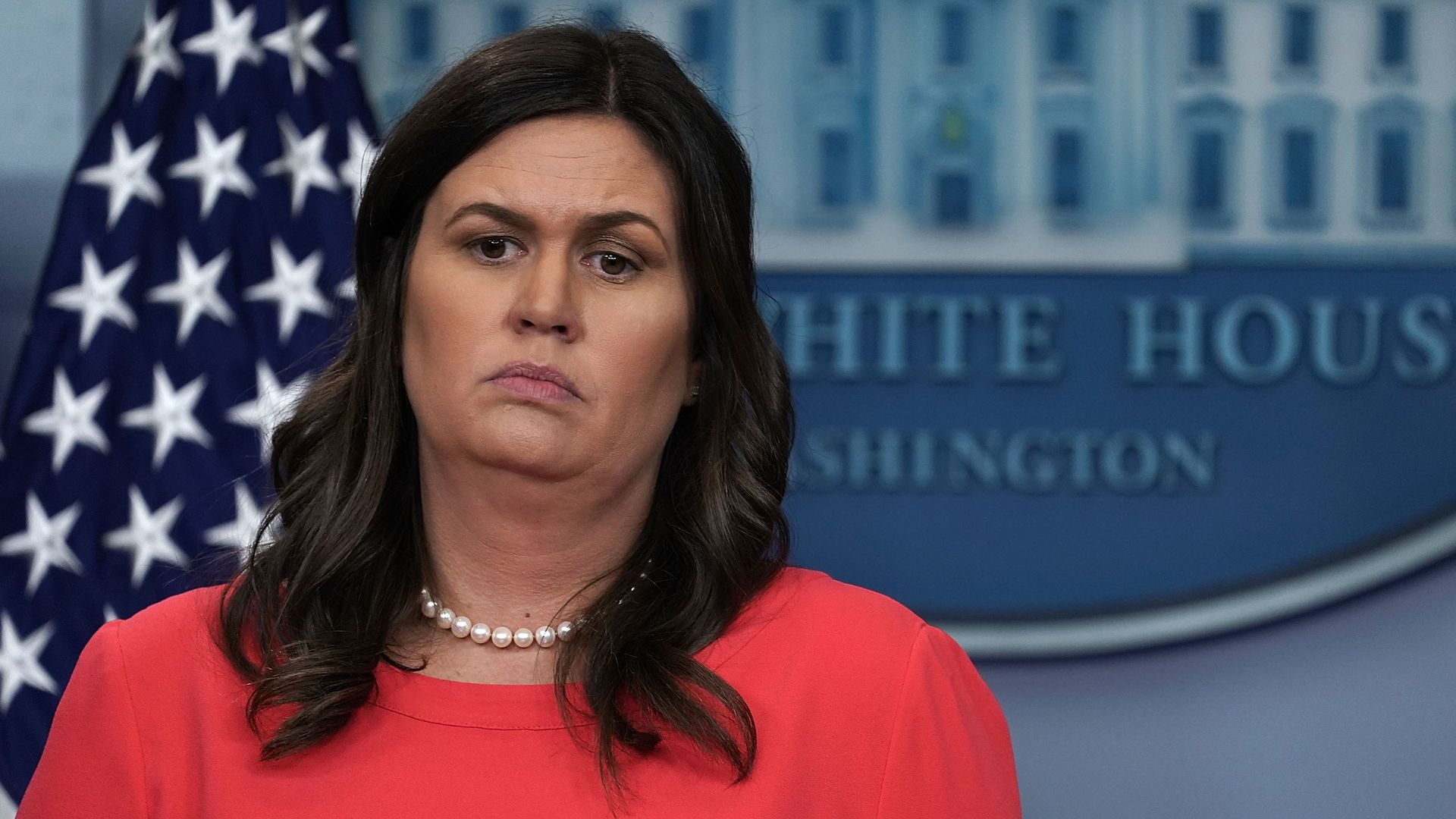 White House Press Secretary Sarah Sanders' dismissal from The Red Hen, a small Lexington, Virginia restaurant, went viral on Saturday morning — spurred first by a Facebook post from an employee and later by Sanders' confirmation via Twitter.
What they're saying: The restaurant's owner, Stephanie Wilkinson, granted an interview to The Washington Post this afternoon, telling her story about why she decided to give the public face of the Trump administration the boot from her establishment.
Wilkinson received a call from her staff around 8 p.m. last night that Sanders and her family had entered the restaurant — and drove over herself to confirm the news.
"I'm not a huge fan of confrontation. I have a business, and I want the business to thrive. This feels like the moment in our democracy when people have to make uncomfortable actions and decisions to uphold their morals," she told The Post.
After she arrived and confirmed Sanders' identity, she asked her staff if she should ask Sanders to leave. They agreed, so Wilkinson requested that Sanders join her on the restaurant's patio — even after her party had already ordered their main course.
"Sanders's response was immediate, Wilkinson said: "'That's fine. I'll go.'"
Sanders' family followed her out — but offered to pay for what they had been served before leaving — though Wilkinson told them it was on the house.
The big picture: Lexington (population: 7,042) is an overwhelmingly blue small town, located smack dab in the middle of Rockbridge County, which voted 62% for Trump.
Worth noting: Sanders didn't kick off the social media furor over her dismissal. That started this morning when a waiter there posted a now-deleted update to Facebook last night that "my owner asked her to leave." Sanders only confirmed the confrontation in her own tweet after the story had already exploded across the Internet.
But Sanders' relatively polite ouster hasn't translated to the Internet's reaction: The Red Hen's Yelp page is currently in an Active Cleanup Alert after it's been bombarded by 1-star and 5-star reviews all day from people on both sides of the political spectrum, bringing its average score down to 2.5 stars in the process.
Go deeper: Dining out in D.C. is getting tough for Trump officials.
Sign up for Axios newsletters to get our smart brevity delivered to your inbox every morning. 
Go deeper