Updated Jun 22, 2018 -

World
The bottom line: America's chipmakers go to war vs. China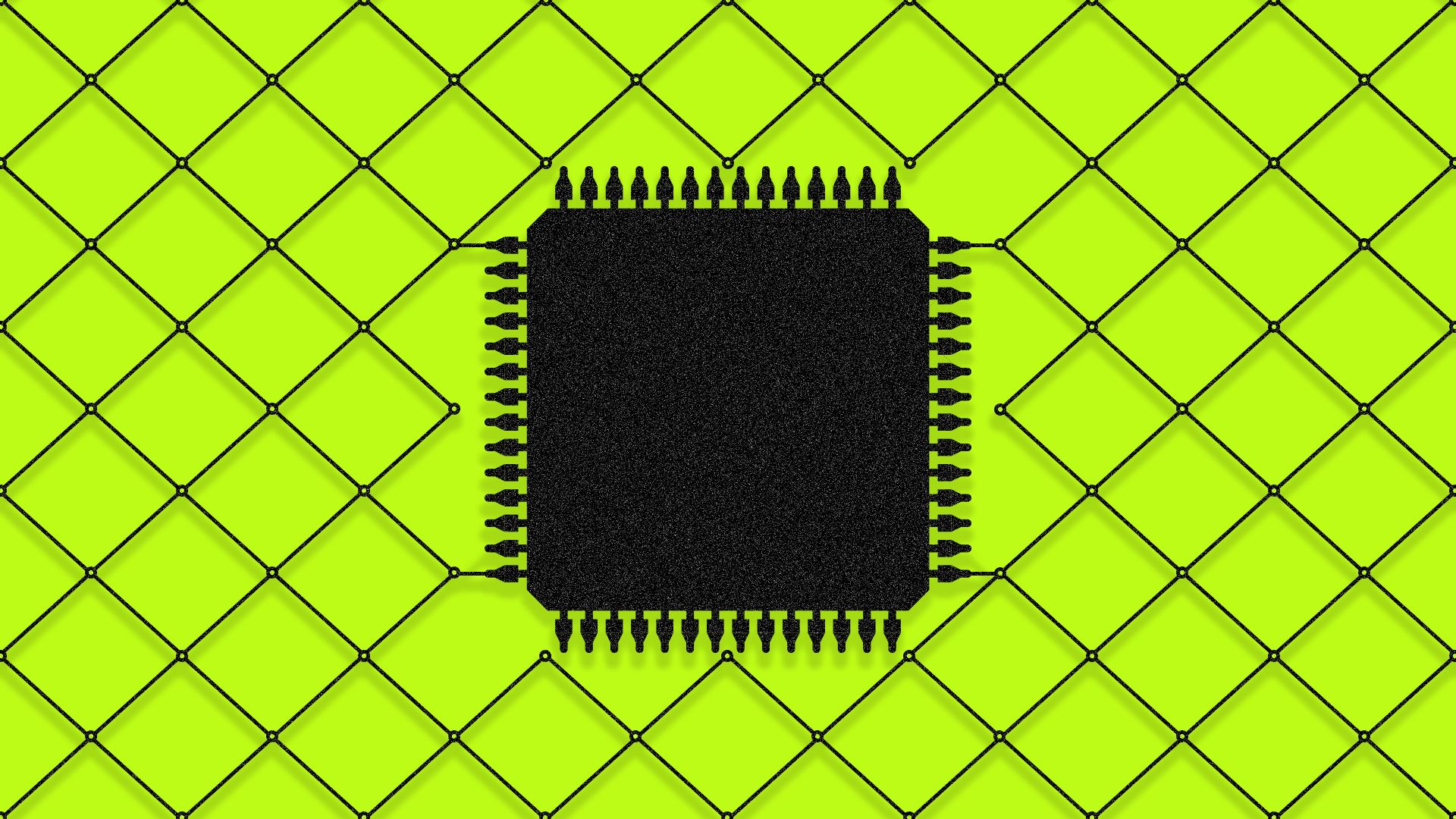 Chinese raids of U.S. intellectual property have helped China build a solid high-tech economy. But the U.S. semiconductor industry is still far ahead — and China is desperate to catch up.
The bottom line: Semiconductor manufacturers are fighting to protect IP from the Chinese, fearing that, without coherent action from the Trump administration, Beijing could bulldoze their industries.
Inside Micron
Three weeks ago, Micron and South Korean chipmakers Samsung and SK Hynix all reported that the Chinese government had launched antitrust probes into their firms, and accused them of setting artificially high prices for memory chips.
Yes, but: American companies and the U.S. government have long been suspicious about the link between China's anti-monopoly policies and its industrial goals.
"They want access to the intellectual property. They need us to teach them how to do it. Once they have the industry, they want to push us out," an industry source familiar with China's investigation into Micron tells Axios.
The price hikes, the source says, are largely due to a boom in demand for memory chips in everything from smartphones to autonomous vehicles. China's investigation is "a clear indication that they're not ready to make [semiconductors] work," says the source.
Micron's fight to protect its IP is not new. Other U.S. firms have run up against the same Chinese antitrust policies or regulations and have been forced to strike deals with Beijing.
The New York Times' Paul Mozur dove into the story a heist of Micron's crown jewel — its chip design — in Taiwan, where the company keeps its trade secrets.
Qualcomm tangled with China: "To get back in Beijing's good graces, the company agreed to lower its prices in China, promised to shift more of its high-end manufacturing to partners in China, and pledged to upgrade the country's technology capabilities," the New York Times' David Barboza reports.
The same thing has happened to IBM and Apple and others.
"'I'm not sure who's fought China and won, just like I'm not sure who's fought a casino and won in the long run," says Bruce Mehlman, who was an assistant secretary of commerce for technology policy under the Bush administration and now lobbies for several tech companies.
Worth noting: Japan, South Korea and Taiwan all have thriving semiconductor industries, too. The difference is, these countries accept competition, whereas Beijing wants to give its national champions the advantage, Jimmy Goodrich, vice president of global policy at the Semiconductor Industry Association, says.
The bottom line, per the industry source: "We're all dependent on China because everything is assembled there."
The stakes
President Xi Jinping has clearly outlined in speeches that he'd like to see China become the global leader in cutting-edge technology — including semiconductors — by 2025.
Yes, but: Semiconductor manufacturing is technically challenging, with the processing done at a microscopic level. Even if the Chinese can design these chips, the actual manufacturing presents enormous hurdles.
Still, China backs its industrial policy with nearly $115 billion of government money. Per Goodrich, "That's an incredible amount of capital that the state is deploying to try to catch up."
But the Trump administration seems to be focusing more on balancing trade with China than addressing IP concerns, and President Trump's flip on Chinese phone maker and sanctions violator ZTE — though blocked by the Senate — was "hugely problematic," the industry source says.
Japan, South Korea, Taiwan and Europe are waiting for the U.S. to take leadership to address China's behavior, says Jim Lewis, an analyst at the Center for Strategic and International Studies. But Trump has alienated some allies with tariffs.
Be smart: A lot of industries have resigned themselves to Chinese IP theft, says the industry source. "The difference here [in the semiconductor industry] is we can still win because it's really hard to do what we do."
One solution: Move manufacturing elsewhere, such as to Malaysia or Vietnam, where IP is safer and labor is cheaper, Lewis says. But that can't happen overnight because the supply chain is so entangled in China, he says. "And China has a lot of money, which will always be a huge draw."
Go deeper: Chinese theft of U.S. tech is hard to stop
Go deeper