Chinese retail is winning the future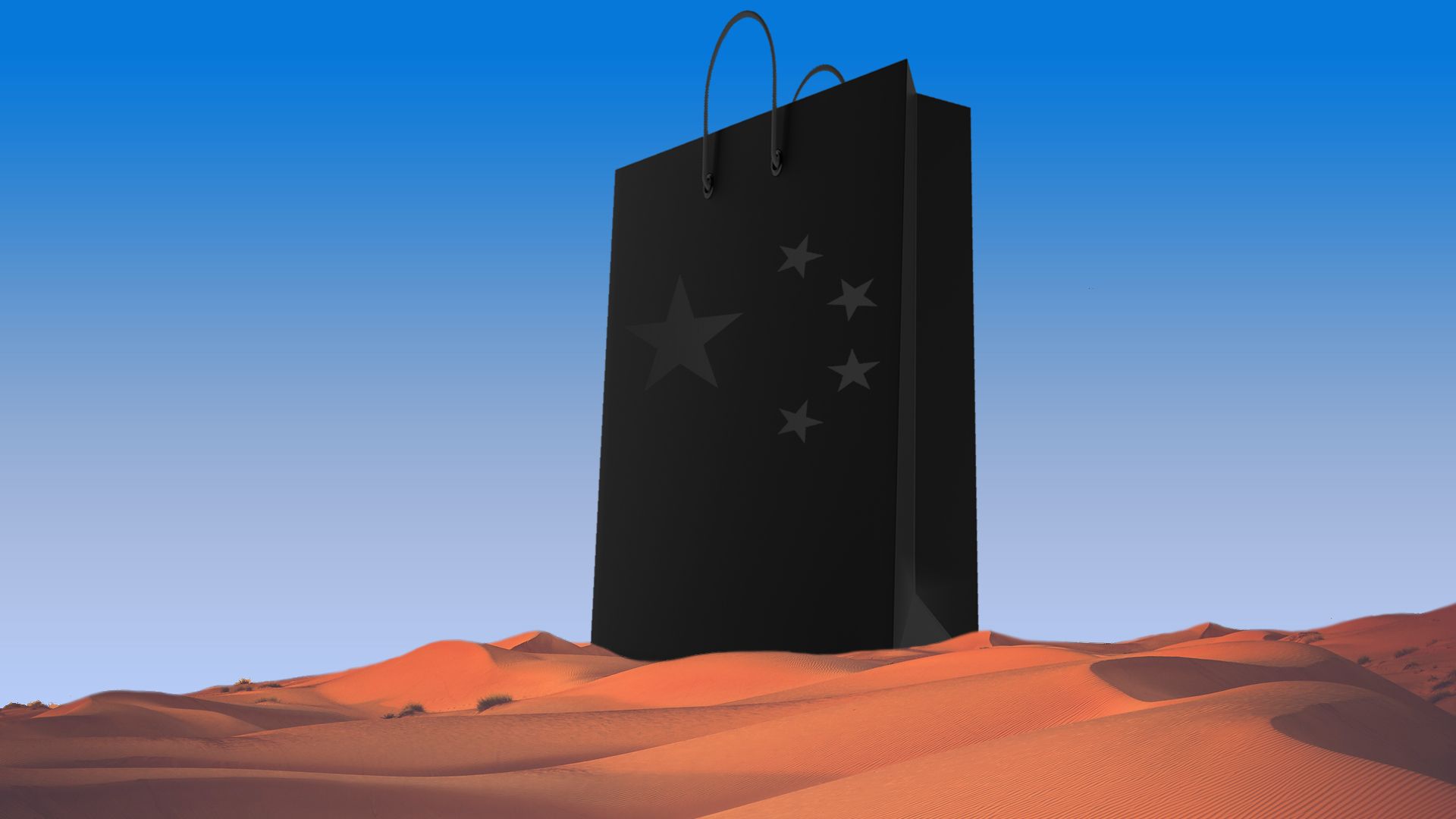 As I learned in China last week, U.S. and European companies are being seriously out-smarted while China's Big Tech rivals compete to pull traditional retail businesses into their exclusive, online corporate universes.
Why it matters: Retail is the largest single source of American jobs — and, in the U.S. and most other countries, one of the biggest parts of the overall economy. That Chinese companies are aggressively exploring how to save Main Street and middle-class jobs is terrific; that the U.S. and Europe seem all but flat-footed is not.
As I wrote, their battlefield is digitalization-in-a-box — off-the-shelf systems that allow virtually any business, from a mom-and-pop shop to a Walmart, to zoom directly into the exosphere of e-commerce.
The data underlying this merger of e-commerce and plain-old commerce are that brick-and-mortar remains by far the largest chunk of retail, and thus if e-commerce wants to continue growing, it must marry itself to physical stores.
The West does not necessarily want this, but in China doing it well is a state affair: President Xi wants Big Tech to help enact his economic policies — like expanding the middle class — so they do, because they want to survive.
Hence the war is, while transcending e-commerce, to own everything the merchant and customer do, from purchase, to payment, to shipment.
The companies doing this are Alibaba, Tencent and JD.com, China's e-commerce, gaming, messaging and fintech giants.
Meanwhile, in the U.S., the U.K. and elsewhere, retailers have been filing bankruptcy in increasing numbers. More and more analysts are advising calm — that the trend is ultimately less crucial than one might think because Amazon and other warehouses are snapping up workers in larger numbers than retail workers are losing jobs.
Be smart: Here is where Americans and Europeans may be getting the wrong picture.
The worker-less future: Among the places I visited was JD. Along with other reporters, I stood near its latest e-commerce fulfillment center, a warehouse that can ship 200,000 packages a day with just four human workers, all of them robot mechanics.
JD will decide over the coming months whether its investment building this futuristic warehouse justifies the savings in labor costs, and thus whether it should build more of them. Meanwhile, it is installing as much automation as it can in its other hundreds of warehouses in order to reduce its work force.
At the same time, Amazon and other e-commerce firms are hiring workers in droves — now. But when they approach full-automation, those workers are likely to vanish.
As an example of the e-commerce approach to a traditional store, consider Hema (pronounced HUM'-uh), the Alibaba supermarket that sometimes out-qualities Whole Foods.
The store I visited had super-fresh produce. But the bigger thing was the seafood department, filled with pristine tanks of live, swimming fish of various types, plus crustaceans from around the world.
Every type of seafood we bought included a barcode from which we could track its origin and how it reached the store — mussels (New Zealand), lobster (Canada), scallops (China's Zhejiang province), and so on. This is an increasingly common feature on China's supermarket merchandise — a barcode that reveals the entire chain of a product's journey to the shelf.
You can then take the seafood to a separate kitchen department, which prepares it as you like while you shop. They text when it's done. It was pretty scrumptious at $20 a person.
As for your shopping, you can choose to have your stuff delivered to your home within 30 minutes, as long as you live within a two-mile radius of the store. JD offers the same service with its 7-Fresh stores.
More on the ground details from China:
Almost no Chinese use cash or credit cards. Instead, every transaction — from a fruit-vendor on the street, to the super-market, to movie tickets, to paying your baby-sitter — is done from your smart phone. This is convenient and, while you can't pile up credit card debt using this feature, possibly you shouldn't anyway.
One of the most important new tech waves is the home speaker. It may become almost as big as the smart phone — and the Chinese are treating it that way. In Hangzhou, I visited a Tmall Genie store, a cool shop that, in tone and decor, very much resembles an Apple or Tesla outlet, devoted entirely to selling various models of Alibaba's home speaker.
Amazon is impressed with its two-day and sometimes two-hour delivery. But JD delivers almost all of its packages the same day, and more than half within 12 hours. You can also order something delivered in 30 minutes.
Go deeper: At Fortune, Adam Lashinsky has a new takeout on the war between titans Alibaba and Tencent.
Go deeper