India imposes retaliatory tariffs, escalating U.S. trade tensions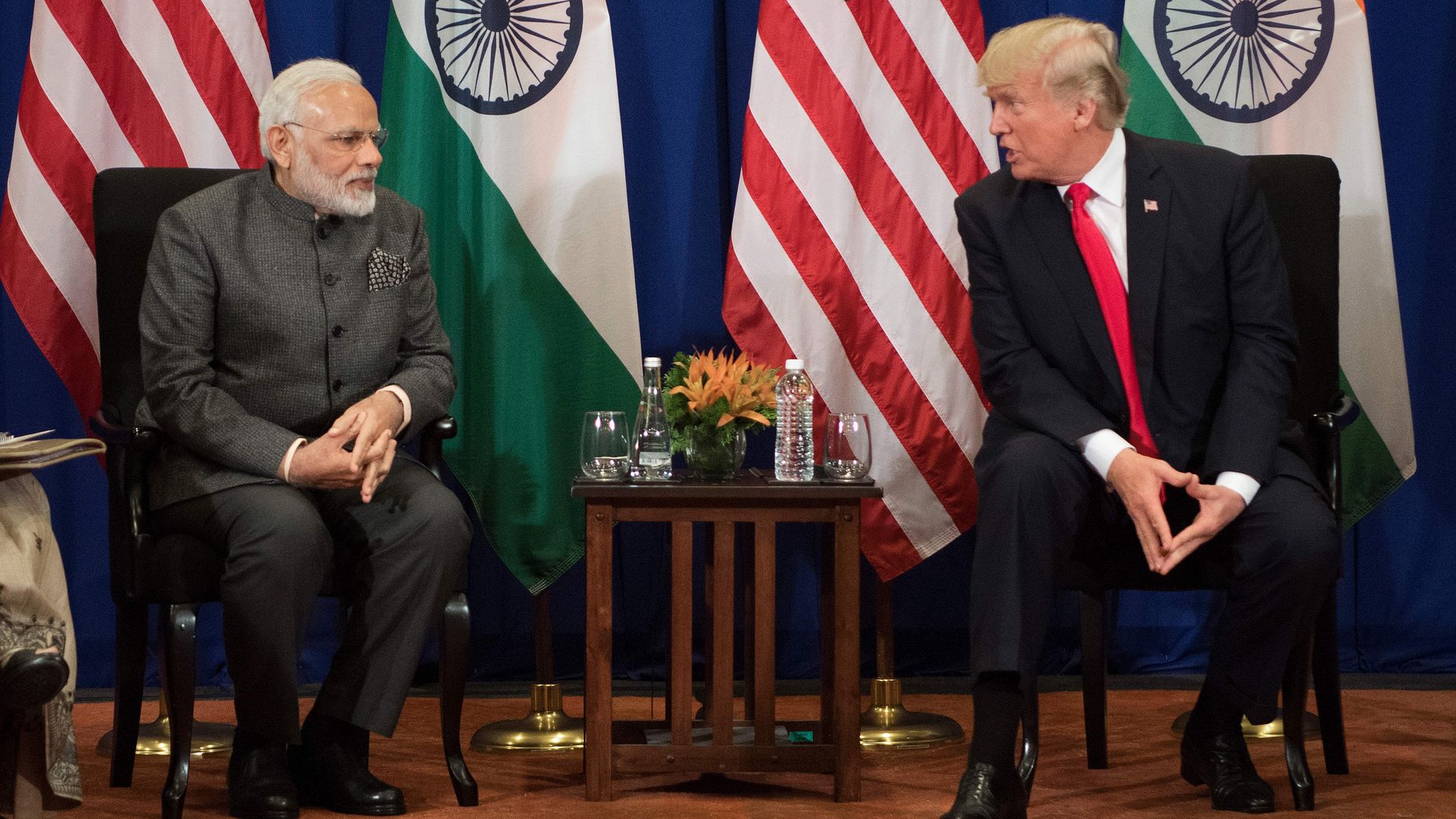 India has announced tariff hikes totaling $235 million on 29 U.S. goods — including agricultural products, steel and aluminum — in direct retaliation to U.S. tariffs.
The big picture: Despite decades of economic frictions, the strategic partnership between the world's two largest democracies has continued to strengthen. Recently, however, President Trump's trade policies have inflamed frictions with India, to the potential detriment of security cooperation across the Indo-Pacific region.
The U.S. and India have a long list of economic irritants, even at the best of times. For example, the Obama administration took India to the World Trade Organization (WTO) on solar panels and poultry, while India has a still-pending WTO dispute with the U.S. on H-1B visas.
The Trump administration has added to the list. Trump's trade-deficit fixation put India in the crosshairs despite a relatively small $24-billion deficit, as did the March steel and aluminum tariffs, which were supposed to target China. Unlike the EU, Canada, Mexico and other countries, India didn't receive an exemption at the time.
The Indian government fears further escalation, given talk of removing India from the Generalized System of Preferences program — which aids developing countries by eliminating duties on select products — and limiting high-skilled worker visas.
With the Trump administration's national-security strategy's emphasis on the Indo-Pacific, and India's participation in the "Quad" Security Dialogue (U.S., Australia, India, Japan), closer cooperation with India appears to be a high priority. But India — now the world's sixth largest economy, but nonetheless a developing one with its own domestic needs — will not be pushed around, and will interpret America's latest measures as coercive rather than good-faith efforts to resolve longstanding issues.
The bottom line: Managing problems while finding new areas for cooperation has improved U.S.–India ties. But a deteriorated economic relationship will inevitably color New Delhi's interest in strategic cooperation, which should be the greater priority given pressing U.S. security interests across the Indo-Pacific.
Alyssa Ayres is senior fellow for India, Pakistan and South Asia at the Council on Foreign Relations and the author of "Our Time Has Come: How India is Making Its Place in the World."
Go deeper