Immigration debate highlights Big Tech's struggles with Trump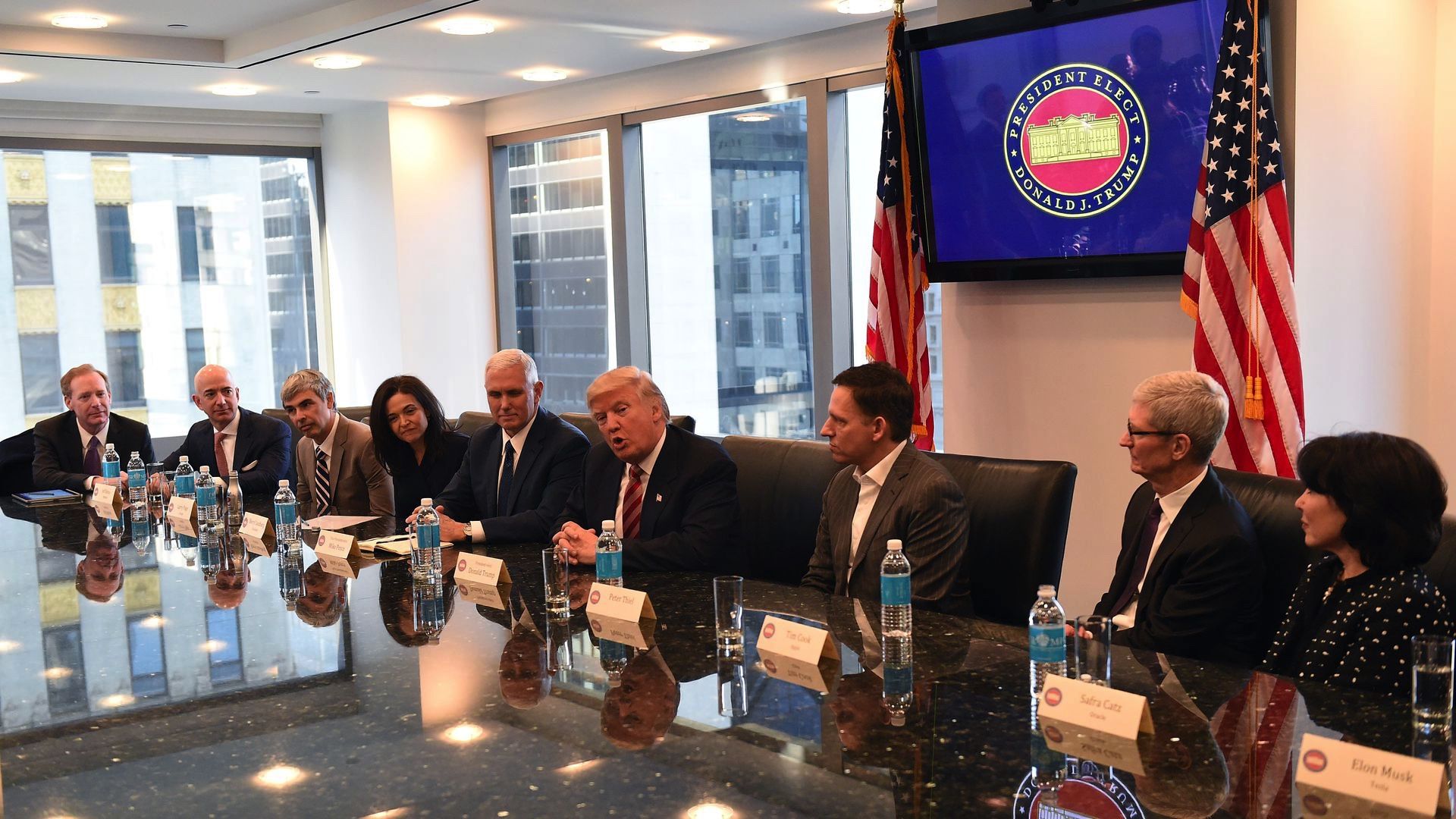 For tech executives, the Trump administration's child separation policy provided a moment of clarity when the choice to speak out was relatively easy.
Yes, but: After Trump's executive order on Wednesday, companies were once again struggling to figure out how to respond. The executive order itself turned down the heat for the moment — but also raised more questions than it answered. This has been an all-too-common experience, according to insiders at several of the tech companies.
"The policy doesn't seem clear at this point, so not sure what we'd be commenting on," one Big Tech company spokesman told Axios. "Will let you know when it's more clear..."
The toughest challenges:
1. When to weigh in: Figuring out when to speak out has been a challenge since the president took office — and even before. Remember the scene as tech executives descended on Trump Tower?
For the most part, companies have spoken loudest on matters that affect their company's business or employees directly. Protecting Dreamers has been a top issue along with other immigration policies and LGBT issues. Many also spoke out after the 2017 Charlottesville rally that turned deadly.
2. Subtlety is tough: Nuance has been a challenge in an increasingly soundbite-driven political environment.
Microsoft, for example, tried Tuesday night to lay out a complex position on immigration at a time when all many wanted to hear was how loudly it would condemn President Trump and if it would respond to calls to end its contracts with U.S. Immigration and Customs Enforcement.
3. Saying vs. doing: Some of the most effective attempts have been the concrete actions tech companies have taken, from joining lawsuits to refusing to take part in government efforts. But, one tech executive said, that's tough in a world where "what gets people excited is who says what first."
Or, as another person put it to me, it's one thing to speak out, but it's another "to do so in a way that is meaningful and authentic, and not lip service or grand-standing."
4. Internal vs. external: It's not just outside pressure that tech companies are dealing with, though there is plenty of that. Employees also often push their leaders to live up to the change-the-world idealism they believe their companies represent.
5. Business concerns: Companies also have to balance how much to challenge an administration that still controls issues ranging from trade conditions to antitrust regulation to merger approval. That's why big government contractors and heavily regulated companies don't pipe up as much.
For instance, the big four telecom firms have been the least vocal in opposing Trump, even failing to speak out over the child separation policy.
Go deeper: Axios has lots of coverage on the executive order, including an analysis of the situation, reaction from lawmakers and a look at just what the order does and doesn't do.
We also have an exclusive Axios/Survey Monkey poll that shows Americans now rank immigration as the most important issue facing the nation. And a look at what's in the two immigration bills getting a vote in the House today.
Go deeper