What's in the two immigration bills getting a vote today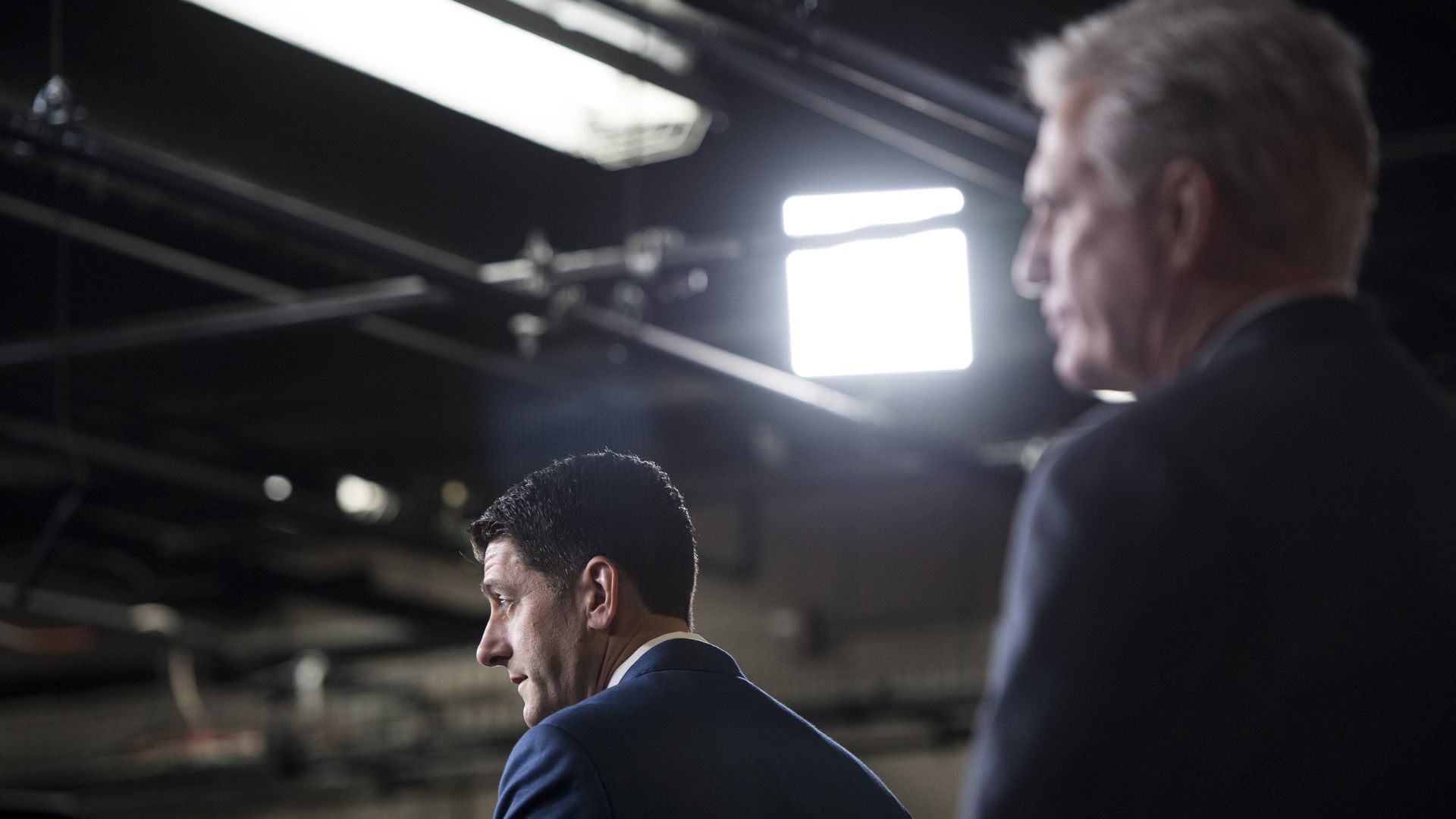 The House is expected to vote on two GOP immigration bills today — a bill championed by House Judiciary Committee chairman Bob Goodlatte and a compromise proposal negotiated by conservative Freedom Caucus members, moderates and House leadership.
The bottom line: Both bills have President Trump's support and cover similar Republican priorities on immigration, but only one — the leadership compromise — addresses the separation of families. The Goodlatte bill is considered more conservative and cuts legal immigration levels, while the leadership bill more or less maintains current levels. Neither bill is expected to pass.
What they have in common: Both bills cover the "four pillars" of GOP immigration priorities:
Providing legal status for DACA recipients.
Increasing border security, including building a border wall.
Ending the diversity visa lottery, which gives 55,000 visas annually to applicants from countries with low numbers of immigrants in the U.S.
Limiting so-called "chain" migration, the process by which immigrants who already live in the U.S. can bring their family members here.
DACA
Goodlatte: Allows the 690,000 existing DACA recipients to renew legal status every three years. There is no legal pathway to citizenship.
Leadership: The Migration Policy Institute estimates that 1.25 million DACA-eligible immigrants would be given legal status, reapplying every six years. They would be qualify for certain merit-based green cards.
The wall
Goodlatte: $30 billion for the wall and other border security measures.
Leadership: $25 billion for the wall and other border security measures, according to the latest summary.
Family migration
Goodlatte: Ends all family-based visas except for the spouses and minor children of green card holders.
Leadership: Only eliminates the 23,400 visas for married children of permanent residents and 65,000 visas for adult siblings of permanent residents. It relocates those green cards to a merit-based program, which includes Dreamers and the children of some employment-based visa recipients.
Diversity visa lottery
Goodlatte: Eliminates it, relocates some to employment-based categories.
Leadership: Eliminates it, but relocates the 55,000 visas to the merit-based program.
Child migrant separation
Goodlatte: Does not address.
Leadership: Permits the Department of Homeland Security to keep children in detention indefinitely with their parents, but does not specifically address the "zero-tolerance" policy, which results in parents being held in criminal custody by the Justice Department.
Go deeper:
Go deeper