Go deeper: The biggest blunder of the Trump presidency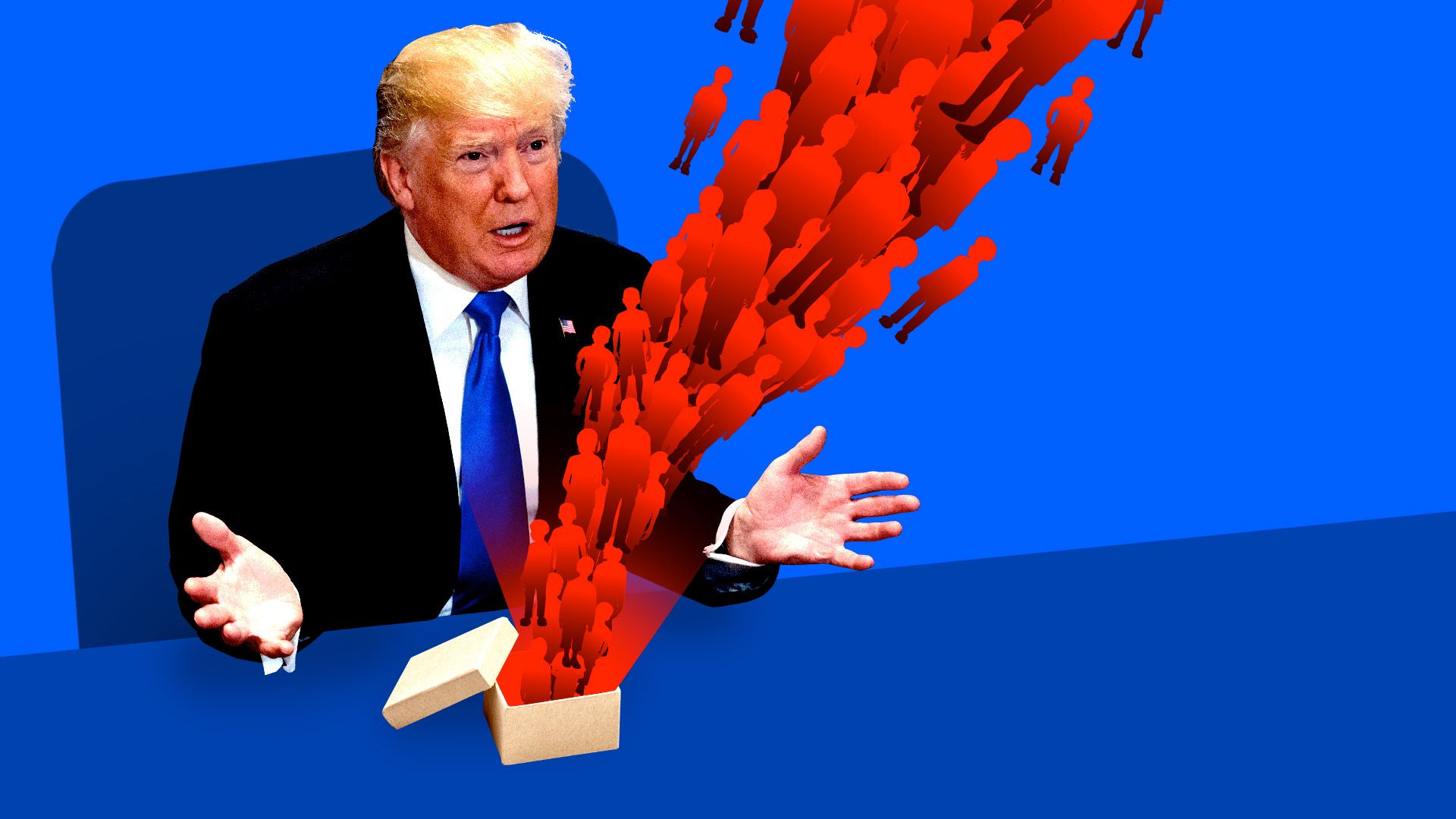 The Pope, the U.N., Bono, every living first lady (including his wife), a conservative radio host (Hugh Hewitt) who said this could be his Katrina, a Republican senator (Ted Cruz), a top aide (Kellyanne Conway), his oldest daughter — all of their condemnation and concern about caged kids at the border left Trump realizing he had a massive problem.
The big picture: But none of them convinced him to cave. TV was the tipping point.
[Get more stories like this by signing up for our daily morning newsletter, Axios AM]
A person who knows Trump's mind told me: "The President watches more cable news than most Americans. So he experienced an overdose of the outrage and the media frenzy. None of the White House messaging seemed to be helping. So he decided, mostly on his own rather than at the urging of advisers, that some action was required to change the narrative."
So in a dramatic retreat he had hoped to avoid, Trump signed an executive order ending the administration's policy of separating children at the southern border if their parents were caught entering the U.S. illegally.
The details, via AP: "The order does not end the 'zero-tolerance' policy that criminally prosecutes all adults caught crossing the border illegally. But, at least for the next few weeks, it would keep families together while they are in custody, expedite their cases and ask the Defense Department to help house them. It also doesn't change anything yet for the some 2,300 children taken from their families since the policy was put into place."
Trump continued to talk tough on immigration during a rally last night in Duluth, Minn.: "We're going to keep families together and the border is going to be just as tough as it's been." The crowd chanted: "Build the wall!"
Mark Penn of The Stagwell Group, an expert on swing voters who has counseled the Clintons and top corporations, told me that outrage about the policy had blunted the momentum Trump was enjoying from the economy and the North Korea summit.
Penn: "This goes right at these independent women that he needs to hold onto — the moms of America who voted for Trump. Remember that most independent suburban women voted Trump. This did the most damage with exactly that group."
Be smart ... A source close to Trump tells me: 'This was the biggest communications fail I've seen out of this White House, and that's really saying something. The President, senior staffers, Cabinet members, and outside surrogates all trumpeted different talking points."
"Immigration is a political battleground that typically gives the administration the upper hand. But they gave up home-field advantage on an epic scale."
Go deeper:
Go deeper