What we're reading: The life and times of Donald Trump Jr.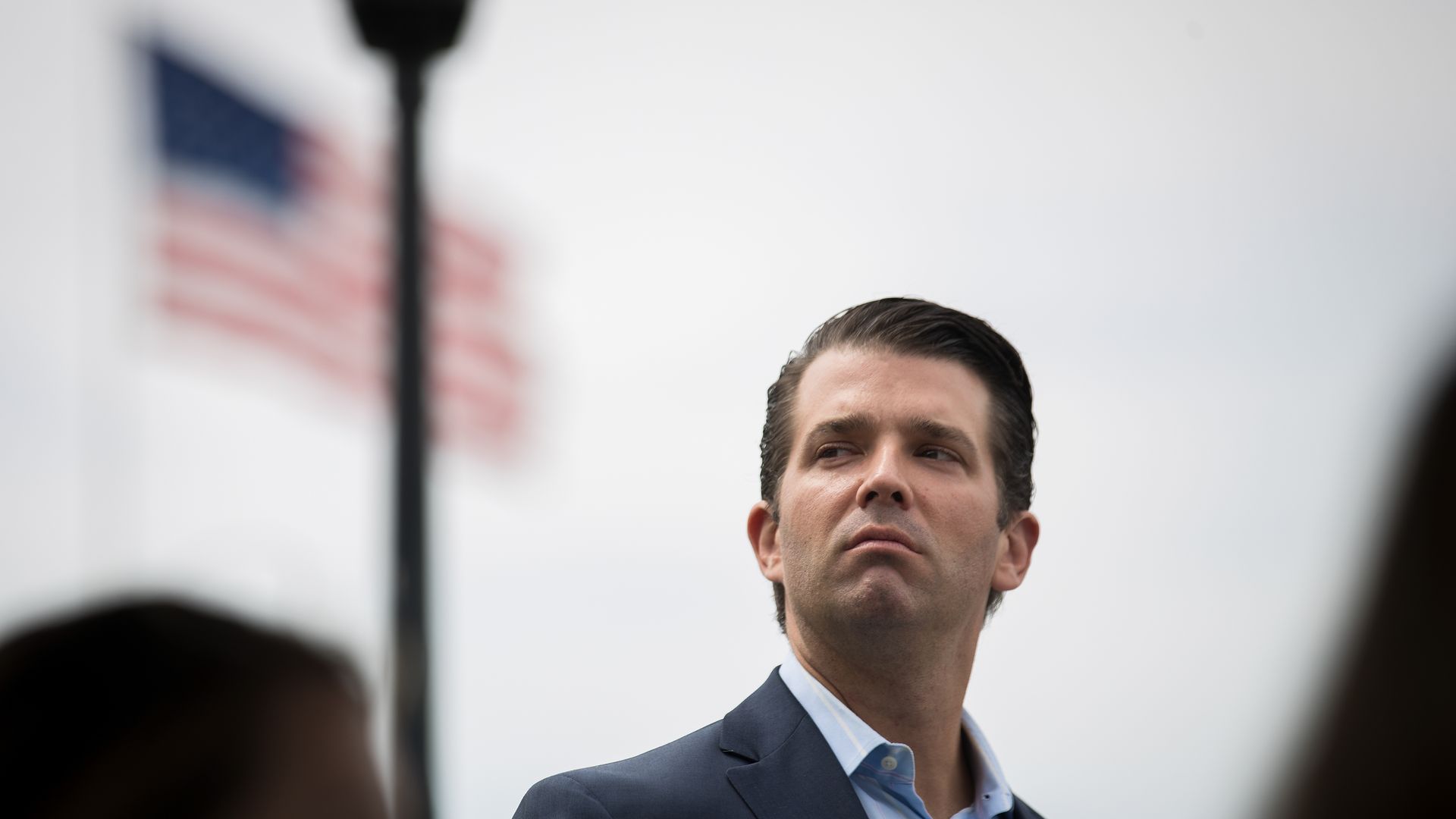 Julia Ioffe reports on Donald Trump Jr.'s past and present for GQ, digging up both a new account of the infamous Trump Tower meeting he had with a Russian lawyer and details of his early childhood.
Why it matters: Don Jr. is a favorite of Trump's base, but, in a quest to help his father's presidential campaign, has found himself at the center of the investigation regarding possible collusion with Russia. As Ioffe writes, "It's never been trickier to be the president's son."
The account of the Trump Tower meeting, via some participants:
"According to a person who was there, after some pleasantries about the view of Central Park, Don got straight to it."
"'So I believe you have some information for us?' he asked. Veselnitskaya began reading from prepared remarks about DNC donors the Ziff brothers, their alleged tax evasion, and the connection she saw between them and Putin critic Bill Browder ... Don tried to get the conversation back on track. 'So can you show us how does this money go to Hillary?' two of the participants recall him asking."
"Don began to realize he wasn't going to be handed what he was hoping for. 'The light just went out in his eyes,' the participant told me recently. 'He was totally disinterested.'"
"'I think he regrets taking the meeting,' a source close to Don told me. 'Does he regret it because he thinks he did something wrong? No. He regrets it because it ended up causing a situation that wasted a lot of time and money.'"
Growing up as Trump's son:
"According to his first wife, Ivana, Donald Trump was never keen on bequeathing his name to anybody. It was Ivana who wanted to call their newborn Donald junior. 'You can't do that!' Trump is quoted as saying in Ivana's memoir, Raising Trump. 'What if he's a loser?'"
"'I don't remember him having political views,' says a friend of Don's from college. 'You've been hearing his dad for a long time,' but as for Don's views, 'I didn't see anything emerge until the campaign.'"
"Fraught though their relationship has sometimes been — at one point Junior refused to speak to his father for a year — Don has lately found improbable purpose and renown as a savage defender of his father. His once private desires to win his father's approval now come packaged as angry tweets and memes tearing down his dad's opponents as illogical, histrionic socialists"
Don Jr.'s popularity with Trump's base:
"Don junior is royalty," Mike Cernovich, a right-wing activist, told Ioffe. "Don junior is loved by the base. He's accessible, he's in the trenches, he's sharing the memes, pushing out stories that other people aren't. It shows that he's reading what everybody else is reading. I know it's a really dumb litmus test for a politician, but he's the one you'd want to have a beer with."
Go deeper