Trump will be "signing something" on child separation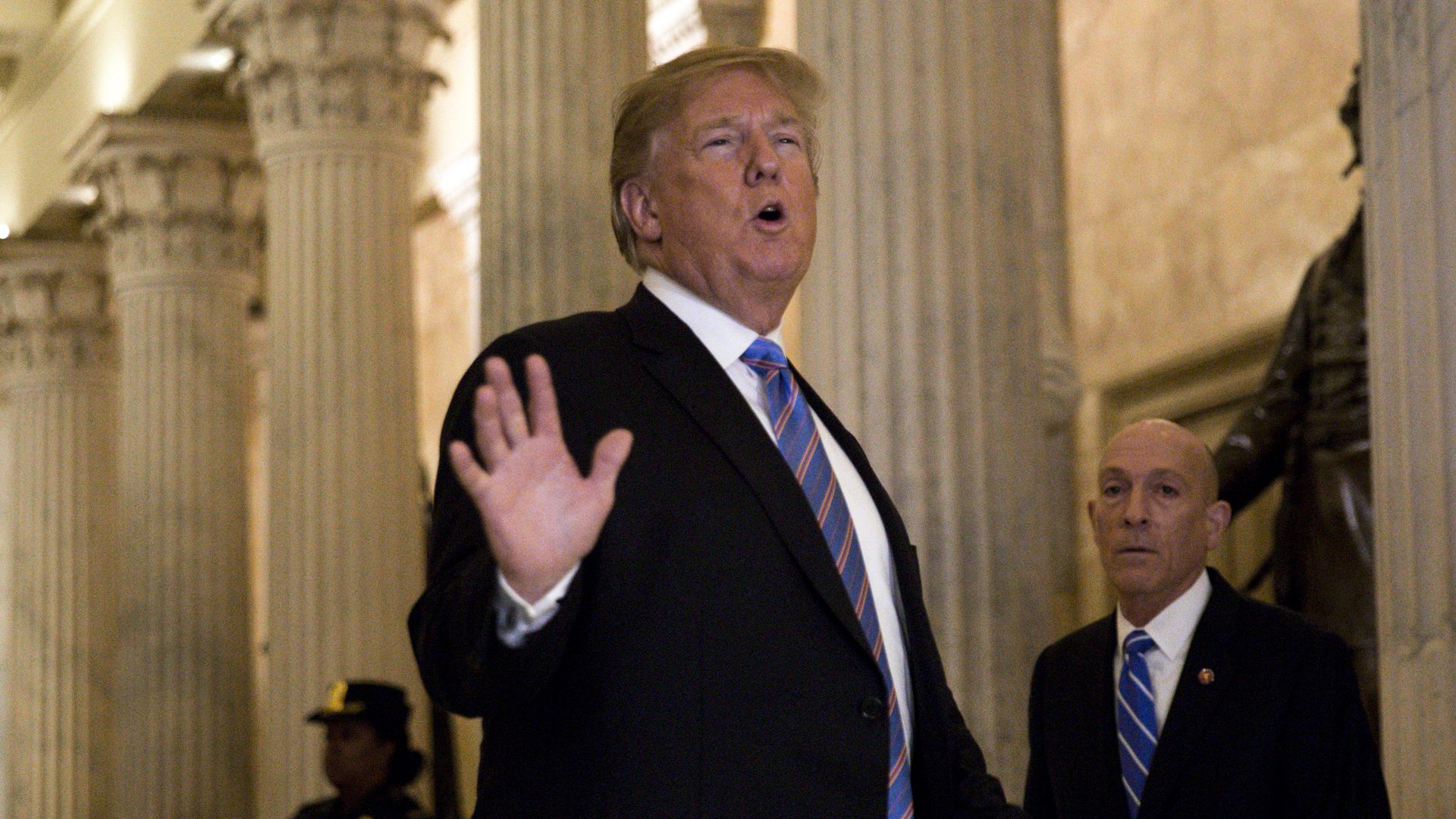 President Trump told the White House pool Wednesday that he will be "signing something in a little while" on immigration, adding that he wants "to keep families together."
Why it matters: Trump met with Republican lawmakers on Capitol Hill last night to address the mounting pressure on his administration to change its policy of separating migrant children from their families at the border. Trump has previously signaled that he wants more comprehensive reform rather than a separate measure.
The details: The order will call for families to be kept in detention, indefinitely, together, and will not be released until their hearing, the New York Time's Maggie Haberman and Michael Shear report. It would attempt to work around a court ruling that prevented children from being held in detention for more than three weeks.
What to watch: Currently, parents are initially being taken into criminal custody by the Justice Department, forcing the separation of families. The executive order must also address the processes behind DOJ's enforcement of the "zero-tolerance" policy.
What Trump's saying:
"So I'm going to be signing an executive order in a little while... [W]e're keeping families together but we have to keep our borders strong. We will be overrun with crime and with people that should not be in our country," Trump said, according to the pool.
Trump also re-emphasized that, "We need the Democrats' support" in order to pass immigration laws.
"If you're really, really pathetically weak, the country is going to be overrun with millions of people, but if you're strong, you have no heart. That's a tough dilemma."
He added that "perhaps I'd rather be strong."
He also blamed the situation on federal judges who have stopped the administration's efforts to end the DACA program: "That's why we're in this mess. Because we had a couple of court decisions, which is going to force an issue to the Supreme Court which shouldn't be forced to the Supreme Court."
Be smart: A senior administration official told Axios' Jonathan Swan and Mike Allen that Trump "doesn't want to look weak" by backing down. "He feels boxed in, is frustrated and knows it's bad politics — but also understands it's not a fight he can back down from," the official said.
Go deeper: Here's what happens when families cross the border
Go deeper