Trump punts the border crisis to a broken Congress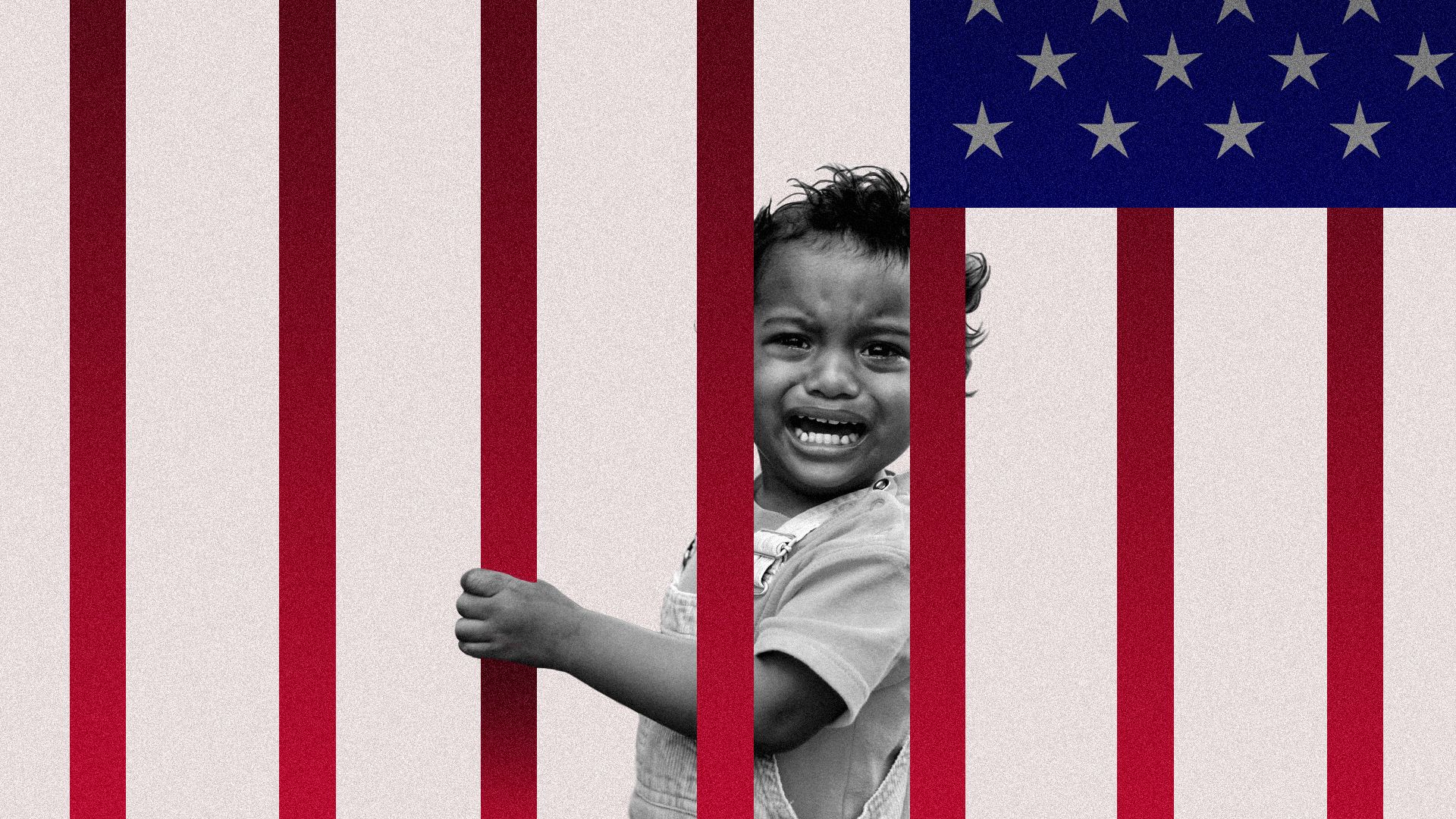 President Trump's border crisis is only the latest example of the administration enacting a policy with drastic implications and telling Congress to fix it. The problem is that the strategy hasn't worked in the past, with negotiations going down in partisan flames.
Why it matters: If Congress fails yet again to find a legislative solution to a problem thrust upon it by the White House, this time it means that family separation at the border will continue until Trump caves — which is far from a fail-safe option.
On issues that have caused legislative stalemates for years — if not decades — Trump has consistently chosen to punt to Congress anyway.
"Normally recent presidents have acted through the executive action after Congress has failed. Trump's doing the reverse — using executive action to provoke a congressional response," said Alex Conant, a former aide to Sen. Marco Rubio.
He decided to end the Affordable Care Act's cost-sharing subsidy payments, which experts were predicting would throw the individual market into turmoil unless Congress funded them.
He ended DACA, which protected people who came to the United States illegally as children from deportation.
His administration is now enforcing a zero-tolerance policy at the border, which has effectively led to children being separated from their parents.
At a meeting with House Republicans last night, Trump endorsed both of the immigration bills they'll vote on this week and made it clear that he wants Congress to address the family situation issue. Both bills do, but they also include other immigration changes, which would make them harder to pass.
I've always viewed Donald Trump as the political equivalent of disruptive technology ... Some disruptive technologies work out really well. Some don't.
— GOP Sen. Ron Johnson
Congress has been unable to solve any of these issues, whether that's in spite of or because of the take-it-or-leave-it White House posturing. Congressional Republicans mostly blame Democrats, Democrats blame Trump, and Trump has blamed them all at different points.
"It's the legislative strategy of rolling a grenade in the room," a former GOP leadership aide told me.
"Trump loves to deflect attention by telling Congress to deal with an issue when he knows full well there is no majority to support the action. It is a way to take the heat off himself and place the blame on Congress when nothing changes," said Darrell West of the Brookings Institution.
Yes, but: Trump has been saved from chaos so far. The individual health care market creatively adjusted to the subsidy payment termination, and court cases are currently protecting Dreamers. It's unclear how family separation at the border will play out.
What they're saying: Democrats decry Trump's actions as risky maneuvers to force his agenda, while Republicans walk a more delicate line.
"All he's doing is using hostages and we should not be using our children as hostages, we should not be using DACA recipients as hostages," said Democratic Sen. Patty Murray. "It's about a president who's trying to act as a dictator."
"What the president has done is lit a fire under us, and maybe that's what we need," said GOP Sen. Mike Rounds. "Congress gets lackadaisical in how we do our legislation. We don't get our work done. And we need to start getting our work done."
Frequent Trump critic Jeff Flake, who's retiring, says Trump makes Congress's job harder. "The president will say do this, and this is what I'll support, and then in the end he won't support it," said Flake, adding that blame also lies with Congress. "But not just with Democrats, as the president has been saying."
Why this time could be different: "There are reasons here to be concerned about kids separated from their parents and parents separated from their kids," said Sen. Roy Blunt, a member of GOP leadership. "It creates a greater desire of us to solve it, but also for people to want to see us solve it."
Why it might not be: "It's tougher in a political world that we're in, moving into elections, because everything right now has a political dynamic that's just wrong," said Democratic Sen. Doug Jones. "We need to be doing the right thing, not the political thing."
Go deeper