Jordan's king tells Kushner: Mideast peace requires two state solution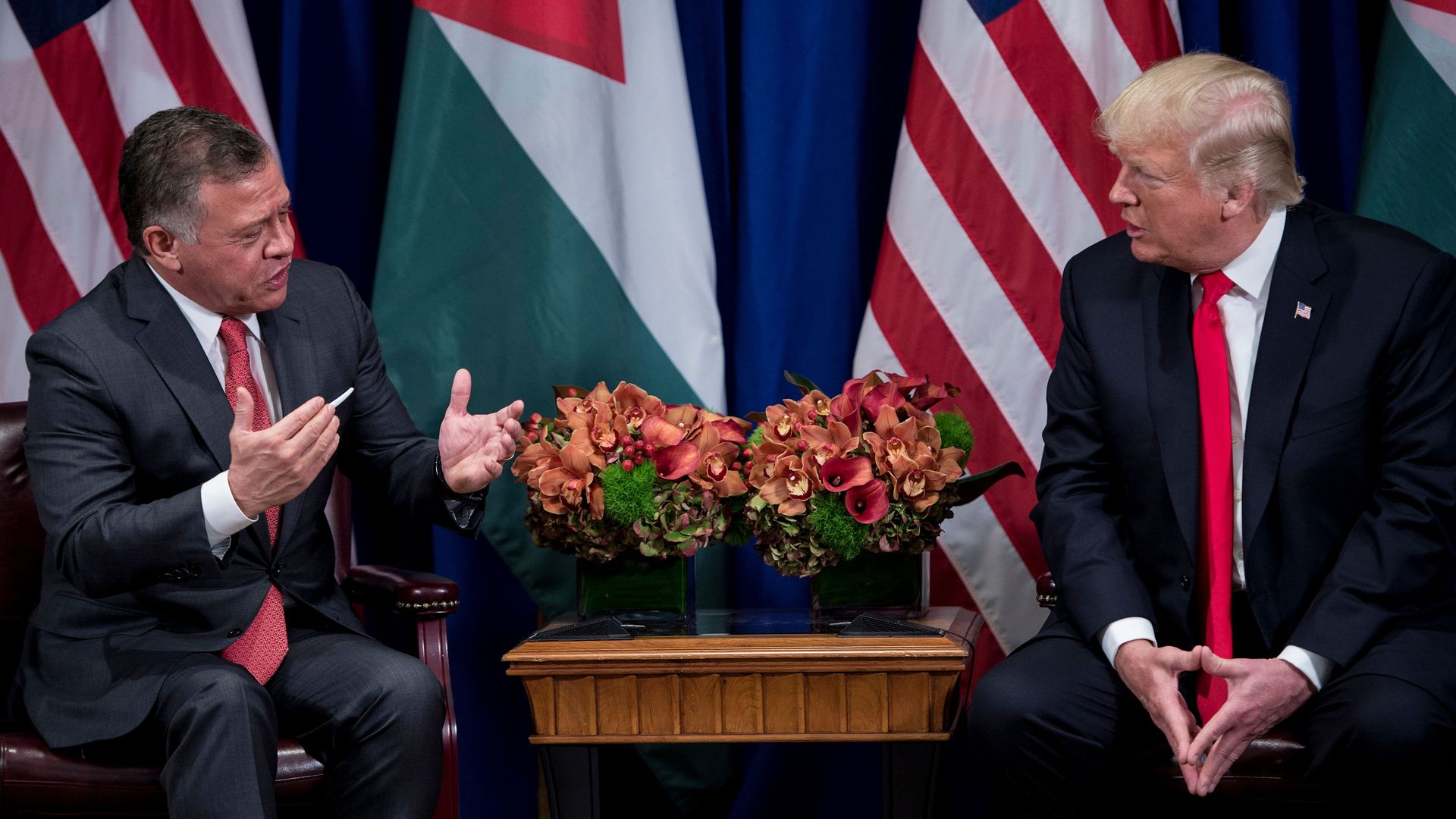 The White House "Peace team" — senior advisor Jared Kushner and special envoy Jason Greenblatt — met with King Abdullah of Jordan today in Amman and discussed the Trump administration's Middle East peace plan.
What to watch: After Amman, Kushner and Greenblatt are expected to visit Cairo, Riyadh, Doha and Jerusalem. Senior U.S. officials said one of their aims is to listen to ideas from regional players regarding the contents and the timing of the peace plan. Kushner and Greenblatt will not go to Ramallah because Palestinian leadership refuses to engage with them.
In a statement after today's meeting, the White House said Kushner and Greenblatt discussed increasing cooperation between the U.S. and Jordan, regional issues, the humanitarian situation in Gaza, and the Trump Administration's efforts to facilitate peace between the Israelis and Palestinians.
According to a statement from the Jordanian royal court, King Abdullah told Kushner and Greenblatt there is a need to reach a comprehensive peace deal addressing the aspirations of the Palestinians for an independent state on the basis of the 1967 lines, with East Jerusalem as its capital. The King added the peace talks must be re-launched between Israel and the Palestinians on the basis of the 2 state solution and the Arab peace initiative. According to the statement, the King stressed that the U.S. must have a central role in any such negotiations.
Kushner and Greenblatt arrived in Amman a day after Israeli Prime Minister Benjamin Netanyahu visited there and met with the king. It was the 1st public meeting between them since 2014.
Go deeper