Fly on the wall: When POTUS goes off-script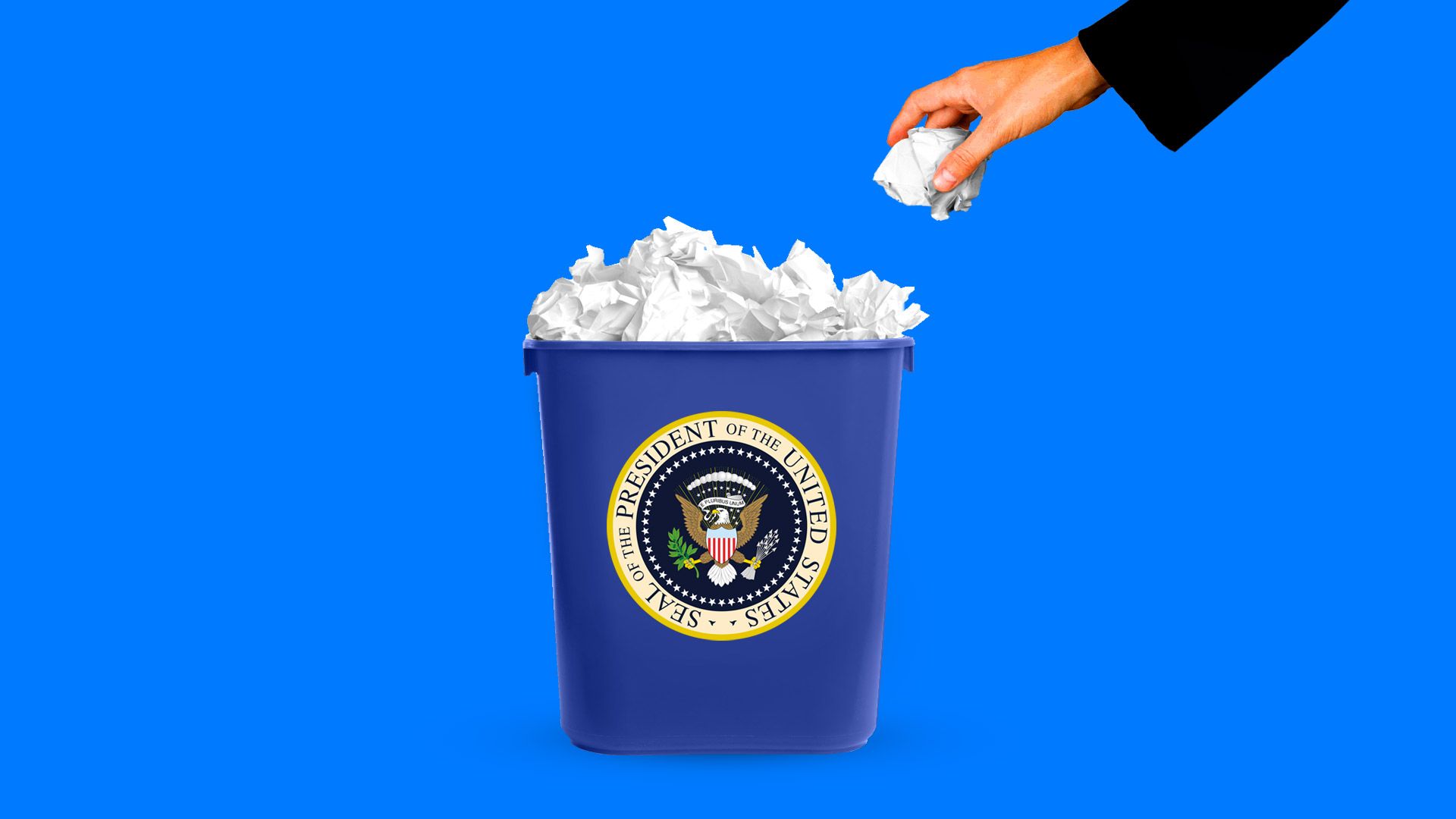 President Trump stunned his staff back on March 29 when he said spontaneously during an infrastructure event in Ohio: "We'll be coming out of Syria, like, very soon."  That was big (but short-lived) news — within five days, Trump had backed off any insistence on an immediate withdrawal.
What we're hearing: It turns out there's an incredible backstory to that moment that took place a few hundred miles away in the White House.
We're told by someone who heard the remarks directly that just before Trump took the podium at 2 p.m. at a union training site in Richfield, Ohio, there was this fascinating exchange back in the West Wing: 
White House chief of staff John Kelly was watching walk-up TV coverage in the outer office of his suite.
Deputy Chief of Staff Joe Hagin sidled across the hall and stood in the doorway.
Indicating the president, Kelly said: "He swore to me that he wouldn't announce anything on Syria."
Hagin replied: "Well, we've heard promises like that before. We really won't know till he's done talking."
Kelly, a retired four-star Marine general, said: "I think he knows he can't fuck us on this."
Hagin cocked his head — he'd heard that before. 
Why it matters: The exchange (which Kelly and Hagin denied through a White House aide, but which was recounted for us by an impeccable source) illustrates the challenges for the staff of a president who relishes going off-script.
One source close to the White House explains the dynamic:
"The people who thrive in Trumpworld are the ones who commit to following his lead, even if that means turning on a dime."
"All any adviser can do is give their recommendation, then let the boss call the play."
"Trump recoils from overly structured decision-making on someone else's timeline. He relies heavily on his gut and sometimes makes snap decisions in the moment, when everything suddenly clicks for him. That can even take place while he's giving remarks and feeling the energy of the crowd."
"It's part of the reason he's so dialed into [his base's] mood, ... when everyone else seems to miss it until after the fact."
The White House aide, denying such a conversation, said Trump's remarks that day were consistent with his previous statements about defeating ISIS — and that his non-traditional approach is part of his strength.
Go deeper