The big picture: Trump's upside-down diplomacy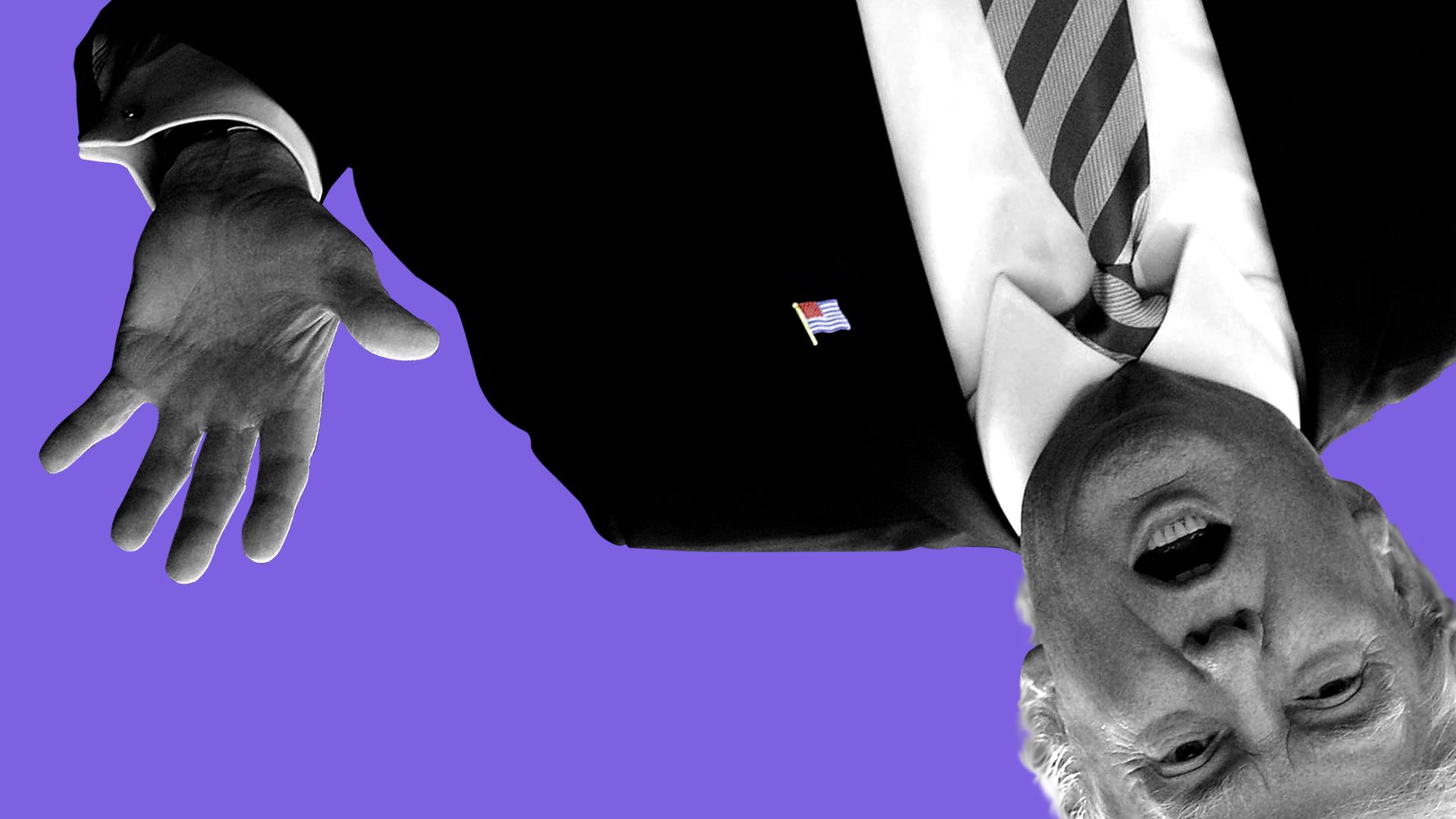 President Trump continues to flip most presidential norms upside down — and nowhere do we see it as clearly as the list of friends and foes he's made on the world stage.
Why it matters: During the campaign, critics called out the president's soft talk toward Russia. But now Trump seems to be distancing himself from America's long-term allies while cozying up to controversial leaders and dictators.
Enemies to friends
North Korea:
Trump managed to pull off a historic meeting with North Korean dictator Kim Jong-un, who he called "talented" and "smart" for having taken over the country at a young age.
Just yesterday, the president said the two had "great chemistry," and that he respects that Kim is a "strong" leader who "wants to make his country great."
Russia:
Trump has said that Russia should be invited back into the Group of 7.
He congratulated President Vladimir Putin on winning re-election earlier this year, while most experts considered it a sham election.
Putin himself has bragged that he and Trump have a good relationship.
The Philippines:
Over a phone call, Trump told President Rodrigo Duterte of the Philippines that he should visit the White House if he's "ever in D.C." and praised the "great job" he was doing at combatting drug crimes policies (note that drug addicts and dealers are often killed by police).
Trump also met with the violent dictator in the Phillipines, where he failed to rebuke Duterte for his human rights violations.
Friends to enemies
Canada:
Trump recently imposed high tariffs on Canadian steel and aluminum. Canada, along with other countries affected, has challenged the decision with the World Trade Organization.
He has threatened to pull out of the North American Free Trade Agreement.
He recently called Canadian Prime Minister Justin Trudeau "very dishonest and weak," and trade adviser Peter Navarro was forced to apologize after saying "there is a special place in hell" for Trudeau for his "bad faith diplomacy" following the G-7 summit.
Mexico:
Mexico is also fighting Trump's newly announced tariffs and hoping to negotiate a NAFTA deal.
Trump has blamed the Mexican government for the surge of immigrants at the border, and has threatened to make Mexico pay for the wall along the southern border.
France:
Although French President Emmanuel Macron and President Trump have been very friendly together — with Trump even calling him "perfect" — Trump pulled out of the Paris Climate Agreement and the Iran Deal, two major agreements Macron had been pushing the president on.
In a speech to the U.S. congress, Macron made jabs at Trump for his political and diplomatic moves.
"In the space of just a day you see President Trump attacking Mr. Trudeau, who is a historic ally... and the next day practically hugged a dictator born into a communist dictatorship."
—
France's foreign minister Jean-Yves Le Drian
said on Wednesday
Germany:
At a joint press conference in April, Trump railed against NATO allies like Germany who don't spend the mandatory 2% of GDP on defense.
With U.S. tariffs, among other tensions with President Trump, Germany is "being pushed closer toward a more predictable partner in Moscow," a German official told Bloomberg last month.
And following the recent G-7 summit, Chancellor Angela Merkel called Trump's decision to withdraw support from a G-7 communique "sobering and a bit depressing."
U.K. :
Prime Minister Theresa May called the steel and aluminum tariffs "unjustified" and "deeply disappointing."
In November, Trump retweeted a series of anti-Islam videos from the deputy leader of the far-right ultranationalist U.K. political party Britain First, which May harshly criticized. Trump then responded:
Go deeper: Closest allies sour on U.S.
Go deeper