What he's saying: Trump goes off on Comey, North Korea, Pruitt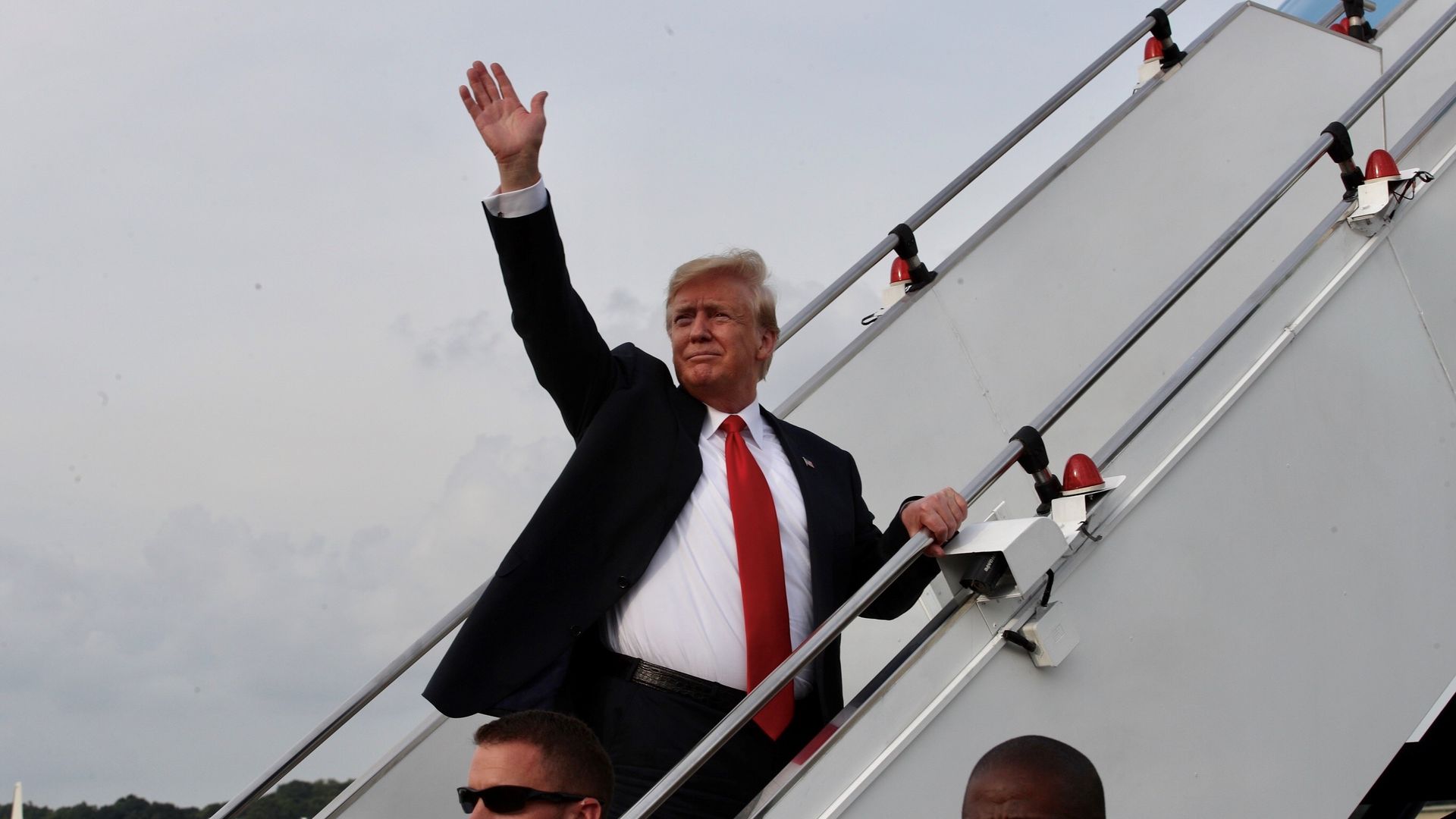 President Trump gave a semi-surprise interview on Fox & Friends on Friday morning, where he claimed former FBI Director James Comey had acted criminally, called the Justice Department's IG report "wrong" and praised Kim Jong-un's leadership.
Why it matters: Yet again, Trump proves that he is his best and favorite spokesperson.
Jim Comey:
"I think Comey was the ringleader of this… den of thieves."
When asked if Comey should be locked up, Trump said "What [Comey] did was criminal. What he did was a terrible thing to the people. What he did was so bad in terms of our Constitution, in terms of the well-being of our country. What he did was horrible. Should he be locked up? Let somebody make the determination."
Be smart: The report didn't accuse Comey of criminal behavior.
Justice Department report:
"The end result was wrong. There was total bias. Look at Peter Strzok."
"What they did during the election was a disgrance… You look at what happened, they were plotting against my election. I'm actually proud because I beat the Clinton Dynasty, I beat Bush Dynasty, Now, I guess, hopefully I'm in the process of beating very dishonest intelligence."
North Korea:
Trump said that he and Kim Jong-un had "great chemistry" and that he respects that Kim is a "strong" leader who "wants to make his country great."
"He speaks and his people sit up at attention. I want my people to do the same." When pressed on that line, he later said, "I'm kidding, you don't understand sarcasm."
"I want to have a good relationship with North Korea... When I came in, people thought we were probably going to war with North Korea. If we did, millions of people would have been killed."
When asked why he doesn't confront Kim Jong-un's human rights record: "Because I don't want to see a nuclear weapon destroy you and your family."
He claimed that "war games" was his term for the military exercises between the U.S. and South Korea, again citing that he saved a lot of money by ending them. He said he never liked them.
Trump said that he gave Kim Jong-un a "very direct" number.
Other:
Drudge: "Drudge is great, by the way. Matt Drudge is a great gentlemen who really... he's got an ability to capture the stories people want to see."
On pardons: "I want people to be treated fairly."
Michael Cohen: "He is not my lawyer... I haven't spoken to Michael in a long time." Trump said he's not worried that he will cooperate with the Mueller investigation because, "I've done nothing wrong."
Michael Flynn: "I feel badly for General Flynn. He's lost his house, he's lost his life. And some people say he lied and some people say he didn't lie. I mean really it turned out maybe he didn't lie."
Scott Pruitt: "I'm looking at Scott. He's done a fantastic job at the EPA. I'm not happy with certain things, I'll be honest."
Separation of families: "I hate the children being taken away....I hate it. I hate to see separation of children and their parents." He then blamed Democrats for not cooperating in changing the "law."
Russia annexation of Crimea: "President Obama lost Crimea... President Obama gave away Crimea."
Go deeper
Go deeper