Korean elections give Moon momentum, but could shift U.S. alliance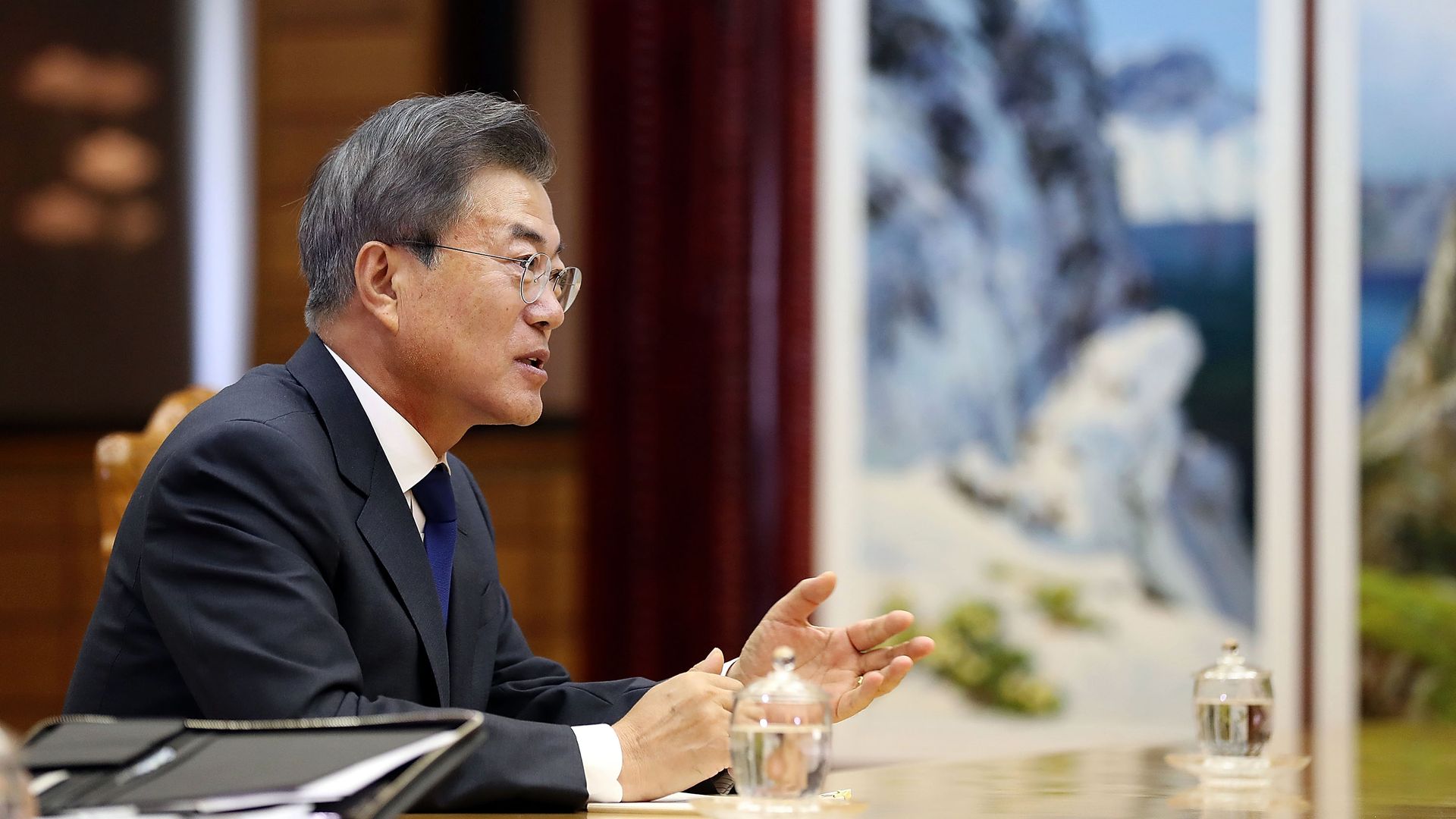 On Wednesday, just 1 year after President Moon Jae-in took office, South Koreans reaffirmed their confidence in his administration by electing 14 out of 17 major municipality chiefs from the ruling party. This outcome marks a complete reversal of the 2006 municipal elections, when then-opposing conservatives won 12 out of 16 positions.
Why it matters: Progressives now fully control South Korean politics — national and municipal governments as well as the National Assembly. With this landslide victory, Moon's government gains new momentum to pursue his progressive agenda, including engagement with North Korea.
In South Korea, progressives and conservatives have historically butted heads over North Korea and the U.S.–South Korea alliance. With this decisive victory for the ruling party, conservative skeptics of North Korean engagement will lose ground, and Moon will garner support for an even more aggressive engagement policy. That's welcome news for the Trump administration, now that it's begun to engage the North as well.
The other side: If the post-summit negotiations between the U.S. and North Korea bring challenges, as they likely will, the rise of South Korean progressives could very well become a source of tension between Moon and Trump. Additionally, the new core group of elites in Moon's administration — many of whom were once activists in the anti-American democratic movements of the 1980s — might seek to redefine the terms of the U.S.–South Korea alliance. Nationalists at heart, they desire to turn South Korea into a true sovereign state with no foreign troops in its backyard, which could pose a serious challenge for the U.S.
The big picture: The election outcomes will strengthen the basis for close collaboration between the U.S. and South Korea on their joint engagement efforts with the North. However, we may also see a shift in the alliance if President Trump's desire to withdraw U.S. soldiers dovetails with South Korean elites' calls for greater national sovereignty.
Gi-Wook Shin is chair of Korean Studies at Stanford University, director of the Walter H. Shorenstein Asia-Pacific Research Center and senior fellow at the Freeman Spogli Institute for International Studies.
Go deeper