Inside Trump's playbook for dealing with foreign leaders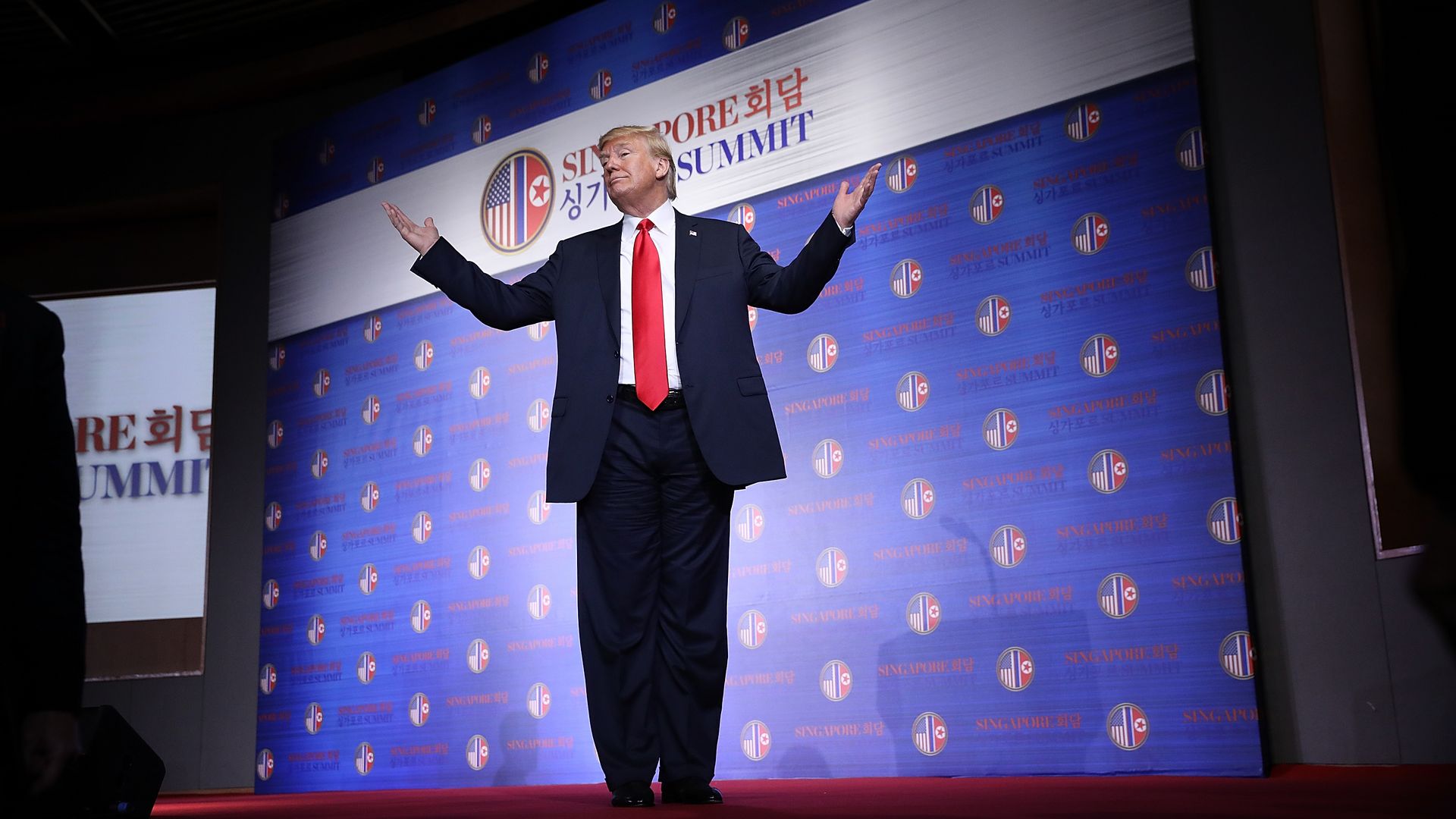 It took Little Rocket Man just seven months to go from President Trump calling him "a sick puppy," to "very talented" during the post-summit press conference, to syrupy praise of Kim Jong-un during the president's interview in Singapore with Fox News' Bret Baier.
The shift is jarring but is part of the Trump modus operandi: People come in and out of favor with wind-shear-like abruptness. Anyone in Trump's orbit knows they can be banished on a whim — but have a good chance of coming back.
There's no nuance with Trump. He oscillates between extremes, embracing and banishing people, even without real changes in their behavior.
"He is a tough guy. Hey, when you take over a country — tough country, with tough people, and you take it over from your father. I don't care who you are, what you are. How much of an advantage you have. If you can do that at 27 years old, ... I mean, that's one in 10, 000 that could do that. So he is a very smart guy. He is a great negotiator."
— President Trump in an interview with Bret Baier
Trump tweeted, ignoring the absence of verification provisions, timetables, etc.: "There is no longer a Nuclear Threat from North Korea."
Why it matters: When everything is hyperbole, words lose their force and meaning.
Kim is the most extreme example of the swing, but Canadian Prime Minister Justin Trudeau also went through the cycle (only in reverse): fawned on by Trump as a close family friend when he was in the White House, then lit on fire after hosting last weekend's G7 summit.
Same thing for West Wing aide after West Wing aide.
Trump deploys his doctrine of extreme force extremely, whether it's in a Twitter beef with Robert DeNiro or in geopolitics with Kim Jong-un.
"This is the Trump playbook for dealing with foreign leaders," a source close to Trump tells Axios. "Trump does to other foreign leaders what he wishes they would do for him. On the positive side, it's lavishing him with praise, rolling out the red carpet. The Saudis were brilliant at it."
"On the flip side, Trump only respects force, only respects balls. And so if he's going to go at somebody, he's going to go at them in the way that he would respect somebody else going at him. No holds barred."
"The Saudis were smart, because what did they get for that flattery? I've talked to Trump multiple times since [his visit to] Saudi Arabia. And multiple times he's [talked about] the swords, the red carpet, the palace, the pageantry, the royalty. All of it designed to tell Trump how important he was, and how important their relationship with him was to them."
So Trump allies argue that he could turn on Kim as quickly as he embraced him. As the source put it:
"You know how much optics matter to him. Now he's put himself in a position of potential embarrassment. If you don't follow through, you're embarrassing him on the world stage. ... [T]hey know that if they screw him, there'll be hell to pay."
Sign up for Axios newsletters to get our smart brevity delivered to your inbox every morning. 
Go deeper