Kevin McCarthy gets a push from Breitbart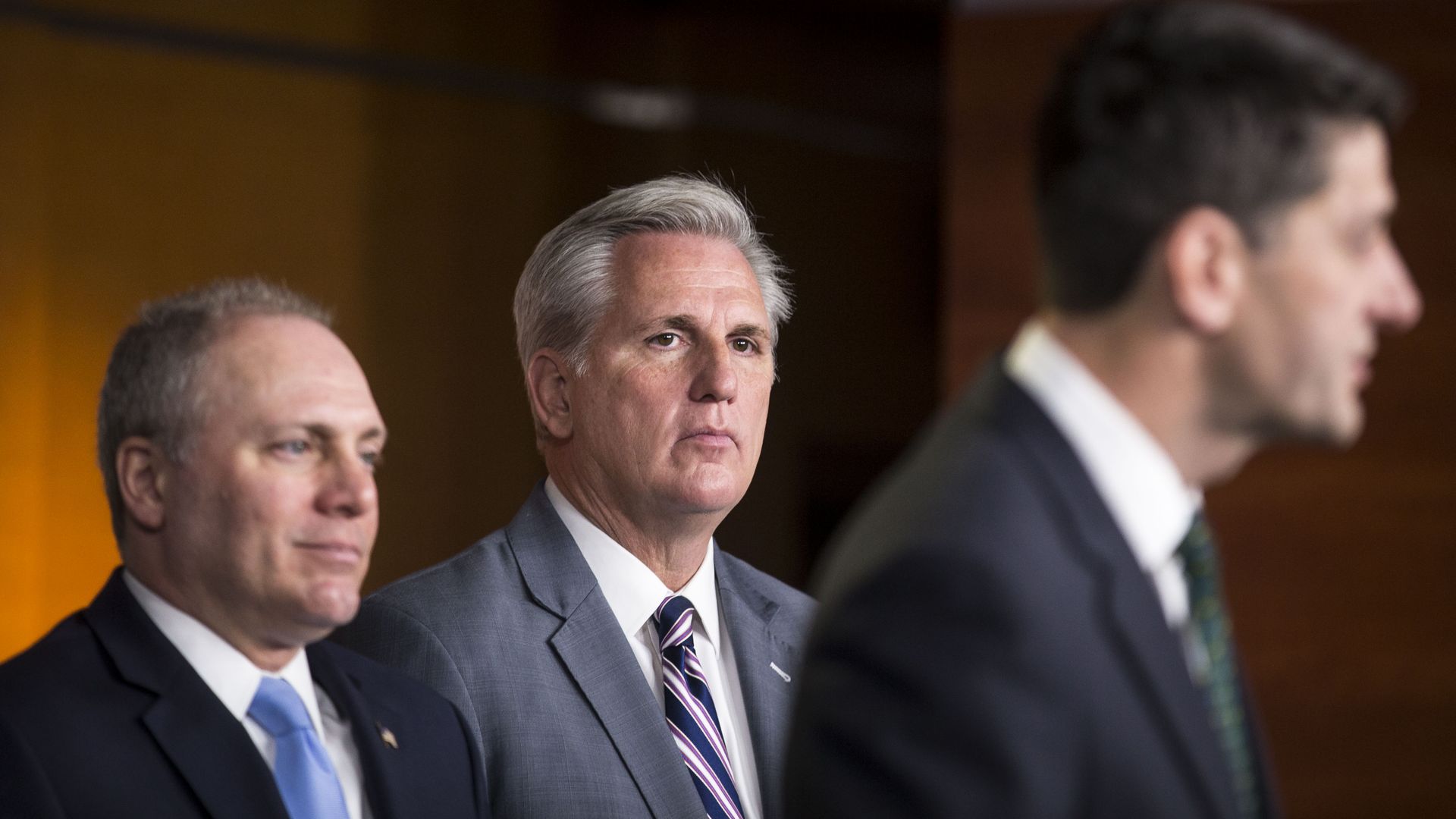 Republican Majority Leader Kevin McCarthy — a fixture of the Washington establishment — has been given prime real estate on the most anti-establishment website in conservative media, Breitbart, pushing an issue that has fired up the far-right: Big Tech's online censorship of conservatives.
Between the lines: McCarthy's people say they're simply highlighting an issue that has negatively impacted conservatives, but political operatives in Washington are viewing every move he makes through the lens of the behind-the-scenes jostling to replace Paul Ryan as Speaker. McCarthy needs the votes of the ultra-conservative House Freedom Caucus to become Speaker, and stories like this only help his cause on the hard right.
"This is probably the biggest issue to conservatives across the country that no one in the Beltway talks about. This issue actually rivals immigration as the issue at the forefront of the minds of conservatives."
— A senior figure in the conservative movement to Axios
What they're saying: McCarthy's op-ed, in which he rails against Silicon Valley's role in campaign to "stigmatize and silence Americans who do not believe the latest in liberal ideology," was prompted by a recent Google search of the California GOP, his district, in the days before the California primary. The first thing that popped up was a box from Wikipedia, and "Nazism" was listed prominently in the ideology category.
"This piece supplements the message McCarthy has delivered over the past several weeks and the concerns conservatives have raised for some time," McCarthy's communications director, Matt Sparks, tells Axios. "And as the Majority Leader, highest ranking California Republican, and believer in technological advances having the power to do good, McCarthy is uniquely prepared to effectuate change to bring more openness, transparency, and trust to these platforms."
The reaction: Breitbart hyped the op-ed, making it the splash on its homepage with the sell line: "House Majority Leader calls out masters of the universe."
Donald Trump Jr. tweeted the article, saying "Glad someone is finally pushing back!"
Brad Parscale, President Trump's 2020 campaign manager, retweeted McCarthy's link.
One America News Correspondent Jack Posobiec — a controversial online figure who has a large following on the right — also shared the article.
Worth noting: House Majority Whip Steve Scalise, who's also in the running to replace Ryan, recently talked about the issue in a speech at a Faith and Freedom Coalition conference, which Breitbart covered with the headline "Steve Scalise Slams Big Tech Bias at Road to Majority Conference."
Go deeper: Conservative leaders demand Big Tech end "censorship"
Editor's note: An earlier version of this piece mistakenly referred to the Breitbart article on Steve Scalise as an op-ed.
Go deeper