Go deeper: FBI faces judgment day on Clinton emails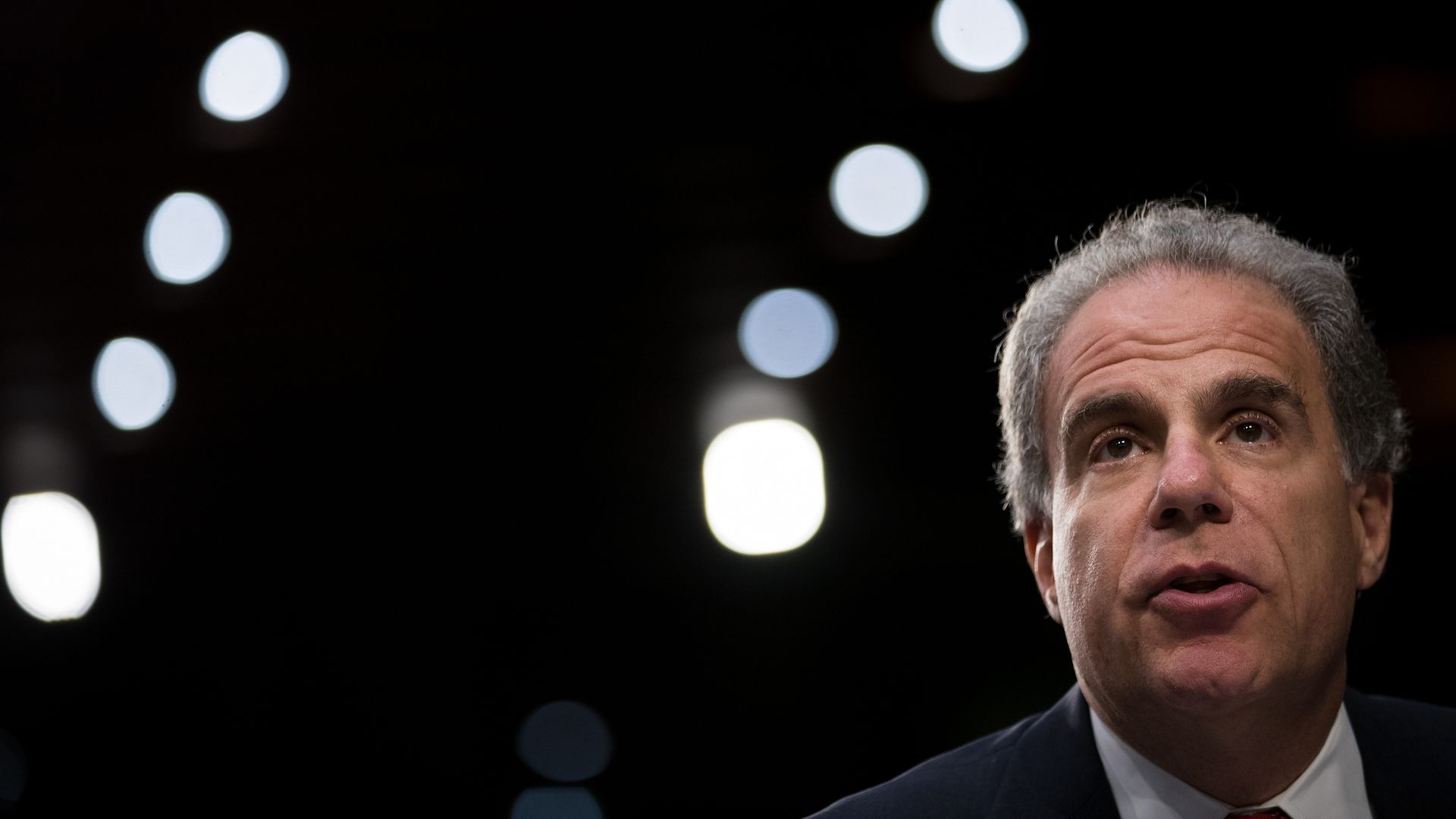 Following an 18-month investigation, the Justice Department's inspector general Michael Horowitz will release a report tomorrow on the FBI's handling of the Hillary Clinton email investigation prior to the 2016 presidential election.
Why this matters: The FBI has faced questions from across the political spectrum regarding the investigation since 2016. The Trump administration and far-right conservative media have repeatedly used it to challenge the trustworthiness of the Russia investigation — all while accusing the FBI of letting Clinton off the hook. Meanwhile, Democrats have blamed the bureau for mishandling the Clinton probe, costing her the election.
How we got here
2012: Horowitz is appointed as the DOJ's inspector general by President Barack Obama after serving as a prosecutor for a U.S. Attorney for the Southern District of New York.
July 5, 2016: FBI Director James Comey announces he will not recommend pursuing charges against Clinton for her use of a private email server while Secretary of State.
October 28, 2016: In a surprise announcement, Comey tells members of Congress he is reopening the Clinton probe after additional emails were found while investigating Anthony Weiner.
November 6, 2016: Comey announces that the new emails have not changed the FBI's opinion that Clinton should not be charged.
January 12, 2017: Horowitz announces that he will be investigating the FBI's actions during the 2016 election, following multiple requests from Congressional Oversight Committee members.
May 9, 2017: Trump fires Comey, citing his mishandling of the Clinton investigation.
May 17, 2017: Trump changes his story slightly, telling NBC News' Lester Holt that he was thinking of the "Russia thing" when he decided to fire Comey.
January 23, 2018: Axios' Jonathan Swan scoops that Attorney General Jeff Sessions has been considering firing FBI Deputy Director Andrew McCabe after repeated attacks from President Trump over his connections to Comey and Clinton.
January 29, 2018: McCabe steps down from his post with plans to stay on the FBI payroll until he can retire in March with a full pension.
March 16, 2018: Sessions fires McCabe one day before his retirement date, following an internal report that concluded McCabe improperly disclosed information to reporters regarding a 2016 investigation into Clinton's family foundation.
April 19, 2018: The Justice Department's OIG issues a criminal referral for McCabe, concluding that he had "lacked candor, including under oath, on multiple occasions" in giving information to reporters and allegedly covering it up.
What it means
While investigations by the inspector general are taken seriously at the DOJ, there is no real legal weight to their conclusions. Horowitz is not executing a criminal investigation, though he can recommend criminal charges if wrongdoing is found. However, even these recommendations aren't necessarily acted upon.
What we know
Horowitz's draft report called FBI Director James Comey "insubordinate" and concluded that he "defied authority at times," ABC News reported.
Most criticism of Comey is connected to his decision to hold a press conference announcing the end of the Clinton probe, which seemed to contradict many of Hillary Clinton's explanations behind her use of a private emails server.
The draft report reportedly also criticizes then-Attorney General Loretta Lynch and McCabe in their handling of the Clinton investigation, claiming Comey and McCabe did not tell Congress about the additional emails that were discovered shortly before the election until their announcement of reopening the investigation.
Be smart: The Atlantic's Natasha Bertrand spoke with former deputy attorney general William Yeomans, who told her that "what should never be lost in the responses is that Comey's errors in handling the Clinton investigation all helped Trump."
The bottom line: The FBI finds itself at the center of an incredibly political war that manages to weave together some of the most polarizing events of the last few years. No matter what tomorrow's report actually might conclude, expect pundits on both sides of the political divide to spin the results in their side's favor — often hyperbolically.
Go deeper